Ever wondered how would you react if you saw your look alike? Some tried extremely hard to look like them, and some couldn't look like somebody else even if they tried.
Here we look at 10 Celebrity-Cricketer Lookalikes:
1. Kumar Dharmasena and golfer Tiger Woods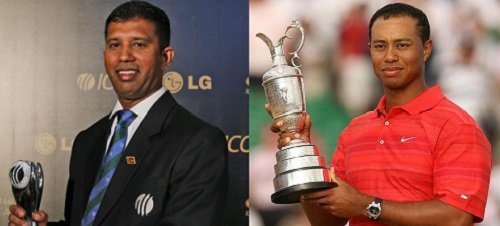 ---
2.MOHAMMED ASIF AND GIANLUIGI BUFFON
They met at the famous "KUMBH MELA", where estranged brothers famously meet.Mohammed Asif was in tears when Buffon offered him a plate of homemade pasta.
---
3. ALASTAIR COOK AND KAKA
Cook met his lookalike when he went to Brazil to visit his twin after he got dropped from the World Cup Squad and captaincy. Kaka played a game of football to console his English brother.
---
4. HERSCHELLE GIBBS AND PITBULL
"Brodas from anoda motha." $5 dollars if you can guess who is Herschelle Gibbs.
---
5. AHMED SHEHZAD AND VIRAT KOHLI
Only thing that separates these two men is their nationality. And probably their girlfriends!
---
6. LASITH MALINGA AND "NATHA" 
Remember the movie "Peepli Live" and the protagonist by the name of Natha? We hear that Malinga's inspiration for his famous hairdo was after he watched this flick.
---
7. Dale Steyn and Hollywood actor Daniel Craig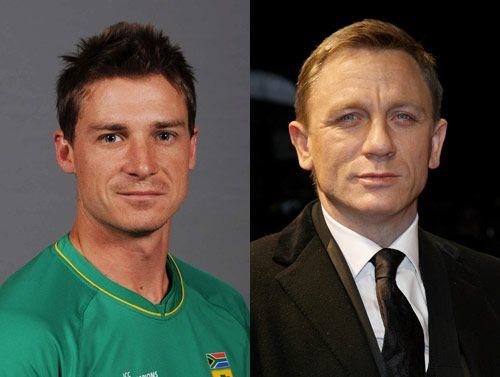 ---
8. SACHIN TENDULKAR AND DIEGO MARADONA
Legendary=Legendary. No words minced. Only the "God of Cricket" could have looked like the man with "The Hand of God."
---
9. VIRENDER SEHWAG AND JOHN CHRISTOPHER REILY
Two legends who have two things in common; first their looks and second they do things their way and don't really care what the world says. Also, that smile. Somethings money can't buy!
---
10. NASSER HUSSAIN AND VLADIMIR PUTIN
We hear from our sources that Nasser Hussain went for a holiday to Russia and he got Stately treatment. They later found out that it was not their President Putin but a man from England who played a game called cricket.
---
By Ashirbad Hazarika