India vs Australia 2017, Third Test, Ranchi: Cheteshwar Pujara and Wriddhiman Saha carried on from where they left on Day 3 and started grinding the Australian bowlers all over again.
The first two sessions were all about Australians trying to prevent the flow of runs and Indian batsmen looking for opportunity to score. The ongoing third Test hasnt been as exciting as the first two but there has been no shortage of the on-field action between the players of the two sides.
Umpire Chris Gaffaney was in action as well on the morning of the first session's play. Gaffaney tricked everyone when he raised his fingers to give Pujara out but later withdrew and started scratching his head.
It happened during the 140th over of the match when Josh Hazlewood bowled a bouncer and Cheteshwar Pujara attempted to hook but the ball beat the top edge of the bat and went straight into the hands of Mathew Wade. Australians didn't make a very strong appeal but umpire Chris Gaffaney was seen raising his finger, but he then went on to scratch his head. It looked like Gaffaney wanted to give it out but changed his mind because the Australians didn't make a very convincing appeal.
VIDEO: Umpire Chris Gaffaney Trolls Cheteshwar Pujara And Australia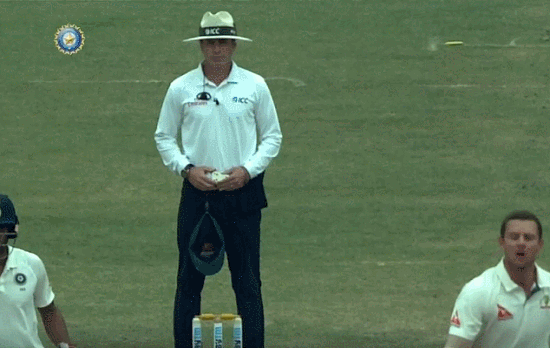 GIF Source: HOTSTAR
Comments
comments