India vs Australia three-match ODI series concluded is an unlikely fashion where India proved too good for the tourists in the final ODI as they secured a rather easy 7-wicket victory in the end. The series began with Australia claiming early honors while India bounced back to win the series in a come from behind victory.
The two sides featured some of the best white-ball players in the world. It was an exhibition of some fierce competitors with none of the teams giving even an inch on the field. At the end of such a closely fought series, it is apt to have a look at a few of the best performers who procured the majority of the limelight in the entire series.
Here's a look at 3 best performers from India vs Australia series:
1. KL Rahul
Indian batsman KL Rahul was one such performer who created an impact in India's series win over Australia. Rahul, who batted No.3 in the first ODI, scored a decent 47, though in a losing cause, but looked assured of his game as he continued his white-ball form. However, in the second ODI, he was asked to bat lower down the order and produced a match-defining inning. While his batting prowess was never in doubt, the Karnataka player even displayed another facet of his game by donning the wicket-keeper's role behind the wicket.
He might have scored only 146 runs in three games, but it was multi-utility skills that provide India with an option to experiment with their playing combination. He has certainly proved that he can be trusted with responsibility as someone who's capable enough to deliver the goods.
2. Adam Zampa
The Australian leg-spinner Adam Zampa was by far their best bowler in the entire series. On some of the flattest wickets that were on offer throughout the series, he was quite accurate and bowled exactly as per his strengths. He was highly rated by the Indians as someone who made it quite difficult for them to play their strengths.
Zampa showed amazing confidence and his prior experience of bowling in Indian conditions made it relatively easy for him to adjust his pace and length on the Indian wickets. He looked unplayable at times with his ability to pitch the ball in the stump line. Batters were skeptical in taking risks against him and respected his deliveries while playing with caution. He took five wickets at a decent economy of 4.9.
3.Virat Kohli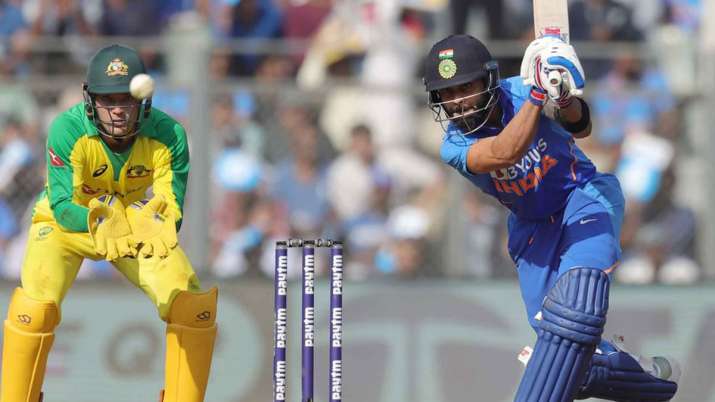 Indian skipper Virat Kohli yet again led from the front after his team faced a brutal drubbing against Australia in the first ODI at Wankhede stadium. Kohli set the example in the second ODI by taking the charge with a crucial 78 and backed it with a brilliant 89 in the third ODI. Except for his brief stay at the crease in Mumbai, there wasn't any time in the rest of the series when Kohli looked out of his comfort zone in taking on the bowlers.
He mastered the chase in Bengaluru and was a vital cog in India vs Australia series. Some of his shots just make one sit back and admire his artistic work on the field. He scored a total of 183 runs in three games at an average of 61. His maturity and trust over his ability to score in possibly each format make him a modern-great of the white-ball game.