They say, behind every successful man, there is a woman. It goes well with the wives of the Indian cricketers, who have been an integral part of their life and of course, their success. While a number of these WAG's belong from the star-studded background of Bollywood, there are quite a few who are not so well known faces. In both cases, these ladies play a leading role in helping their husbands and boyfriends achieve memorable feats on the cricket pitch as they cheer in hindsight. In the following lines, we will look at five such lesser-known wives of Indian cricketers.
Safa Baig (Irfan Pathan)
The first picture of this couple took the internet by storm as Safa Baig was seen wearing a burkha while standing beside her husband Irfan Pathan. The former Indian cricketer got hitched to Safa, who is a model from UAE, on February 4th, 2016. Born on 28th February 1994, Safa Baig, besides being a successful model, is also an executive editor at a PR firm and a self-taught nail artist. She also has a degree in Journalism.
Safa, unlike the other wives of the cricketers, likes to keep a low profile and has been seen hiding her face in most of the pictures with hubby Irfan Pathan, which have been widely circulated and talked about on various social media platforms.
Radhika Dopavkar (Ajinkya Rahane)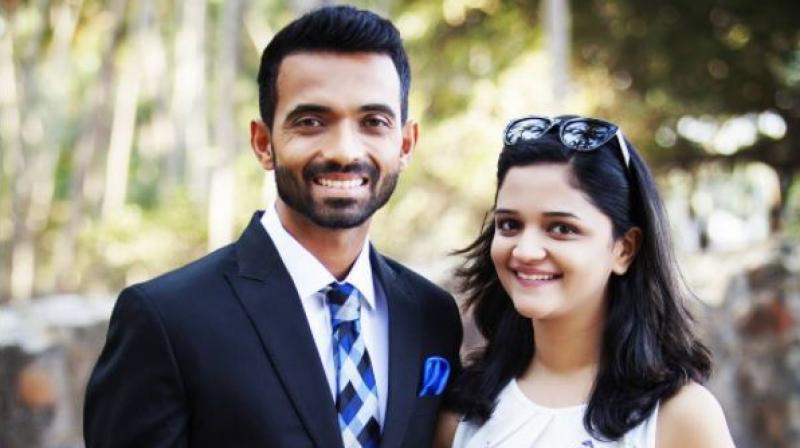 Ajinkya and Radhika are in love with each other since an early age and they are currently married to each other. Radhika hails from a middle-class family in Mulund, Maharashtra and is currently pursuing a course in interior designing. She has been a constant support for Ajinkya Rahane through the ups and downs of his cricket career and has had a huge role to play in his life.
Radhika and Ajinkya were childhood friends and had a love-cum-arranged marriage after their parents came to known about their liking for each other. They are now the proud parents of a baby girl who was born on October 5th, 2019.
Rivaba Jadeja (Ravindra Jadeja)
Rivaba, the wife of the famous Indian all-rounder, Ravindra Jadeja, also looks to keep a low profile. She is a member of the Bharatiya Janata Party (BJP), which she joined in March 2019 in Gujarat. The two got hitched in 2016. Rivaba also possesses a degree in Mechanical Engineering from the Atmiya Institute of Technology and Science Rajkot.
Prior to her engagement as a party member with BJP, she used to hold the position of the chief of women's wing of Karni Sena in 2019. They came into prominence after their protests against the Bollywood movie "Padmavaat", directed by Sanjay Leela Bhansali.
Tanya Wadhwa (Umesh Yadav)
Born on 6th August 1989 in New Delhi, this soft-spoken lady is the wife of Indian pacer Umesh Yadav. She is a fashion designer by profession. The two got married on 29th May 2013 after three years of dating. The two first met when Tanya was in college.
Pratima Singh (Ishant Sharma)
Pratima is a member of the Indian National Basketball team, which is led by her sister Prashanti Singh. Besides being an active sportsperson, Pratima also works as the chief sports advisor at the Genesis Global School in Noida. She and Ishant first met each other at a Basketball tournament, where Ishant was invited as the chief guest. Gradually, they grew fond of each other and got hitched in June 2016.