Muhammad Shahab Ghauri, a fan of the Pakistani cricket team, recently, got an opportunity to meet his favorite cricketer Haris Rauf. Smitten by the cricketer, Ghauri quickly clicked a selfie with him and shared it on social media, only to leave the Indian and Pakistani cricket fans berserk.
Well, for the unversed, Haris Rauf along with Haider Ali and Shadab Khan tested positive for Coronavirus last month in June. While Rauf's teammates tested negative for the infection after receiving a treatment for the same, the pacer had to stay back after he tested positive again.
As soon as the fan read the news of Rauf infected with Coronavirus, it left him in shock. Sharing the picture, he clicked with the cricketer, Ghauri wrote:
"So I found haris rauf in F-6 today and took a selfie with him, and later on l google searched about why is he not selected in Pakistan vs England squad and found out that he is still covid positive. Oh sh*tttttt!!!!! (sic),"
Here, check out the post: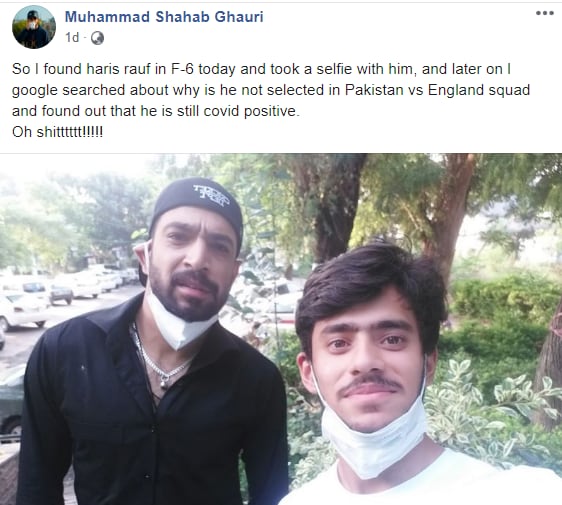 Not fazed by the potential threat of the Coronavirus that he might have been exposed to, Ghauri has been sharing hilarious memes that he had unintentionally become a part of. However, on the other hand, the cricketer is being criticized for venturing out in open for potentially infecting the people with Coronavirus.
Although, it is still uncertain that Rauf was carrying the infection when the picture was clicked. But as per a report by India Today, the player had returned positive in 5 out of 6 COVID-19 tests he underwent last month. Though Rauf's 5th Test came out negative but he was again tested positive on the 6th Test. This was the reason why he wasn't included in the England tour.
Here, check out some of the reactions of Twitterati on this:
This is the most hilarious thing I have come across today 🤣 pic.twitter.com/9NmtS9iqGk

— Sameer Allana (@HitmanCricket) July 28, 2020
If you happen to meet Haris Rauf on the streets of Pakistan, refrain from clicking a selfie with him. #cricket #harisrauf #Pakistan pic.twitter.com/0waFrZkYrv

— Edges and Sledges 🏏🏏 (@edgesandsledges) July 28, 2020
You can't do this Haris Rauf 👀#HBDRealHeroSonuSood pic.twitter.com/3PMc0pnppu

— సుభాష్ తారక్ 🐅 (@subhash_9999) July 29, 2020
Haris Rauf roaming around even being Covid Positive. State of these.

— Aqeel (@AqeelViews) July 28, 2020
So my friend today found haris rauf in F-6 today and took a selfie with him, and later on he google searched about why is he not selected in Pakistan vs England squad and found out that he is still covid positive.
Oh shitttttt!!!!!@HarisRauf14 🤣🤣🤣🤣 pic.twitter.com/Fqbeu6W2uT

— MUHAMMAD AHMED (@Ahmed_trends) July 27, 2020
This guy met Haris Rauf in F-6 and later on he googled googled why he is not selected in Pakistan team for England tour. He found that Harris Rauf was tested positive for Covid-19 #CoronaCrisis #coronavirus pic.twitter.com/uTG11G9iQG

— Muhammad Hassan (@Muhamma24345248) July 28, 2020