Chennai Super Kings are IPL giants. They have won the tournament 3 times, and have been a constant presence in the top 3 of the points table. So naturally, scoring big runs against them is a big deal. Only a few batsmen have been able to dominate the indomitable CSK. Let's take a look at the top 5 run-scorers against CSK in the IPL.
#5. Shane Watson – 480 Runs
CSK's current top batsman Shane Watson makes it to the 5th position in this list. He has scored 480 runs against the CSK. Watson is an absolutely destructive batsman, especially in T20 cricket. Fittingly, his record against CSK speaks volumes of his talent. He has  an average of 43.63 and a strike rate of 153.35 against them.
#4. Robin Uthappa – 527 Runs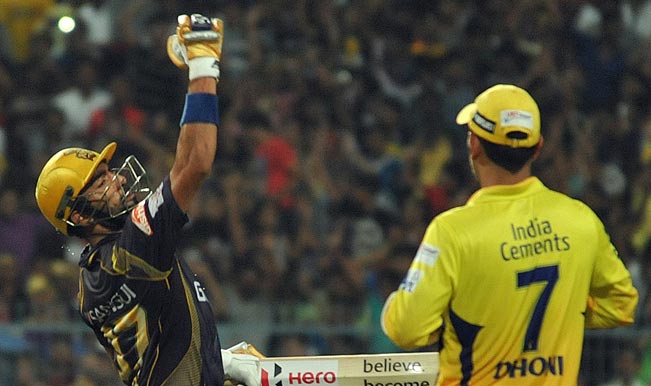 Uthappa was a mainstay in the national team, but slowly lost prominence. Since then, he has made the shortest format of the game his forte. His incredible IPL performances also led to an India call for the T20 format. The KKR veteran has scored 527 runs against one of the most formidable teams in the tournament.
#3. Shikhar Dhawan – 553 Runs
The swashbuckling Indian opener comes in third in this list. Dhawan has scored 553 runs against the CSK. He has played against the team from various teams, and has a great record against them. Dhawan now plays for the Delhi franchise, and it will be interesting to see how further can he elevate the downtrodden side this IPL.
#2. Rohit Sharma – 606 Runs
Mumbai Indians vs Chennai Super Kings is the el Clasico of the IPL. These two are the most dominant teams in IPL history. So it would come as no shock to see Rohit Sharma this high up the list. The MI skipper has scored an incredible 606 runs against the South Indian giants. He would look to better his tally this year.
#1. Virat Kohli – 732 Runs
Virat Kohli comes in at number 1 as usual. 'King Kohli' has been accumulating runs at a frightening pace. He averages over 40 against the Chennai franchise. India's future looks extremely bright with this an at the helm. He has scored 732 runs against the CSK in 21 innings. Kohli is just 52 runs away from becoming the first person to score 5000 runs in the IPL.