There was a time when Indian fielders barely used to throw their bodies around for a few saves and South Africa, Australia and Sri Lanka's fielding used to sound and look like a forgotten myth to us.
However, it all changed when a youngster flew to his wrong side to pluck an absolute ripper from mid-air​​. It wasn't long before the same youngster grabbed another inhuman effort at the point and this catch was very very special. It was that of Matthew Hayden.
India had another change surging through their ranks. A new batsman started coming up through the echelons who wasn't afraid of brute raw pace and hew away at anything and everything, with precision.
When India arrived in South Africa for their maiden T-20 World Cup campaign, they didn't have a specialist of the shortest format in their ranks. Someone had to emerge as the messiah and it was the same youngster who came out in flying colours but this time not as a colt inspiring to be a legend but a man who has already redefined Indian cricket.
The same man changed the fortunes of the Indian cricket team when he arrived at the international scene for India in the 2011 World Cup. Not only did he started impressing with the bat but his bowling underwent a seismic paradigm shift and the southpaw rewrote history through his man-of-the-tournament performances that won India the coveted World Cup and he did all of this under the influence of cancer. You have guessed him correctly. He is none other than the man who redefined aggression with the bat, Yuvraj Singh.
We will look at five innings from the hard-hitting southpaw that transcended him from being a stylish young cricketer to an Indian cricketing icon.
1. Under-19 World Cup, 2000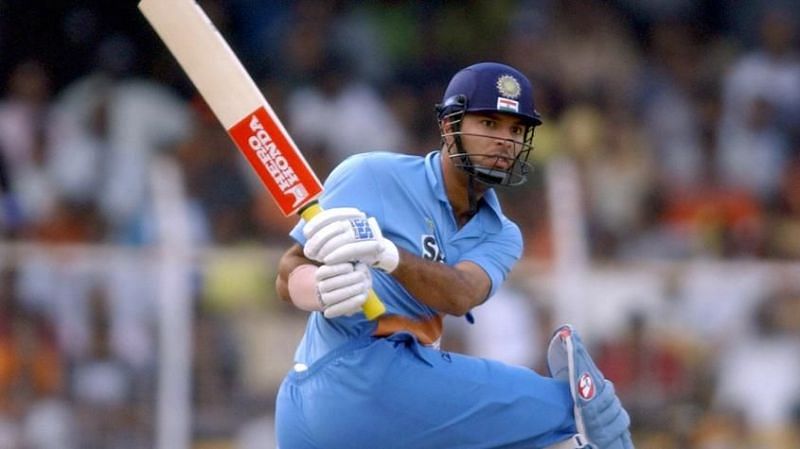 After drafting a remarkable inning of 358 runs in the final of Cooch-Behar Cup, Yuvraj already instigated the selectors to opt for him in the imminent U-19 World Cup. However, instead of the ball, he shined more with the bat in the hand initially. In a game that saw the Indian colts crumbling down like a house of cards, Yuvraj fought alone with the bat, stitching together a fine 68. As his team fell for 199, Yuvraj belted out a bowling masterclass that saw him claiming figures of 4-36 and a man of the match award.
He followed this resonating performance up with another crackling showdown that saw him scalping 4 wickets against Nepal. The continental neighbours, Sri Lanka also suffered his wrath as he posted an all-round showdown to claim the game for India.
His rip-roaring showdown in the semi-final against a power-packed Australia that vaunted the likes of Mitchell Johnson, Nathan Hauritz, Shane Watson and Shaun Marsh witnessed him hammering a 24-ball-58 that helped India post a mammoth total which was successfully defended by the bowlers.
He rounded up his World Cup performance with a cameo of 27 runs in the final that helped India chase down a total of 179 with consummate ease, thereby lifting the most prestigious youth trophy of the world.
In the final charts, Yuvraj chronicled 203 runs and managed to scalp 12 wickets in the process, thereby being adjudged as the man of the tournament. India won 7 out of 8 games while their game against the inferior Netherlands was washed out.
This resonating outing from Yuvraj flagged the arrival of a youth brigade in the midst of a murky storm that swept India off her feet. The renaissance in Indian cricket was painted by the same young players whom the captain at that point in time, Saurav Ganguly, on-boarded.
2.International debut during ICC Knockout 2000
India slipped into an eternal limbo after several of their senior players got embroiled in a match-fixing controversy that not only tarnished the Indian image but also dented their cricketing aspirations with India failing to make it to the finals of any tournament for one long year. It felt like the endless dark age of Indian cricket.
This is when Ganguly introduced the youth brigade that comprised the likes of Yuvraj Sing, Zaheer Khan, Ashish Nehra and Mohammad Kaif. Yuvraj got his first batting opportunity against Australia, a team that boasted a star-studded lineup. The illustrious bowlers included in the squad were Glenn McGrath, Brett Lee, Shane Lee, Jason Gillespie, Shane Lee and Ian Harvey.
Playing his first innings against a renowned Australia, Yuvi chronicled a swashbuckling half-century from only 47 deliveries. He finally fell on 84 from 80 balls when Shane Lee managed to take him out. A flyer to dismiss Ian Harvey and a brilliant direct-hit, a rarity in Indian cricket those days, dismissed Michael Bevan and helped India surmount an impossible victory against Australia.
Yuvraj continued with his blistering form in the tournament as he managed to string a 34-ball-41 that helped India post a mammoth total on the board. He also scalped his maiden wicket in his international career as he dismissed Jonty Rhodes in the semi-finals.
Despite a desperate effort to contain New Zealand in the finals, Chris Cairns powered an incredible knock to see New Zealand through. For India, Yuvi managed to the best economy rate, the third-best batting average and the best strike rate amongst the batsmen in the fray.
The arrival of Yuvraj in the international podium heralded the onset of an era that saw an aggressive India starting to flap its wings against formidable giants of the game.
3. Natwest Tri-Series in England, 2002
This was probably the emergence of Yuvraj at the biggest levels as it was based on his performance that India crafted a historic victory against England and Sri Lanka in the Englishmen's den.
In the first game of the series, the Indian bowlers struggled badly at the start as the English batsmen were making merry at 201 for 2 from 34 overs. However, India staged a dramatic turnaround that saw Yuvraj wringing out three quick wickets that disrupted the calculations of the English batsmen.
India was off to a flyer in the chase that saw Saurav Ganguly playing a blitzkrieg early in the innings. However, the calculations were disrupted when the fall of the captain got to India and they started feeling the heat. However, it was the vice-captain Rahul Dravid who played a gem of a knock under pressure that received the perfect support from Yuvraj Singh. As the required rate skyrocketed in the last five overs, that is when Yuvraj smoked the bowlers to derail the English aspirations. Yuvraj stayed unbeaten on 64 from 65 deliveries that saw India secure an emphatic victory.
In India's next match against Sri Lanka, Yuvraj's 31 helped India chase a modest total of 203, comfortably. His 19-ball-40 against England belted out a massive statement against the best bowlers of the world in a rain-marred encounter.
In India's next game against Sri Lanka, he managed to affect 3 dismissals in the field and scored a fine 37, helping India chase down a comfortable total against Sri Lanka. After two pedestal performances, he came back in the strongest possible avatar that saw India indite a new chapter in their glittering cricketing history.
Batting first at Lords in the final, England posted a monumental total of 325 on the board that saw India almost down and out from the tournament. However, India showed some early intent as Saurav Ganguly and Sehwag started taking out the English bowlers head-on. Ganguly led the charge by hammering a brilliant 60 from 43 balls but fell in an attempt to garner runs at a quicker pace. Saurav's wicket started a landslide in the Indian batting line up that saw them reduced to 146 for 5 and all hopes seemed lost with two youngsters, Yuvraj and Kaif against world-class bowlers like Ashley Giles, Darren Gough and Andrew Flintoff.
Yuvraj announced his intentions with a colossal six against Ashley Giles, sweeping him over mid-wicket. Surprising everyone it was the U-19 duo that changed the complexion of the game as India came very close to pen down a magical victory, which would probably make the cover page of India's cricketing history.
Yuvraj had no intentions of holding back as he took the fight right on to the English bowlers scripting a phenomenal 69 before getting out to Paul Collingwood. Mohammad Kaif played a peach of a knock that saw him staying unbeaten on 87 while Harbhajan provided the much-needed charge at the other end to wave the Indian flag over the crushed British hopes, in emphatic fashion. Saurav Ganguly pulled off the famous shirt-waving celebration at the Mecca of English cricket.
Yuvraj managed to score 254 runs from the entire fray at an average of 50 plus. He was also India's third-highest wicket-taker with 5 wickets and he also affected the same number of dismissals on the field.
This victory against England was a statement from the young guns of India that a new era of Indian cricket has arrived.
4. ICC World T20, 2007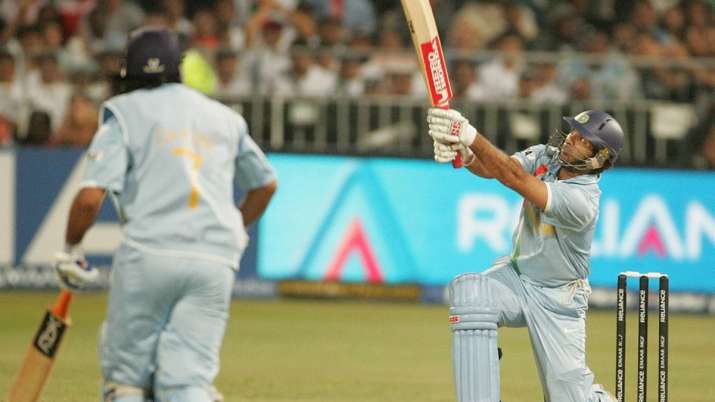 India was probably languishing in the middle of one of their worst runs before arriving in South Africa. In the last one year, India could only manage a solitary series victory and their last 6-months performance was the worst in the last 15 years. The big guns of the team were axed and a completely inexperienced side with a couple of experienced campaigners was onboarded.
India barely scraped a victory against their arch-rivals, Pakistan in a bowl-out. It was a tied game and both the teams faltered miserably with the bat. It was in the super-eights that Yuvraj showed his class when he scored the fastest ever fifty in T20 cricket, a record still unbroken. After a charged up altercation with Flintoff, he smoked Stuart Broad for 6 sixes in an over that left the youngster completely rattled. He finished his innings for 58 runs from 16 deliveries. Indian bowlers managed to keep England confined and ensured a fight against South Africa.
After missing out on the battle against South Africa, he helped India overcome an early jitter as they were reduced to 41 for 2 in the first eight overs. However, the illustrious bowling line up of Australia that consisted the likes of the World-Cup winning bowlers like Brett Lee, Mitchell Johnson, Stuart Clark and Nathan Bracken was hammered black and blue by Yuvraj Singh.
Yuvraj penned 70 runs from only 29 balls and that propelled Robin Uthappa to take on the invincible Australian bowlers and India managed to post a colossal total of 189. Australia was off to a blinder but shortly came a cropper to the brilliance of Sreesanth and Yuvraj Singh.
Unfortunately, Yuvi failed to contribute in the finals but India simply did not give up and notched up their maiden T20 World Cup.
The showdown from Yuvraj was an open letter to all those critiques who believed that India can never do well in cricket without the best of their names. However, it was Yuvi who talked with the bat and shut them up for good.
5. ICC World Cup, 2011
Yuvraj's name will always be synonymous with this incredible cricketing fiesta that saw India lift the trophy after a staggering 28 years. Yuvraj contributed both with the bat and the ball to script a historic display throughout the tournament.
Yuvraj scored a brilliant 46-ball-50 that helped India to reach a massive total which was finally tied by England after some incredible performance from Zaheer with the ball. In the next game against Ireland, Yuvraj registered his first fiver of ODI cricket and also smashed a brilliant half-century to achieve a black swan double.
He picked up two wickets each in the games that followed against the Netherlands and India's solitary defeat in the tournament against South Africa. With India wobbling at 51 for 2 from 8.3 overs, Yuvraj walked out to bat against West Indies. Not only did he have to fight the tremendous pace of the West Indies, but he was also battling the scorching heat of Chennai and evident symptoms of cancer. He scripted his first century of the tournament that made things challenging for West Indies.
In the quarter-final against Australia, Yuvraj walked in the middle in an extremely dicey situation where India needed 74 runs and they only had five wickets in hand with three of the World Cup's fastest bowlers hurling hell at them.
Batting with the last batsman in the lineup, Yuvraj took it upon himself to pump India through to the semi-finals with an inspired performance that also made Brett Lee bleed, literally.
It was his phenomenal cover-drive that sealed a remarkable victory against Australia to book a semi-final clash against their arch-rivals, Pakistan.
In the final when Dhoni almost wrapped it up for India, Gambhir fell at a critical juncture of the game, blowing life back in the match. However, Yuvraj's persistence and attacking stance against Lasith Malinga, the best of Sri Lankan bowlers, interred the hopes of the Islanders as India won the World Cup after 28 long years.
His 362 runs in the match and 15 wickets in the tournament won him the man of the match trophy as well. Despite India stuttering so far in the World Cup, they always lacked a match-winner. It was in the form of Yuvraj that this match-winner arrived, sorting out the perennial woe of the Indian cricket team at the grandest levels of all.