It has always been an enthralling experience to savour the mighty pace of Jasprit Bumrah belting out those death overs. The ingredient that makes it even more special is the ruthless aggression that he uses to bowl those yorkers on the bounce, making life hell for the batsmen.
Given his prowess of extraordinary precision while executing those merciless yorkers, he becomes an automatic choice for bowling when it comes to super overs.
Until now, he has bowled 6 super overs that has seen him conceding 57 runs and scalp 5 wickets, numbers that elevates him to a pedestal over the others.
Despite Mumbai slumping down to Punjab last night, Bumrah impressed everyone with that solitary over where he spilt 5 runs and claimed 2 wickets.
We will look at all the super overs that he has bowled until now in T-20 cricket:
1. 6/0 vs Gujarat Lions, 2017
Defending 11 runs, Bumrah started the over with a glaring howler that saw him over-stepping the line. This resulted in a free run and a free-hit, making it an absolute paradise for the batsmen. However, he followed it up with a fiery yorker right at the feet of Finch.
The second ball was another gift to Gujarat as it was million miles wide outside the off-stump.
The third ball was a tricky delivery that was extremely sluggish in nature and beat McCullum completely. The next ball resulted in a bye as McCullum missed again but Finch darted to the other end.
The next delivery was an absolute cracker as Bumrah bowled a perfect yorker outside the off-stump. Bumrah knew the exact line that he was going to bowl in and the next ball to Finch was a low full toss that saw the Australian stealing away a single.
With 6 needed to tie the game, Bumrah fired a fuller felivery right at the feet of Baz and the latter could steal a solitary run to end the affair.
2. 8/2 vs Sunrisers Hyderabad, 2019
This was another impeccable effort from the Indian speedster as he managed to confine Sunrisers Hyderabad within a paltry 8 runs.
The first ball was a yorker on the off-stump that saw Manish Pandey scrambling for a couple and in the process getting run out. The next ball from Bumrah was a low full toss on the middle stump that was steered for a single.
The third ball however, was a bad delivery as he bowled a short ball to Nabi and the Afghani batsman connected it with substantial force and consigned it beyond the ropes.
However, Bumrah won the short battle with Nabi being castled with a peach of yorker that saw SRH posting only 8 runs on the board.
3. 17/0 vs New Zealand, 2020
This was one over that he simply couldn't do anything right as the Kiwi batsmen clobbered him all-aroune the park. He ended up being humiliated in the super over as he slipped 17 runs from it.
However, India didn't have many problems in chasing it down as Rohit Sharma sliced a few wondrous strikes to achieve the total that was set.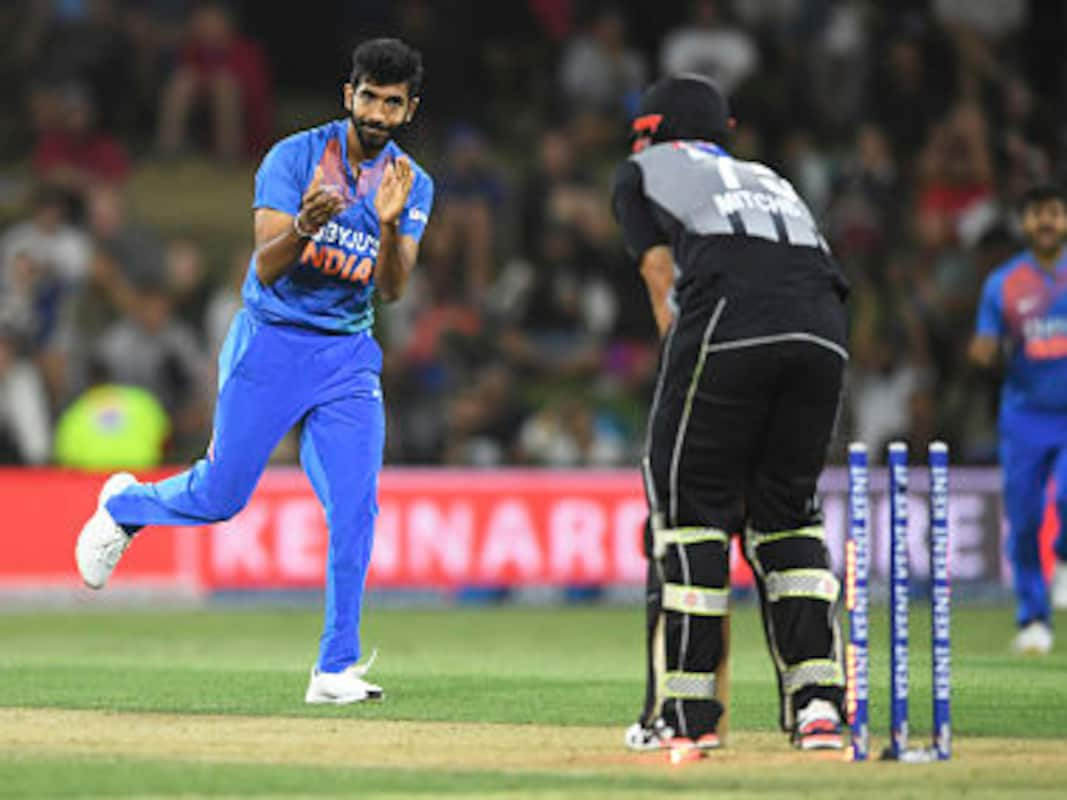 4. 13/1 vs New Zealand, 2020
In two back to back games, India won two super overs. After being hammered 17 runs in the super over in the last game, Bumrah came back with a strong response in the the fourth T-20. This time he managed to scalp a wicket and concede only 13 runs.
Four deliveries in the block hole saw Bumrah coming up trumps despite being smashed for 13 runs.
5. 8/0 vs RCB, IPL 2020
With only 7 runs to defend on the cards, Bumrah dragged Bangalore until the very end only to be denied by Kohli in the last ball.
The first ball from Bumrah was a low full toss that struck ABD on the pads and he rushed for a single. This was followed by a rare short ball at Kohli and the Indian captain managed to steal another single.
Another short ball from Bunrah saw Bangalore going for a review but Bumrah managed a dot ball anyway.
Trying to rattle ABD with another short ball he got smoked for a boundary only to come back stronger with a screaming yorker.
Unfortunately Kohli flipped the last ball for a boundary, making it a lost cause for such excellent efforts from Bumrah.
The final super over from the Indian pacer was bowled last night that saw him scalp a wicket and then follow it up with five excellent deliveries that left Punjab reeling for a second super over.
The over was bedecked with six yorkers and that underlined the unparalleled brilliance of the best Indian fast bowler at the moment.