Mayank Agarwal has become one of the top opening batsmen in the nation with his incredible performances. The right-handed batsman was the best batsman for Karnataka in the last few domestic seasons. This year, he impressed a lot while playing for the Kings XI Punjab in IPL 2020. While Agarwal has achieved much success in Tests, he is yet to prove himself in ODIs and T20Is.
The former Royal Challengers Bangalore is an all-format player. And his performances in IPL 2020 just solidified the aforementioned claim. Mayank has been phenomenal for Karnataka in domestic cricket. It would not be an understatement to say that Agarwal has been one of the main reasons behind Karnataka's recent success in the domestic arena.
layout="fixed" width="336" height="280" type="adsense" data-ad-client="ca-pub-5474032326006367" data-ad-slot="3340040536"
Speaking of Mayank Agarwal's domestic performance, here are the three domestic that are in his name.
6th Indian player with three 150+ scores in List A cricket
As mentioned ahead, although Mayank Agarwal has not fired in the limited overs formats at the international level, he has an excellent record in the two formats. The fans saw his exploits in T20 cricket during the IPL 2020 season. Besides, Agarwal was the sixth Indian player to record three 150+ scores in List A cricket.
He achieved this feat after an epic knock against England A. After recording his third 150+ score, Agarwal joined the likes of Sachin Tendulkar, Virat Kohli, Rohit Sharma, Dinesh Mongia, and Shikhar Dhawan in an elite club.
2nd highest aggregate by a batsman in an Indian season
Sachin Tendulkar is nicknamed as the God of Cricket not only because of his brilliant numbers in international cricket but also for his incredible domestic record. Tendulkar aggregated 2298 runs in 25 matches during the 1994/95 season. After him only VVS Laxman came close to the 2200-runs mark. However, Laxman finished the 2000/01 season with 2194 runs.
17 years later, Agarwal became a member of the list headed by Sachin Tendulkar. Playing all three formats for Karnataka, Agarwal amassed 2253 runs in 36 innings. He needed only 56 runs to overtake The Little Master, but he could not break Tendulkar's record. It is pertinent to note that Mayank Agarwal had an average of 66.27 in the 2017/18. He struck eight centuries and nine fifties for his state.
Most runs in a single edition of the Vijay Hazare Trophy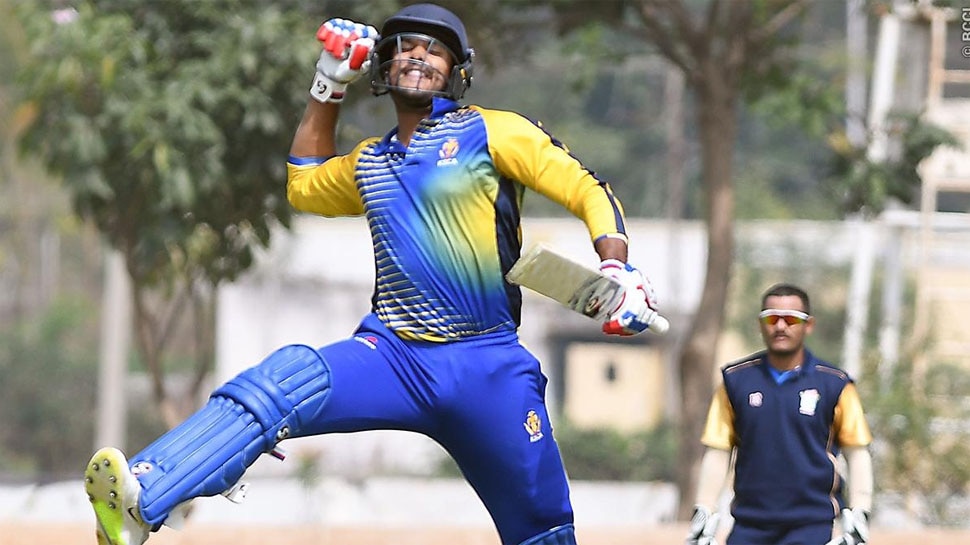 The Vijay Hazare Trophy is the most prominent List A tournament in the Indian domestic circuit. The top cricketers of the entire country battle against each other in this tourney, and Mayank Agarwal holds the record for the most runs by a batsman in a single edition of the Vijay Hazare Trophy. Agarwal achieved this record in the 2017-18 season, scoring 633 runs in just 7 matches for Karnataka.
Before Mayank Agarwal, Dinesh Karthik owned this record for his 607 runs during the 2016/17 season. In the 2018/19 season, Abhinav Mukund topped the run-charts, aggregating 560 runs in nine matches. In the previous edition of the Vijay Hazare Trophy, Devdutt Padikkal and Mukund touched the 600-run milestone. However, they could not break Agarwal's record. The highlights of Agarwal's 2017/18 Vijay Hazare Trophy campaign were his 3 fifties and 3 hundreds in just seven games.