Before the year 2000, India was always cattle-fodder to the might of the Australians down under. It used to be a similar story in almost every tour of India where the Indians relinquished in one of the most docile submissions against a formidable Aussie line up.
Spanning from pedestrian bowling to woeful batting, India was always at the receiving end. Things changed, however, once Ganguly took over the mantle of captaincy. India was hardwired with the will to post a resolute statement while Ganguly inculcated them with the much-needed guts to look the Australians in the eye.
Indians started playing an aggressive brand of cricket, that saw the emergence of individual stalwarts who changed the complexion of the game completely. We will look at a few icons of India, who were not just invincible on the Australian soil, but penned new hopes of one of the most remarkable and fabled watersheds in the glittering history of the sport.
1. Sunil Gavaskar
The man who inspired the name of the famous Border-Gavaskar trophy, India's original Master Blaster, Sunny Gavaskar was also one of the primary tormentors of Australia in Indian colours.
The elegance with which he batted throughout in Australia was a rare spectacle. He was never shy of his expressive strokeplay and loved to attack the bowlers. From 11 Tests he managed to garner 920 runs at a staggering average of 51.11.
Much to the surprise of others, he strung five hundreds and one half-century. It was not just the numbers those mattered. The impact which Sunny had on the game was mammoth and that is exactly why his salience as an icon down under shot through the ceiling. His resilience in the middle, his commanding stature and the beauty of the strokes were divine to say the least.
2. Rahul Dravid
To start with the summing up of Dravid's brilliance, the wall of India crafted an incredible 233 and followed it up with a resonating 70 in the second innings to win India a historic encounter at Adelaide.
In the fourth test of the same series, when Brett Lee split his ear open with a nasty bouncer, he didn't leave the pitch. He hung in there, got it treated and replied Brett Lee with a phenomenal pull. That was India's best Test player for you.
Australia believed in aggression and Dravid believed in calm. He countered brutal truculence with unfazed pacifism and his resilience in the middle wore out the bowlers.
He managed to garner 949 runs from 11 Tests at a staggering average of 52.72. These numbers were supported by a century and five half-centuries. Once again, the impact that Dravid had on the game was emphatic enough to leave the Australians intimidated.
3. Vijay Harare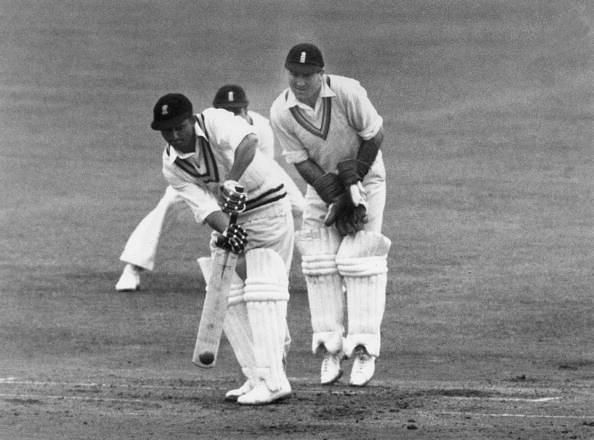 The man who drew plaudits from Sir Don Bradman himself after pummeling two clinical centuries in both the innings of the same match, Vijay Harare, was one of the initial Indian stalwarts Down Under.
Bradman quoted, " I had been very impressed by the soundness of Hazare and the correctness of his stroke production. I want to call attention to Hazare's skill and his right to be classed as a great player."
After a 4-0 drubbing at the hands of the hosts, the only heart that India took out of the game was the herculean feat achieved by Harare in the last game.
The confidence and the concentration that Harare played with against the mighty duo of Ray Lindwall and Keith Miller and struck two stellar centuries was not only admirable but a classic to watch.
His fearless 74 in the final Test was a burning testimony to his greatness and his dominance over Australia in their den. He managed to amass 429 runs from 5 Tests, averaging at a stunning 57.66 that also saw him chronicling two hundreds, one fifty and 7 wickets with bowling.
4. Sachin Tendulkar
If there has been someone to dictate proceedings throughout the planet for India, that is the Little Master, Sachin Tendulkar.
An innovative genius who came close to rattling the great Bradman' records and became the second best batsman throughout the roster of cricketing antiquity, Sach was ruthless on the Australian soil.
His introduction to the fray was at a tender age of 18 when he was all set to confront the lethal pace of the Australian bowling line up, that was followed by Shane Warne's menacing spin. Despite the odds stacked up against him, he managed to rack up 368 runs at a decent average of 46.
When he went there for the next time, the Australians knew terror. He didn't stop at anyone and took eveey bowler in the list to the cleaners. In 2003-04, when India posted a redoubtable effort against the hosts, it was in Sydney that Tendulkar came all guns blazing. Classic ground strokes, vintage pulls, shimmying down the pitch and clattering the bowlers to the stands, he had everything in his armour. This is how he penned an incredible 241 in the first innings which was his career best.
The following Border-Gavaskar trophy was a gladiator's battle ground and Tendulkar blossomed in his utmost magnificence to storm an unbeaten 154 at the Sydney Cricket Ground.
He followed it up with another classic 71 which was ensued by a scintillating 153 at Adelaide. He completed the series with 493 runs at an average of 70.42.
His complete exploits in Australia were 16 Tests, 1522 runs at a staggering average of 58.53, six centuries and seven half-centuries.
5. VVS Laxman
The man whom Australia feared the most was a towering batsman, exuding elegance with his long walk to the middle of the crease, emulating Azhar with his collars flipped up and carving those beautiful boundaries was VVS Laxman.
No matter whatever was the ask, Laxman would die trying to achieve all of them. Ask him to bat with tail-enders, ask him to bat with the top-order, ask him to save impossible matches, just ask him and he will deliver.
His ability to attack the bowlers and his picture-perfect knocks that saw him committing minimal errors in his long-hauls was nothing short of spectacular.
Of course, everyone is aware of his exploits on the Indian soil, however, they simply amplified Down Under.
His crackling 167 at Sydney on his first tour was a hint of the avalanche that was about to follow.
From being an opener, he became one of the most industrious members of the famous Indian middle-order that comprised the likes of Rahul Dravid, Sachin Tendulkar, Saurav Ganguly and himself
The unsung hero, always, Laxman was involved in very special stands with Dravid and Tendulkar that saw him helping the greats in recovering lost matches. Much to his woe, the knocks those were played by him always unnoticed because it was towered by something even better. However, the names of the better ones kept on flapping while his name at the other end, stayed consistent.
The fluidity in his strokeplay was so amazing and a treat for the eyes that it placed him on an invisible pedestal. In two back to back Border-Gavaskar trophies, his exploits read 494 runs at an average of 82.33 and 366 runs at an average of 45.75, respectively.
His complete haul in Australia was 11 Tests, 1081 runs, an average of 54.05, four centuries and three half-centuries.
6. Anil Kumble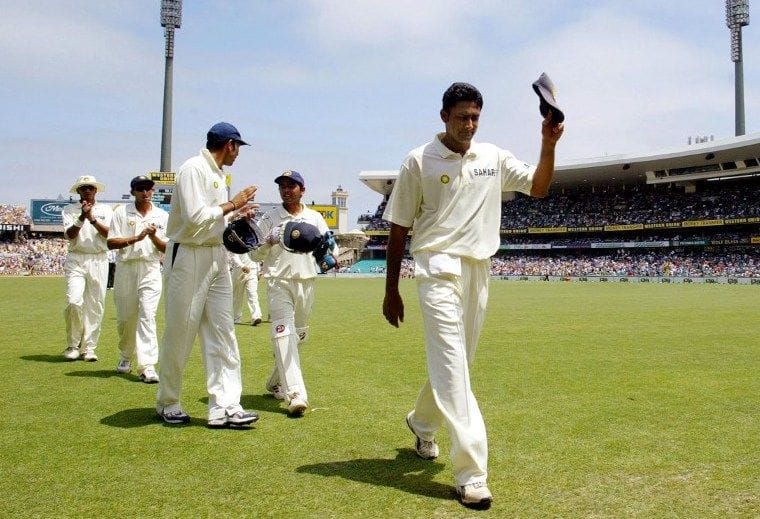 Australian soil hasn't been kind to the Indian bowlers as not many monikers have shone so brightly. However, the Indian spin maestro, Anil Kumble was a notch above others and always left the Aussies bamboozled with some ecstatic spin in down under.
His preamble to India versus Australia was abysmal as he could only wring out five wickets from 3 games.
However, he marked his return in one of the most resonating fashions, as he wreaked carnage throughout the Australian batting and managed to scalp 24 wickets at an average of 30. This was also inclusive of a famous 12-wicket haul at Sydney.
The next time he was there, he was the captain of the squad and once again made his presence felt as he racked up 20 wickets at an average of 34.45. He was fearless in his stance and had a wide variety of options in his arsenal.
His total exploits in Australia included 49 wickets from 10 games at a decent average of 37.73 which also featured 4-five wicket hauls.
7. Bishen Singh Bedi
Another spinner who left an indelible mark in India's campaign Down Under was Bishen Singh Bedi. A wily spin bowler who was capable of turning the ball both ways left the batsmen reeling.
In 1977-78, when he arrived to Australia as a captain, he managed 31 wickets in a series of 5 Tests,a record still untouched by others.
Despite the presence of other illustrious cricketers in the line up, Bedi managed to strike three five-wicket hauls and also became the first Indian bowler to pick up a 10-wicket haul.
His roles in India's valiant enterprises at Melbourne and Sydney won him several plaudits which was followed by another fiver at Adelaide.
He rounded off his campaign in Australia with seven Tests, 35 wickets and average of 27.51 and three fivers.