Although Team India lost their ODI series against Australia recently 2-1, they found a new gem of a fast bowler in the form of T Natarajan. Australia is always a tough opposition to compete against and Natarajan managed to impress one and all with his impressive performance in the ODI and T20I series against Australia.
There were a few Indian players who made their ODI debut Down Under and haven't looked back ever since. While there are other players too who had a decent start to their career but could not quite kick-on their career from there. Here are the last four Indian players who made their ODI debut in Australia.
1. Jasprit Bumrah
Jasprit Bumrah had made a reputation for himself as a brilliant T20 bowler in the Indian Premier League (IPL). However, he was only picked up in the Indian team after two successful IPL seasons. He made his ODI debut against Australia in the fifth ODI of the 2016 ODI series Down Under.
In a game where all the Indian bowlers were being punished by the Australian batsmen, Jasprit Bumrah continued nailing his yorkers and hitting that hard length which the Australian bowlers found it difficult to get away with. He gave away only 40 runs and picked up 2 wickets in his 10 overs, showing signs of what was going to come.
In a flash, he became India's premier bowler across all three formats in due course of time. Having already picked up 108 wickets in just 67 ODIs, Bumrah is destined to be on his way to becoming one of the finest fast bowlers India has ever produced.
2. Mohammed Siraj
Mohammed Siraj was another fast bowler who had made his name in the IPL playing for the Sunrisers Hyderabad. He was a genuine wicket-taker for them and that helped him get a call-up to India's ODI squad for the Australian tour of 2018-19. He made his debut in the second ODI against Australia at Adelaide.
He had a debut to forget, as he was highly expensive, giving away 76 runs off his 10 overs. He never received an ODI call-up again to date. However, impressive performances in the Ranji Trophy last season have earned him a Test call-up for the 2020 Border-Gavaskar Trophy. He will be looking to make an impact for India if given an opportunity.
3. Vijay Shankar
With Hardik Pandya and KL Rahul banned due to their controversial Koffee with Karan episode, India had to search for another all-rounder to suit their demands in the limited-overs format. This is when a young Vijay Shankar received his maiden call-up to the Indian squad for the 2018-19 Australian tour.
He had risen up the ranks through consistent performances in the domestic circuit and received his maiden Indian ODI cap in the 3rd ODI against Australia in the 2019 ODI series. Although he did not bat, he had a decent outing with the ball, conceding only 23 runs in his six overs. He was destined as India's new No.4 in the 2019 World Cup and was selected as a 3D player ahead of the experienced Ambati Rayudu.
However, he couldn't fulfil his potential and was dropped from the Indian side midway through the World Cup. Having played only 12 ODIs for India till date, Vijay Shankar will have to perform out of his skin at the domestic level to have a chance of getting a loon-in again.
4. T Natarajan*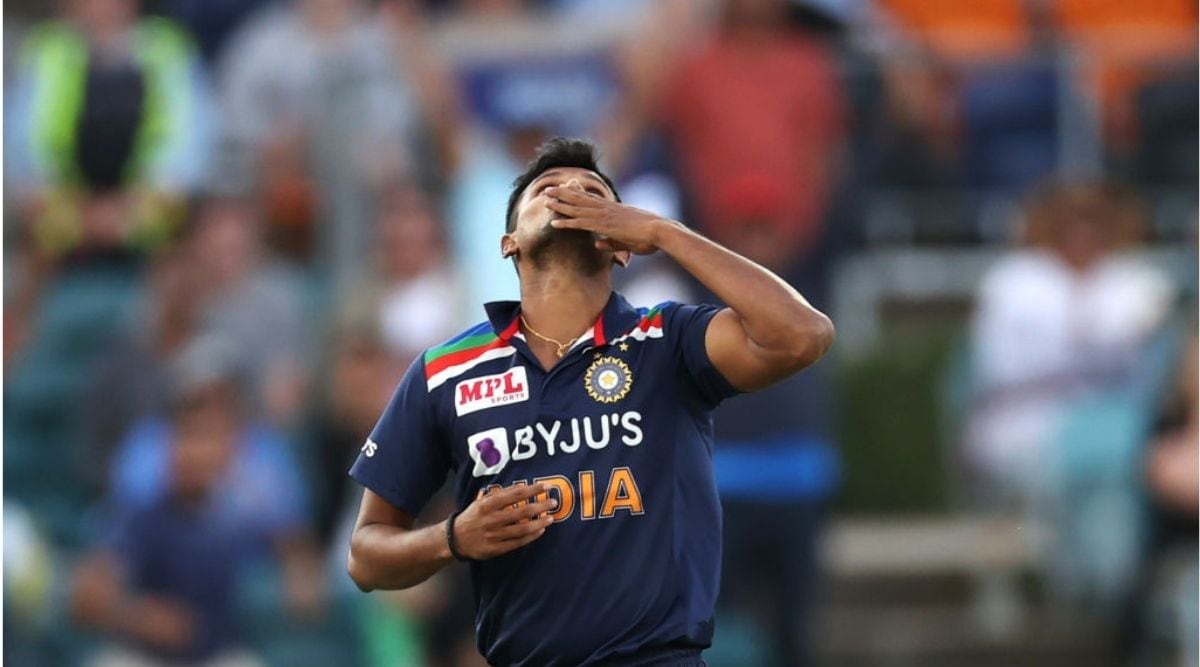 The latest Indian to make his ODI debut against Australia was T Natarajan. Having made his reputation in the Tamil Nadu Premier League, Natarajan actually took three years to become a breakout star at SUnrisers Hyderabad in 2020 IPL season.
Having earned his maiden ODI call-up in the third ODI versus Australia in the 2020 ODI series at Canberra, Natarajan picked up a couple of wickets helping India in a 13-run win. He has provided them with an option of a left-arm seamer in white-ball cricket and will be crucial form them in the 2021 T20 World Cup if he remains fit and in form.