India had made a stunning comeback as they defeated Australia in the second Test at the MCG and all the talk is about the Indian captain Ajinkya Rahane and rightly so. He led a team that had been dismissed for 36 in the last game in the absence of the captain Virat Kohli, and he has done a great job. He led from the front and ensured that the Indian team ended on the winning side.
Over the years, Rahane has played some unbelievable knocks in his Test career. Whenever people start raising questions about his performance, he brings the best out of him. So, on that note let's have a look at Ajinkya Rahane's top five knocks in Test cricket.
81 vs England at Trent Bridge
India toured England in 2018 for a five-match Test series and India lost the first two games. India lost by an innings at Lord's in the second Test match. India won the toss and opted to bat first in the third Test at Trent Bridge. India was in a spot of bother at 82-3 and that's when Ajinkya Rahane joined Virat Kohli in the middle.
Rahane and Kohli put up a 159-run partnership as both of them were playing some delightful shots. Rahane was having some fun as he hit 12 boundaries in his knock of 81 in 131 balls. India put up a total of 329 in the first innings and bowled out England for 161. Eventually, India won the game by 203 runs and won their first Test in the series.
48 vs South Africa at Wanderers
For the first time in his career, Ajinkya Rahane was dropped in the South Africa series for the first two Tests. Rohit Sharma who was preferred over the Indian vice-captain didn't perform and hence Rahane came back for the third game. India was 2-0 down in the series and looking at the Wanderers pitch it seemed as if India would be whitewashed.
South Africa got a slender lead of 7 runs in the first innings and the pitch started behaving dangerously in the second innings. There was an awkward bounce and the batsmen were getting hit on their gloves. In such a situation, Rahane played counter-attacking innings as he scored 48 off just 68 balls. His innings helped India get to 247, and they won the game by 63 runs.
147 vs Australia at MCG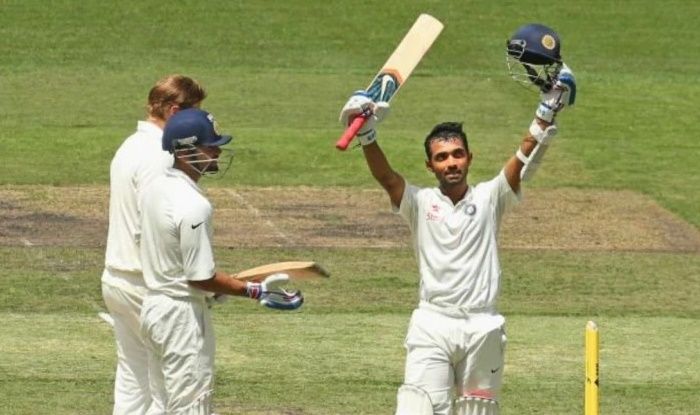 In the 2014 Boxing Day Test, Australia batted first and scored a mammoth 530 in their first innings. In reply, India was 147-3 when Ajinkya Rahane joined Virat Kohli at the MCG. Both of them together put up a 262-run partnership as they scored massive centuries.
Ajinkya Rahane was smashing Mitchell Johnson left, right, and centre as he scored 147 off just 171 balls with 21 fours to his name. Johnson got smashed for 138 runs thanks to Rahane and Kohli. India managed to draw the Test match which was a good achievement.
112 vs Australia at MCG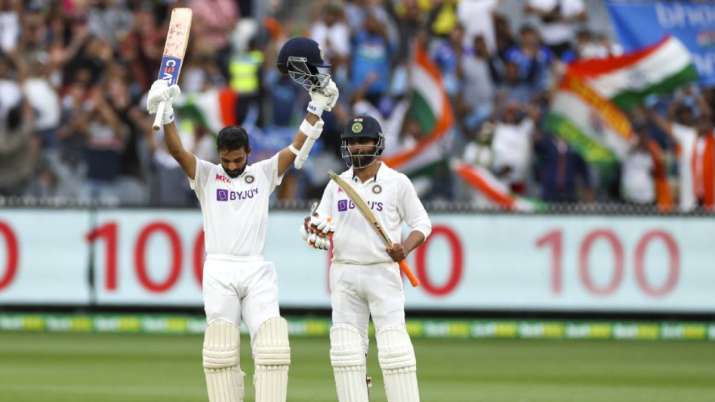 Ajinkya Rahane seems to love the Boxing Day Test matches in Australia. The bowlers gave India a perfect start as they bowled out Australia for 195. India was in a spot of bother at 64-3 and a couple of quick wickets would have changed the game. The Indian captain had two fifty run partnerships for the fourth and fifth wickets followed by a hundred run partnership for the sixth wicket.
Rahane looked determined from the first ball as he scored a magnificent century at the MCG in an important Test match for India. After getting bowled out for 36, India needed a special knock from a special player and Rahane delivered it.
103 vs England at Lord's
When Ajinkya Rahane was asked to rate his MCG knock he said that the hundred at Lord's is still his best knock. England won the toss and opted to bowl first on a seaming green top in 2014 at Lord's. The England bowlers ran through the Indian top-order as they were 145-7 in no time.
Rahane had somehow survived this collapse and so decided to counter-attack. He got some support from Bhuvneshwar Kumar who stayed with him as he played some great shots to reach his first century in England. He scored 103 off 154 balls and got his name on the honours board. India managed to score 295 in their first innings and eventually won the Test by 95 runs.