Virat Kohli is arguably one of the best batsmen of the modern era across all three formats. He grew into a world-class player and also took over the captaincy role. Captaincy proved to be the X factor as it started bringing out the best in him.
Virat Kohli has captained the Royal Challengers Bangalore since IPL 2013. Except for making it to the final of the 2016 season and the play-offs of IPL 2015 and 2020 seasons, RCB have mostly had a rough patch under Kohli.
However, when it comes to national duties, Virat Kohli has led the Indian team brilliantly. He is the most successful Indian captain in tests on the basis of win percentage and has also been the first Asian captain to win a Test series in Australia.
While Kohli has seen many highs for India as a captain in Test Cricket, he also has an unwanted coincidence to his name, which was similar to what he faced with RCB. One similarity between both these coincidences is that they happened after a gap of four years.
Virat Kohli's coincidence with RCB
Virat Kohli captained the RCB team from the IPL 2013 season. In one of the games that season where RCB faced Pune Warriors India, Chris Gayle created a record for the highest individual score in T20 cricket with an unbelievable 175*. On the back of this, RCB managed to score 263-5 in their 20 overs which is till date the highest IPL score ever. This had happened on 23rd April 2013.
Exactly four years later, Virat Kohli again led his RCB team, this time against the Kolkata Knight Riders. Chasing 132 runs to win, RCB just never quite got the start they wanted. On a track that was assisting the seamers, the KKR bowlers were all over the RCB batsmen like a rash and bowled them out for 49 runs only which is the lowest IPL total ever. Thus Virat Kohli saw both the highest IPL score and lowest IPL score in a span of exactly four years.
Virat Kohli's coincidence with Team India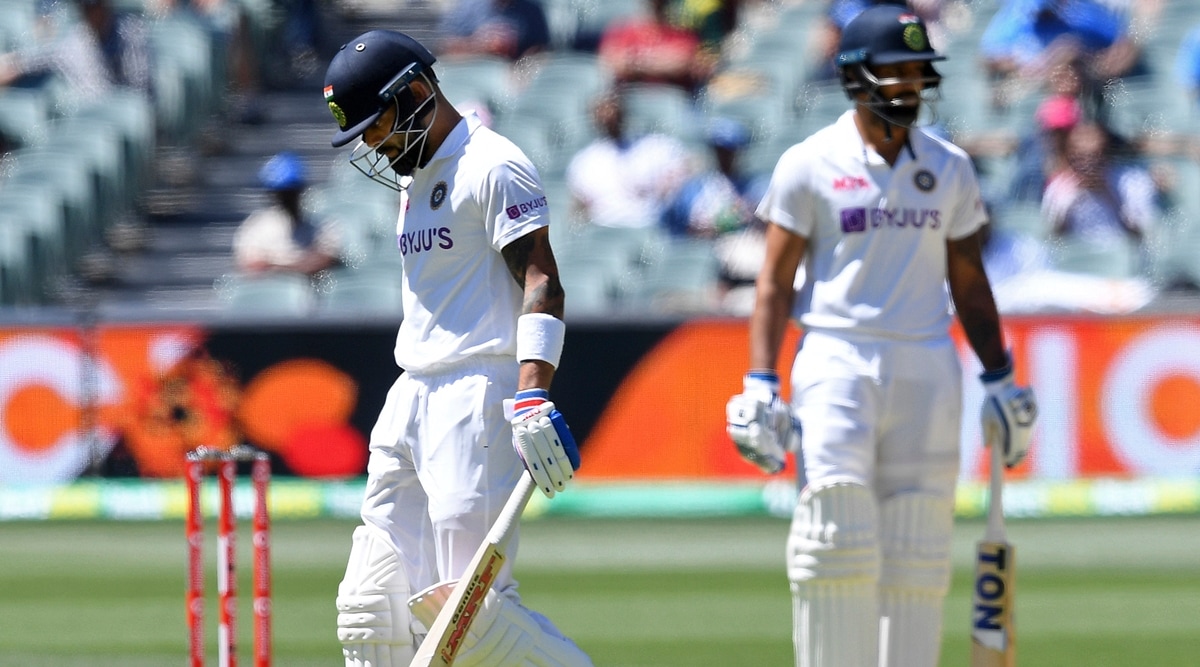 Virat Kohli became India's Test captain in 2014. But it was in the 2016-2017 home season that India stamped their authority as the No.1 ranked Test team in the world. In the Test match at Chennai against England, India scored a record 759/7 declared, which became their highest ever Test score. While KL Rahul dazzled with a brilliant 199, Karun Nair was the real star as he became only the second Indian after Virender Sehwag to smash a triple hundred. This score of India was registered on 19 December 2016.
Exactly four years later, Virat Kohli's team India was in Australia in the first Test at Adelaide. Having seen the effect of the four-year period and having witnessed the highest and lowest scores with RCB, lightning was surely not gonna strike twice, was it? The Australian bowlers Pat Cummins and Josh Hazlewood ran through the Indian batting and restricted them to their lowest ever score in Test history- 36 runs.
In this way, Virat Kohli witnessed both the highs and lows in an incredible coincidence in a period of four years. Although that does not make him any bad a captain, he would surely be embarrassed to hold such a record. Although he hasn't won an IPL title with RCB, he will always remain a strong leader. He will also remain one of the finest Test captains India ever had.