With the 2021 T20 World Cup set to take place in India, the pressure will be high on Team India to win the tournament after a gap of 14 years. Thus, skipper Virat Kohli will be very keen to form a pool of players who can be groomed for the next few months, before the show-piece event takes place.
While there are many players who have a bright chance of making it to the Indian squad for the T20 World Cup, there are some who might have to do a lot of work to get back in the national reckoning. 
layout="fixed" width="336" height="280" type="adsense" data-ad-client="ca-pub-5474032326006367" data-ad-slot="3340040536"
However, there are a few players who have previously represented the Men in Blue in the shortest format, but might never again be seen donning the blue jersey. Here are five Indian players who may never feature for Team India in T20Is.
1. Ravichandran Ashwin
Ravichandran Ashwin rose through the ranks under the leadership of MS Dhoni at the Chennai Super Kings. Seen as a T20 specialist at first, Ashwin slowly was drafted into the ODI side and made it to Team India's 2011 World Cup-winning squad. 
Slowly but surely, Ashwin went on to become Team India's main bowler across all three formats. In 46 T20Is, Ashwin picked up 52 wickets at an excellent economy of 6.62. However, under Virat Kohli's captaincy, Ashwin has not been trusted enough in white-ball cricket. After the 2017 Champions Trophy loss, Ashwin has not made it to the white-ball format to date. He played his last T20I against West Indies on July 9, 2017.
It is unlikely that we will see the veteran off-spinner wear the blue jersey for India again.
2. Ishant Sharma
Ishant Sharma began his career in fine style for India becoming the find of the 2007-08 Border Gavaskar Trophy Down Under. Doing well in Tests and ODIs, Ishant found himself in the scheme of things for Team India in the shortest format.
However, he did not have a great time out in T20Is for Team India, as he had an economy of 8.63 and picked up only eight wickets. With time, he became a regular feature in the Test format and thus found himself out of the white ball scheme of things. He last played T20I for India on October 10, 2013 against Australia.
With Team India's workload management for the fast bowlers, it is unlikely that Ishant will replace Team India for T20Is.
3. Piyush Chawla
Piyush Chawla was the second youngest cricketer after Sachin Tendulkar to make his international debut for India. He was in the scheme of things in his early days and won the 2011 World Cup at home.
However, his form just tapered away with time and gradually he fell out of the radar of the national selectors. He continues to play in the IPL and having played for KXIP and KKR, he now plays for CSK. He played his last T20I for India during England's tour of 2012.
Unless he has a drastically good IPL season, there is very little chance that he will feature for Team India again.
4. Amit Mishra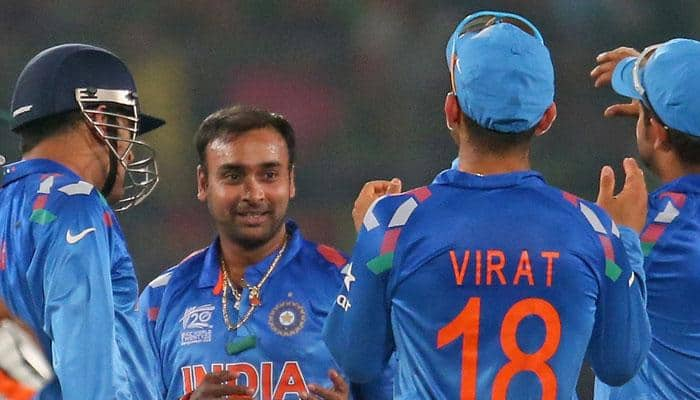 Amit Mishra is one of those unfortunate spinners who rose through the ranks when the Indian team already had veterans like Harbhajan Singh in the team. But being a leg spinner, he did receive a few chances to play T20I cricket for Team India.
His T20I numbers are extremely impressive, having picked up 16 wickets from 10 T20Is at a brilliant average of 6.31. Amit Mishra played his last T20I for India on February 1, 2017 against England at home.
The rise of spinners like Yuzvendra Chahal and Kuldeep Yadav has kept Amit Mishra out of contention and with age not on his side, he might never play the shortest format for Team India again.
5. Robin Uthappa
Robin Uthappa was one of the rising stars of Team India and made an important impact during their 2007 T20 World Cup triumph. He has also played some valuable knocks for the Men in Blue down the order in white-ball cricket.
He later tried opening the batting for Team India later but faced stiff competition with the likes of Rohit Sharma and Shikhar Dhawan at the top. He also faded away after having a brilliant 2014 IPL season. He last played a T20I for India on July 19, 2015 against Zimbabwe.
There are very fewer chances that we will get to see Robin Uthappa donning the blue jersey of Team India