India pulled off a remarkable feat in the recently concluded Australian tour, drafting a historic series win, as they pulled off a Herculean chase on the final day of the series, putting an end to a humongous streak of Australia at Gabba in the Border-Gavaskar trophy.
What started off as an ignominious fiasco at Adelaide where India recorded their lowest-ever Test total which was followed by the departure of Virat Kohli as he had to attend his first child's birth and a nasty injury to Mohammad Shami, India was staring at a monumental task as they still had to bounce back in the series and erase the pain of humiliation.
However, no one would have anticipated in their wildest dreams, that with a mounting list of injury, with half of their players from the first-string set taken out of the equation, India would have went on to thrash Australia in the latter's backyard.
In the wake of the remarkable triumph that saw India retaining the series by carrying out a humdinger victory at Melbourne and Brisbane, there were a few legendary partnerships that impacted the course of the fray. We will sneak a peek at five of the most excellent partnerships those were worth mentioning from the series.
1. Ajinkya Rahane and Ravindra Jadeja – 121 runs, 1st innings at Melbourne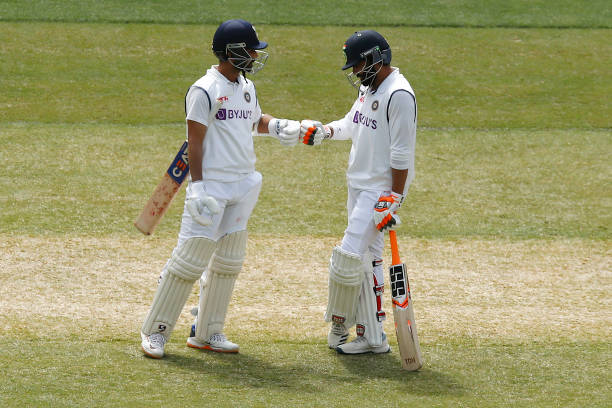 Despite Australia being tamed out for a paltry 195, the Indian batsmen didn't have it easy either. The surface was working out wonders for the bowlers and the Australian trifecta of pace, imposed a good deal of punition on the Indian batsmen. There was a time when India was tottering at 116 for 4 and the posterity of the innings seemed bleak for the visitors with Rahane being the solitary warrior.
Rishabh Pant played an extremely crucial knock of 29 runs that helped India inch closer to Australia's first innings total. However, the partnership that followed thereafter was the crux of the watershed as Jadeja and Rahane played a few exquisite strokes that carved out the difference between the two teams.
With both the batsmen going slow but steady, they managed to cross Australia's score and with time Jadeja started getting belligerent to hew away at the Australian bowlers. The duo piled up 121 runs together that saw India cruising off to 294 runs before a brilliant piece of fieldwork from Marnus Labuschange caught Rahane short off the crease. Till then the damage was already done as he managed to impose a hefty 112 that propelled India's first innings score.
2. Shubman Gill and Ajinkya Rahane – 51 runs, 2nd innings at Melbourne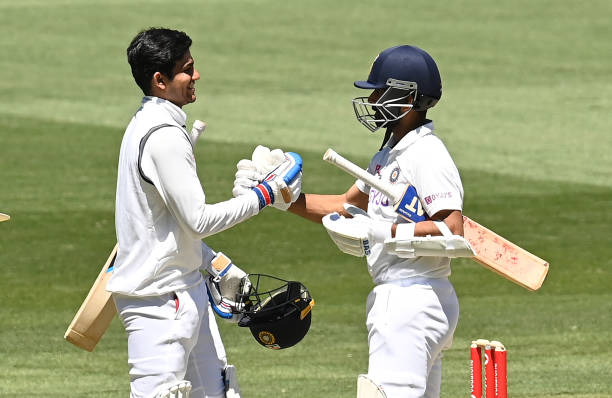 In the context of any form of cricket, the numbers of this partnership isn't a massive effort and is easily achievable. However, the magnitude of a situation can only be plumbed, considering a helluva lot of factors.
Sourav Ganguly was once asked that which would be his favourite five Test innings. He placed his 51 against South Africa at Johannesburg ahead of his double-century, citing the fact that India was already neck-deep in hot waters and the pace duo of Shaun Pollock and Makhaya Ntini was scorching the Indian batting line-up at their volition.
Similar was the case of Gill and Rahane. As India was chasing a total of 70 in the second innings after Australia's batting collapse in the precedent innings, they lost two early wickets, thereby kicking in a worrisome déjà vu of India's first Test fiasco.
Mayank Agarwal was once again removed after Mitchell Starc razed him in the corridor of uncertainty and Tim Paine pouched a safe take. To make matters further woeful, Cheteshwar Pujara found himself off-balance as Cummins nipped him with a toe-crusher and the resultant stroke was brilliantly taken by a stooping Cameron Green at gully.
As soon as Pujara fell, the voice of the commentator boomed over the microphone, excited about the fact that whether there is still a twist left in the tale. However, after weathering the initial blasts of Cummins, Starc and Hazlewood, Gill and Pujara got into the effusive flow that saw them trading the Australian bowlers comfortably. The amount of pressure that was piled up on the duo to wriggle free from the clutches of the nightmare at Adelaide made this partnership an extremely special one.
3. Rishabh Pant and Cheteshwar Pujara – 148 runs, 2nd innings at Sydney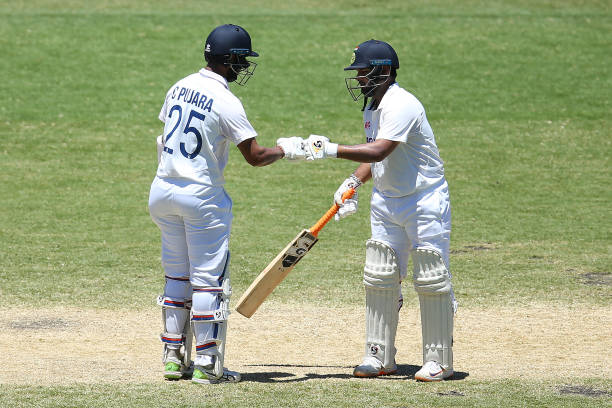 This was another brilliant partnership between Pujara and Pant that staged an excellent turnaround, taking India out of its fear of a defeat and turning it into a possible victorious situation.
As Rahane was shown the exit after Nathan Lyon tricked him into holing out to Matthew Wade, India was oscillating rigorously on the fringes of uncertainty. Chasing a monumental total of 407, India was reduced to a paltry 102 for the loss of three wickets and to make the situation a lot worse, Jadeja was out of the equation with a dislocated finger and Ashwin had a massive back-ache to tend to.
Undaunted by the odds stacked against them, Pant went for the kill and started taking out the Australian bowlers with some nasty strokes. In fact, he didn't even hesitate in taking the aerial route that saw him smoking three gigantic sixes. Pujara, on the contrary, cleaved to his natural game and played extremely warily to ensure the continuation of the partnership.
The duo stitched together a brilliant stand of 148 runs with Pant finally getting out to Nathan Lyon, three runs shy of his century while Pujara was castled by Hazlewood for a gritty 77 from 205 balls. This partnership did spook the Australians to the very extreme, considering the fact that Pant was eyeing a victory.
4. Hanuma Vihari and Ravichandran Ashwin – 62 runs, 2nd innings at Sydney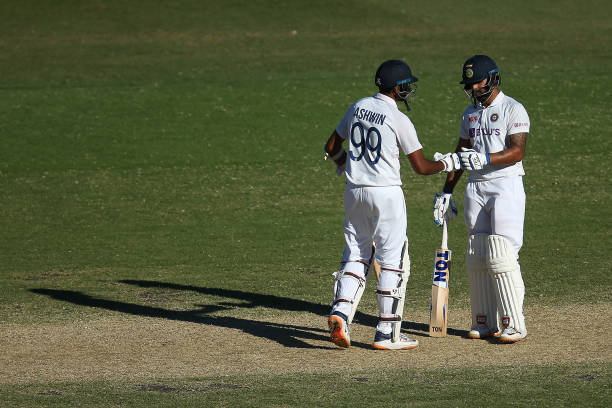 This partnership was beyond the cricketing lexicon as no figures would suffice the amount of courage that this duo had put together to save a Test match that was beyond India's wildest grasp.
With no recognized batsman in the mould, Ashwin and Vihari was shouldered with the onus of staving away the Australian bowlers for a staggering 45 overs that seems impossible even for a fully recognized batsman.
To make this even harder, Vihari was batting with a pulled hamstring which transpired while trying to sneak a single in his partnership with Pujara. Ashwin, on the contrary, who was already suffering from an intolerable back-ache, was already peppered with a couple of sweet chin music from Cummins, two nasty deliveries on the ribs from Starc and a bouncer that kissed the unprotected inch of his elbow from Hazlewood.
Despite being stationed at the eye of Australia's pace storm, the duo continued staving away the bowlers who spared no expenses in making life a living hell for this duo.
Playing out a staggering 261 deliveries, batting for more than 5 hours, the duo hung in there until the very end, saving India from the jaws of sheer defeat. Fortune did favour India once as Hanuma Vihari nicked one to the slip but it was grassed by the Australians and they paid a hefty price for the muck-up.
Vihari stayed not out for 23 from 161 balls while Ashwin stayed unbeaten at 39 from 128 deliveries.
5. Washington Sundar and Shardul Thakur – 123 runs, 1st Innings at Brisbane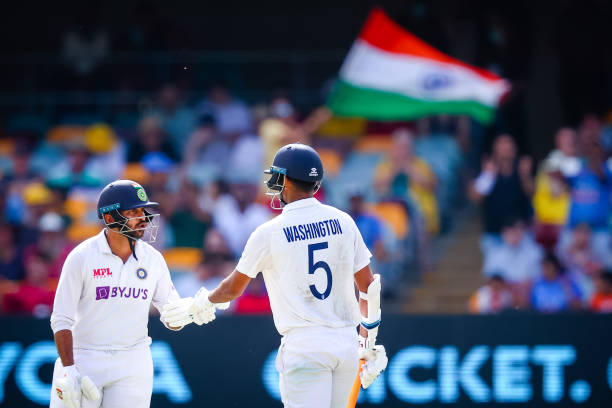 This record-breaking partnership at Brisbane proved to be the downfall for Australia in the historic Test match that also witnessed India claiming their streak at Gabba.
Initially what was termed as a match-saving partnership, eventually turned into a nightmare for the Australians. After the departure of Rishabh Pant that saw India tumbling at 186 for 6, with the scare of a defeat looming largely over the Indians, Washington Sundar and Shardul Thakur took over the reins and started batting like fully-developed batsmen to stall India's downfall.
Playing a few exquisite drives, Sundar and Thakur rekindled memories of India's former batting legends who were masters at turning defeats into victories.
In fact, the way in which Shardul Thakur danced down the track to smoke Lyon to the stands was another déjà vu of Sachin Tendulkar inflicting the desert storm on Shane Warne.
Washington Sundar smote Nathan Lyon for a gigantic sixer without even staring at the ball. Such was the duo's dominance that what eventually was a condescending grin from Isa Guha in the commentary box was silenced into a dead whisper that also snuffed out Australia's high hopes of a big lead in the first innings.
Sundar was removed for 62 as Cameron Green pulled off a blinder at Gully while Pat Cummins kissed Thakur's timbre goodbye, castling him for 67.