Marnus Labuschange has always been an enterprising and an entertaining cricketer to say the least and his latest foray in trying to get Washington Sundar rattled in his heroic stand against Australia left former Australian legends in splits.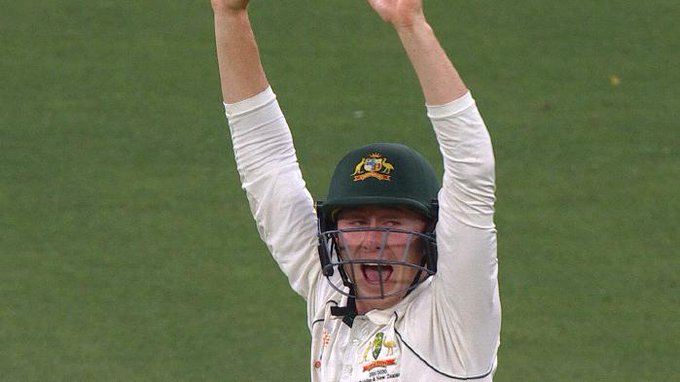 Spanning from letting a ball pass on to the gloves of a wicket-keeper to fielding cinches, Marnus is the crux of all the smiles and jeers in the Australian dressing room. After he made his way to the Australian cricket team, being the first concussion replacement under the implementation of the new rule, he has been a wonder in any format of the game that he has played.
In the ongoing Test series between India and Australia, he failed to hog the limelight with his bat but his banter with Shubman Gill popped a few eyeballs at Sydney. After one of the most entertaining and formidable games of cricket at the SCG, Marnus once again grabbed the limelight upon himself at Gabba, however not for all the right reasons.
In the 63rd over of Day 3, as Washington Sundar and Rishabh Pant were trying to stitch together a resolute stand, Josh Hazelwood wanted to stun the bowling all-rounder with a shortie. However, not willing to take any risk, he let it fly to the gloves of Paine.
This is where the ridiculous incident unfolded. Out of nowhere Marnus had this notion that the ball went through the middle of Sundar's bat and indulged himself in an extremely vociferous appeal.
This riveted the attention of former Australian cricketers, Adam Gilchrist and Mark Waugh who were commentating at a point in time.
Commentating for Fox Sports, Mark Waugh cited, "What is he doing?" He continued, "Do you think he was having a bad dream or something? What is he doing? What is Marnus Labuschagne appealing for?"
Adam Gilchrist was surprised too as he quoted, "He still looks bemused, look." The camera kept on rotating on the face of a blank Marnus while this entire incident unfolded.
Waugh continued, "Not surprised our producer didn't put the DRS countdown clock on there because there was no one else interested in the stadium. I've got no idea what happened there."
Gilchrist retorted, "I wonder what was Marnus thinking and what planet was he on"? In the meanwhile, Washington Sundar and Shardul Thakur stitched a Herculean stand for the 7th wicket that salvaged India from the jaws of glaring jeopardy. As India was wobbling at 186 for 6, Sundar smashed a fine 62 while his partner, Thakur managed to garner a brilliant 67 to propel India to 309 before Pat Cummins kissed his timbre with the cherry.
The duo added 123 runs that helped India to inch close to Australia's mammoth first innings total. Thakur started his batting career in Test cricket with an astonishing sixer, and he got to his fifty with another humdinger massive strike against Nathan Lyon.
Haplessly, once the duo departed, there wasn't much resistance from the remaining tail and India was mopped up within 336 that helped Australia to maintain a lead.
They finished the day at 21 for no loss as the lead has now staggered up to 54 runs. Marcus Harris and David Warner are currently at the crease.