Chennai Super Kings has been one of the successful IPL teams in the history of IPL. They have won two IPL titles, a Champions League T20 title and have made it to the playoffs of IPL for a record ten times and to the finals eight times. Restricting the batting line-up of such a consistent T20 side is not a walk in the park. But fortunately, we have witnessed a few astonishing bowling performances, which gave CSK a tough time. Here we have listed the top five among them, so let's take you through some of the best bowling figures against CSK in IPL history.
#5 Brad Hogg (KKR) – 4/29 Kolkata 2015:
After losing Dwayne Smith on the first ball of the match, Chennai Super Kings's Brandon McCullum wreaked havoc on the Kolkata Knight Riders in the 30th match of IPL 2015. McCullum's hitting pushed CSK to 2/64 in just five overs until Brad Hogg came into the attack. Hogg got Brendon McCullum LBW for 32(12) on his first ball of the game. Later, on the fourth ball of the same over, he got Faf du Plessis stumped for 20(11), removing their dangerous duo in the same over. The wicket of MS Dhoni in the next over by Piyush Chawla put CSK under pressure despite a blazing start. In the 19th over of the innings, he once again got two CSK batters out in the same over. Both Ravindra Jadeja and Pawan Negi fell in his trap in the span of three balls. He ended the match with the bowling figures of 4/29. KKR won this match by seven wickets.
#4 Trent Boult (MI) – 4/18 Sharjah 2020:
The IPL 2020 was the worst season for Chennai Super Kings in the history of the tournament. CSK ended up second last in the league table, their first time in the bottom four ever. Nothing was working for CSK last season, whereas Trent Boult and Bumrah were dismantling the opposition batting line-ups every game. And that's what they did in the 41st match against CSK too. Boult got rid of Ruturaj Gaikwad on the fifth ball of the first over. Bumrah followed with two more in the second over. Then Boult struck another blow by nicking Faf du Plessis to the keeper, leaving CSK on a troublesome score of 4/3. Later, Boult got rid of Jadeja as well. No CSK batter had answers to this duo except for Sam Curran, whose half-century propelled CSK to 9/114 at the end of 20 overs. Boult bowled Sam Curran on the final bowl of the innings after Sam hit him for 13 runs. MI won this match by ten wickets in just 12.2 overs. Trent Boult won the player of the match award for his figures of 4/18.
#3 Zaheer Khan (RCB) – 4/17 Bengaluru 2013:
Zaheer Khan used the pressure of a humongous target to his advantage in this rain-affected match. The 70th match of IPL 2013 got reduced to eight overs per side. Batting first, Royal Challengers Bangalore put a massive 106 runs on the board. Chasing this huge total, Mike Hussey and Suresh Raina got out to consecutive deliveries of Zaheer Khan's first over. After these two early blows, the pressure kept building on CSK as the target seemed far-fetched. Zaheer Khan picked two more wickets of MS Dhoni and Ravindra Jadeja in the final over as a CSK win seemed impossible. RCB won this match by 24 runs.
#2 Harbhajan Singh (MI) – 5/18 Mumbai 2011:
Harbhajan Singh picked up a five-wicket haul in this 25th match of IPL 2011 between Mumbai Indians and Chennai Super Kings. Batting first, Mumbai Indians scored 164 despite a few early dismissals. Chasing this average total, CSK lost the wicket of Murali Vijay on 31 in the fourth over. Harbhajan's turn came in the fifth over when he caught and bowled Suresh Raina. A partnership of 60 runs after that turned the momentum back in CSK's favour before Malinga dismissed Mike Hussey. MS Dhoni followed in the next over, and after that, Harbhajan's spinning brilliance diminished all hopes for CSK despite Badrinath's fightback. Harbhajan Singh won the man of the match award in Mumbai Indian's eight-run win for his career-best bowling figures of 5/18.
#1 Sohail Tanvir (RR) – 6/14 Jaipur 2008: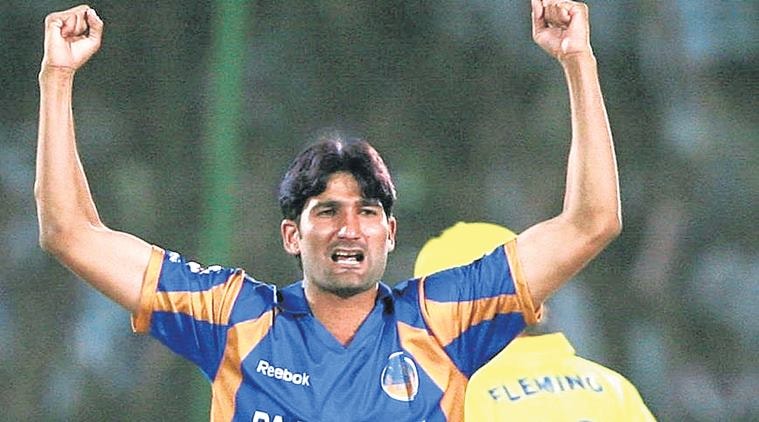 Social Tanvir's dream spell in the 24th match of IPL 2008 between Rajasthan Royals and Chennai Super Kings tops this list. His figures of 6/14 made this match a one-sided low-scoring clash. Batting first, CSK lost Parthiv Patel and Stephen Fleming to Sohail Tanvir in the first over. He struck again his next over, nicking Vidyut Sivaramkrishnan to slip. Other RR bowlers used this opportunity to scalp a few more CSK wickets. Social Tanvir came back in the 17th over to help RR get rid of Albie Morkel, who was the highest scorer for the CSK. After that, it was just house cleaning for Tanvir, who bowled Muttiah Muralitharan and Makhaya Ntini to restrict CSK for 109. RR easily won this match by eight wickets thanks to Sohail Tanvir's best-ever bowling figures of 6/14.