Trending
Ian Bishop Made A Big Statement On Venkatesh Iyer Filling Hardik's Shoes
Former West Indies cricketer Ian Bishop has made some big statements on Indian cricketer Venkatesh Iyer, who turned out to be one of the top performers for the Men in Blue in the recently concluded T20I series against West Indies.
Iyer had impressed everyone with his breakthrough performance in the 2021 edition of the Indian Premier League for Kolkata Knight Riders and was seen as a potential replacement for Hardik Pandya. Ever since he made his debut in 2016, Hardik was an integral part of the Indian team but he has been out of the team for most of the time in the last few years because of his shoulder injury.
The Indian side has been struggling to find that much-needed balance in the squad and this is the reason why Iyer was brought into India's white-ball squad to bring the balance in the line-up that Pandya used to provide.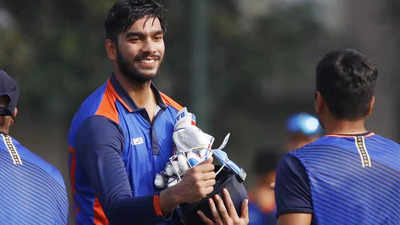 In the dead rubber against Windies last night, Iyer remained unbeaten on 35 off 19 balls, smashing four fours and two sixes as he stitched a solid partnership of 91 runs for the fourth wicket with Suryakumar Yadav to help India recover from a mini-collapse. He also picked two crucial wickets later while defending the target.
Later after the match, Ian Bishop was asked on Star Sports if Venkatesh has aced the audition for the squad for the upcoming T20 World Cup by filling the crucial position of Hardik Pandya. Responding to this, Bishop said: "So far, so far."
Though Bishop admitted that the Windies bowling line-up posed less threat to the Indian batting line-up, but he also was impressed by Iyer's versatility given that he had only opened in the IPL for his team Kolkata Knight Riders and he was asked to bat at No. 6 for team India. Talking about the same, he said:
"You can only play against what has been put in front of you. So people may say that it is the West Indies bowling attack and it isn't that great and they are right. But Iyer has no control over this. And he surprised me with his versatility. Because when I saw him in the IPL, I saw him batting at the top of the order. He is now playing in the middle order getting off to a flying start with great strike rate. We will see how he goes in the future but he has, at the moment, bested this position that he has been put into,"
Meanwhile, Venkatesh Iyer has been retained for the upcoming three-match series against Sri Lanka that will kickstart from February 24 in Lucknow while Hardik continues to be rested.