"Ashwin is Isaac Newton of cricket", wrote a fan hailing the smartness of Ravi Ashwin, who has once again managed to grab all the attention with his tactical game awareness as he became the first cricketer in IPL history to get retire-out.
Well, during the ongoing IPL 2022 match between Rajasthan Royals and Lucknow Super Giants, the fans witnessed Ravi Ashwin becoming the first batter in IPL history to be tactically retired out.
layout="fixed" width="336" height="280" type="adsense" data-ad-client="ca-pub-5474032326006367" data-ad-slot="3340040536"
R Ashwin walked out to bat at number 6 when his side was struggling at 67/4 in 9.5 overs. He joined hands with Shimron Hetmyer and together they rebuilt the innings, adding 68 runs for the fifth wicket.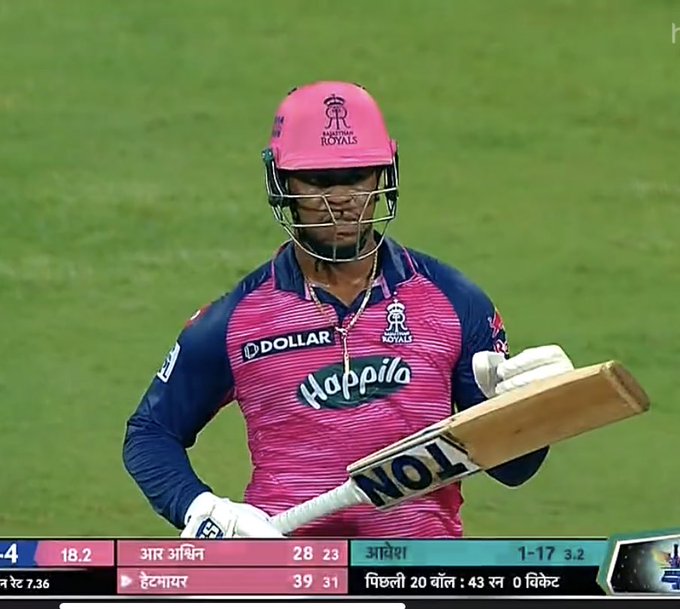 Ravi Ashwin was playing on 28 runs off 23 balls, when he decided to walk back to the pavilion, allowing Riyan Parag to join Shimron Hetmyer in the middle. He was batting on 28 off 23 balls when he gave the opportunity to Riyan Parag to finish off the innings.
For the unversed, retired out is a tactical move, where a batter can't come back once retired. It is entirely opposite to the retired hurt. When a batter walks back into the dressing room without being adjudged out by the umpire and not being injured, he is referred to as retired out in cricket.
Well, Ashwin's tactical move worked out perfectly for Rajasthan Royals as they posted a target of 165/5 on the scoreboard at the end. Even Shimron Hetmyer was also left stunned after the brilliant trick by the talented player and he expressed the same feeling after their innings. He said:
"I literally have no idea about that retire-out decision from Ashwin! It was a good decision in the end… We are in with a very good chance. The ball isn't coming on well,"
Meanwhile, fans on social media went berserk after Ashwin decided to walk back to the pavilion. From cricketers, experts to fans, everyone was left stunned by his move.
Here, check out the reactions of twitterati to this:
Ashwin has been retried out! Talk about playing for the team and leading from the front, well done, @ashwinravi99 & @rajasthanroyals!

— Nikhil ? (@CricCrazyNIKS) April 10, 2022
Ravi Ashwin retired out!!! It's finally happened. The future is now

— Dave (@CricketDave27) April 10, 2022
Retired OUT .. love it .. @rajasthanroyals #IPL2022

— Michael Vaughan (@MichaelVaughan) April 10, 2022
Retire-Out. First of many. De-stigmatise it.

— Aakash Chopra (@cricketaakash) April 10, 2022
Ashwin after 4 down and sending him over Parag… Sangakkara fraud ??

— Sai (@akakrcb6) April 10, 2022
It is bizarre that RR with Ashwin at No.7 and no death bowler got the kind of hype they did.

— Alagappan Vijayakumar (@IndianMourinho) April 10, 2022
Ashwin always pushing cricket in the right direction. Only he can have the courage to do this and take the criticism on the chin. You go, Anna!

— Manya (@CSKian716) April 10, 2022
It was always going to be Ashwin that did it, wasn't it?

— Ben Jones (@benjonescricket) April 10, 2022
A first in the IPL. R Ashwin retires out.

— Venkata Krishna B (@venkatatweets) April 10, 2022
Ashwin at the center of it all, destiny

— Prashanth S (@ps_it_is) April 10, 2022
Ashwin is a groundbreaking hero of cricketer, love him for that

— Sritama (Ross Taylor's version) (@cricketpun_duh) April 10, 2022
Of course, Ashwin did it. Of course

— Flighted Leggie ? (@flighted_leggie) April 10, 2022
Even if Ashwin scores fastest century today, not sending Parag over him will remain an awful decision #IPL2022

— Udit (@udit_buch) April 10, 2022
I just love Ashwin Anna and how he keeps on exploring the rule book and ticking every box. His tactical game awareness >>>>>>? #IPL2022 @ashwinravi99 #CricketTwitter

— Unnati Madan (@unnati_madan) April 10, 2022
Ashwin out there treating cricket like a deep sea expedition. Man's out there discovering something new every other time.

— Heisenberg ☢ (@internetumpire) April 10, 2022
As @ashwinravi99 becomes the first player to retire out in the IPL, I can't help but think about the time he's done with his playing days and is heading the ICC men's Cricket Committee. Imagine the innovations he'll bring into and for the game #IPL2022

— Bharat Sundaresan (@beastieboy07) April 10, 2022
Ashwin is Isaac Newton of cricket, he uses all possible option available in cricket rule book to extract the maximum benefit. Not sure who's idea was this to retire him out. #LSGvRR

— KochiKame (@TweetECricket) April 10, 2022