"It was Kings' game, I have sympathy for them", even Gujarat Titans captain Hardik Pandya admitted after winning the game last night against Mayank Agarwal Punjab Kings in the nail-biting thriller at the Brabourne Stadium.
Chasing a target of 190-runs, the Hardik Pandya-led Gujarat Titans had been keeping up to the required run rate for a large part of their innings. However, Punjab Kings' bowler Arshdeep Singh tried to bring back the game in his team's favor as he gave away only five runs in his last over to hand a massive advantage to his team.
layout="fixed" width="336" height="280" type="adsense" data-ad-client="ca-pub-5474032326006367" data-ad-slot="3340040536"
Titans captain Hardik Pandya (27) smashed a couple of boundaries in the penultimate over, however, their woes were compounded after Pandya ran himself out. David Miller smashed a four and stole a quick single, bringing Rahul Tewatia to face the last two balls of the game.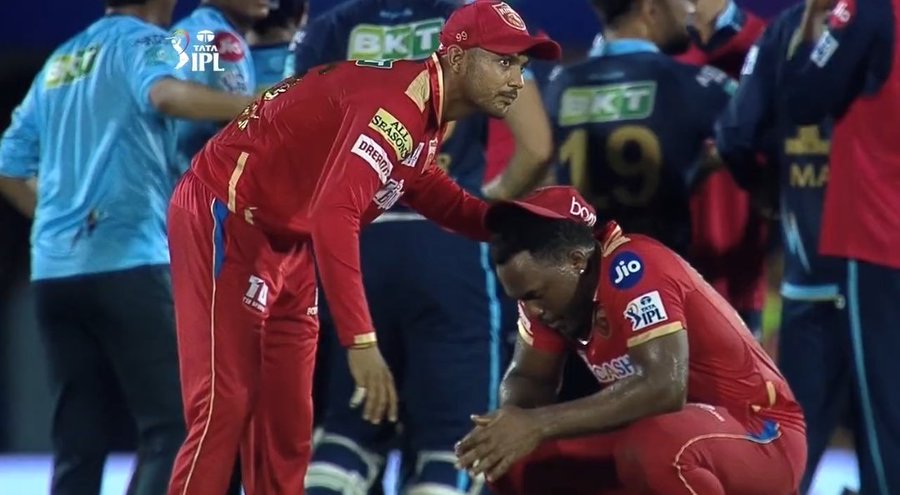 Gujarat needed 12 runs off the last two deliveries and Rahul Tewatia played a sensational and short cameo Rahul Tewatia, who smashed both of them out of the park, snatching the game away from his franchise.
Kings all-rounder Odean Smith was the bowler on the other hand, who was smashed for two back-to-back sixes by Rahul Tewatia. Though, he kept his team in the game, however, failed to deliver when it mattered the most.
After leaking 12 runs, Odean was left devastated as GT players ran towards the ground to embrace Tewatia after his heroics. Watching his teammate in a condition like that, Punjab Kings captain Mayank Agarwal ran towards him and patted on his back. Mayank hugged Odean Smith and pulled him up, trying to cheer up the talented bowler.
Later, after the game, during the post-match presentation, Mayank Agarwal said some real inspiring words for Odean Smith after the loss. He didn't say a single word about the overthrow and claimed that the team will back Smith. He said:
"It was a tough game but we really fought hard. We were 5-7 runs short but we pulled it back after the start they had. There were a lot of positives for us. We did really well to get ourselves to that score after losing so many wickets, so we were very happy with that. We fought really hard on the field. It was great execution by both of them (Rabada and Arshdeep), fantastic effort by them to pull the game, they really got us in the game."
He added: "Last over could have been anyone's game. We totally back Odean, it's fine, he probably had a hard game but that's fine. We back him a 100%. It's just a game of cricket, it could be a bitter one to swallow but it's fine. The talk in the group is we always back the guys. If he has a bad day, he has bad day, no worries, we back him 100%."
Not just this, during the game when Rajangad Bawa was dismissed on a first-ball duck, Mayank walked toward the game and patted his back.
Gujarat Titans might have won the game last night, however, it was the gesture of Punjab Kings' captain Mayank for his deflated teammates after the game that won everyone's hearts. Here, check out the reactions of Twitterati to this:
"He [Odean] probably had a bad game, we backed him and it's fine. It's alright. I know it could be bitter, but the talk is if someone has a bad day, he has a bad day" – Mayank Agarwal.

Lovely. He wasn't flustered or angry. Never once let down his teammate!#PBKSvGT,

— Rohit Sankar (@imRohit_SN) April 8, 2022
Really impressive words from Mayank after the loss. Not a single word on that overthrow. He knows Odean is the one who is hurting the most and now isn't the time to bring that up.

— Cricket With Ash (@CricketWithAsh) April 8, 2022
I was struck by that too.

Mayank Agarwal has always seemed a very level-headed chap. Captaincy has thrown that in stark relief. How many captains – after a loss like that and while they're not getting runs – would have spoken as he did? Admirable. https://t.co/RoYsGFNhUI

— Saurabh Somani (@saurabh_42) April 8, 2022
patted bawa's back when he got out on a duck in his debut match and now this. there are very few cricketers who represent the good side of the sport and mayank agarwal is one of them. ♥️ pic.twitter.com/OTZ0gTtXGI

— Siddhi (@_sectumsempra18) April 8, 2022
Mayank Agarwal has been the standout as captain. Always been there for his players in tough moments. pic.twitter.com/4uiv9GAxdT

— Mufaddal Vohra (@mufaddal_vohra) April 8, 2022
"He [Odean] probably had a bad game, we backed him and it's fine. It's alright. I know it could be bitter, but the talk is if someone has a bad day, he has a bad day" – Mayank Agarwal.

Lovely. He wasn't flustered or angry. Never once let down his teammate!#PBKSvGT,

— Rohit Sankar (@imRohit_SN) April 8, 2022
Even though PBKS lost , this gesture from Mayank Agarwal won my heart ?? pic.twitter.com/FGfOlF78hu

— ` (@FourOverthrows) April 8, 2022
patted bawa's back when he got out on a duck in his debut match and now this. there are very few cricketers who represent the good side of the sport and mayank agarwal is one of them. ♥️ pic.twitter.com/OTZ0gTtXGI

— Siddhi (@_sectumsempra18) April 8, 2022