Wasim Jaffer Wrote The Best Tweet On Hardik Pandya: He's back – and with a BANG. Gujarat Titans captain Hardik Pandya has perhaps been the biggest individual story of the IPL 2022. Before the start of the season, he had promised some "surprise" for his fans. He delivered it in stunning fashion by not only bowling his quota of 4 overs in the first four matches, but also clocking the speeds of 135-40 KPH.
His batting has been another great positive – Pandya has scored more runs in 5 matches this season than he did in the entire season last year. Although, these runs – 228 runs in 5 innings, average of 47 and strike rate of 136 – have come when he's promoted himself in the upper middle-order, at numbers 3 and 4 and also, for a little while, was the Orange Cap holder after his superb knock of 87 runs off 52 balls vs Rajasthan Royals before Jos Buttler took it back.
layout="fixed" width="336" height="280" type="adsense" data-ad-client="ca-pub-5474032326006367" data-ad-slot="3340040536"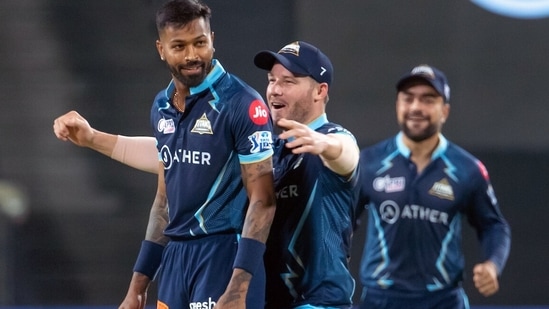 This was Hardik's second-highest score in the IPL and it helped the Titans win their fourth match out of five and climb to the top of the points table.
Pandya had been away from high-level cricket for over four months after the T20 World Cup as he decided to give full attention to his form and fitness, in particular his bowling fitness that had misbalanced the Indian team in the past year and more.
He didn't play any international games and marked his return straightaway in the IPL amid several doubts by fans and experts. He has answered them in style.
Former India batsman Wasim Jaffer is thoroughly impressed by Hardik Pandya's resurgence as an all-rounder who can bowl overs regularly. In his renowned witty style, using a meme, Jaffer explained that Hardik's return as a proper all-rounder is the best news for Indian cricket from IPL 2022 and that the national side will now once again get its jigsaw completed as they prepare for the T20 World Cup later in the year.
"From India's pov @hardikpandya7 looking in good touch with the bat and bowling at full tilt is the biggest plus from this IPL so far," Wasim Jaffer tweeted.
From India's pov @hardikpandya7 looking in good touch with the bat and bowling at full tilt is the biggest plus from this IPL so far. #RRvGT #IPL2022 pic.twitter.com/BK7OJAFbrl

— Wasim Jaffer (@WasimJaffer14) April 14, 2022