Harsha Bhogle Wrote A Special Tweet For Abhinav Manohar: Gujarat Titans batsman Abhinav Manohar has become one of the standout IPL debutants with his compelling batting performances so far in the IPL 2022. In his first three batting innings, the right-hander scored 51 runs at a strike rate of 170, his performance versus SRH, a mature knock of 35 off 21 balls garnered him a lot of applause.
Manohar continued his form against the Rajasthan Royals, scoring 43 runs off 28 balls. Once again, the 27-year-old walked in when his side had lost quick wickets. He came in to bat at number 5, promoted over David Miller, when the Titans were in a precarious situation of 53/3.
layout="fixed" width="336" height="280" type="adsense" data-ad-client="ca-pub-5474032326006367" data-ad-slot="3340040536"
Knowing that GT cannot afford to lose anymore wickets at that stage, Manohar batted cautiously, with his first couple of boundaries coming off an edge and a pull down the leg side to a poor ball. He was, in fact, troubled considerably by R Ashwin who mixed up his variations and survived to reach 19 off 18 balls.
Feeling the need for adding the impetus, Manohar took on the experienced and in-form Yuzvendra Chahal, slamming the leggie for a four and a six – a stunning lofted cover drive maximum!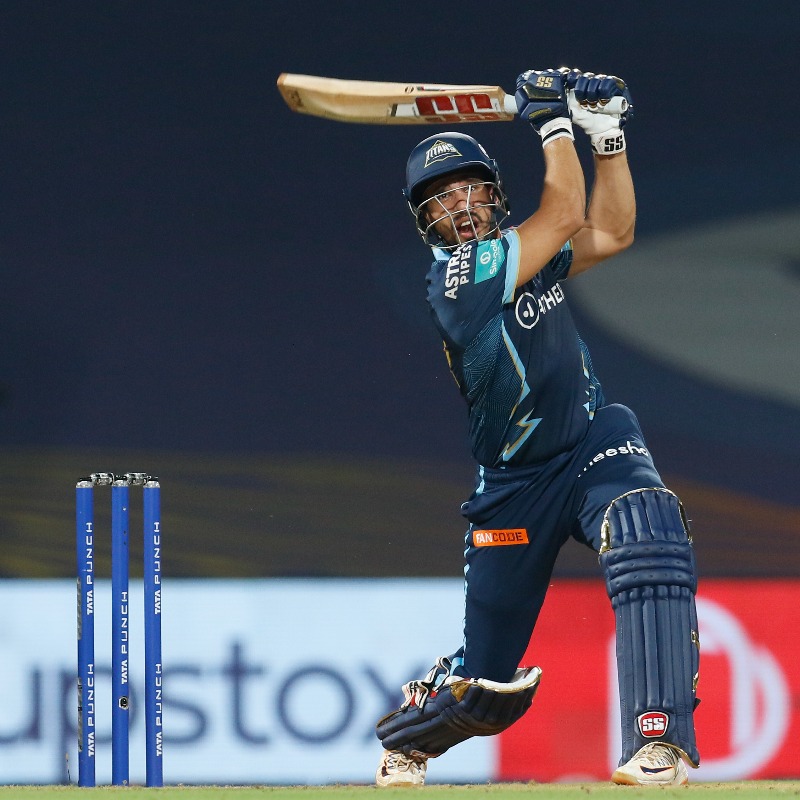 As Pandya teed off at one end, Manohar too obliged cutting speedster Kuldeep Sen. Another jaw-dropping shot came from the bat of the Karnataka batsman as he went down on one knee to smoke a leg-break from Chahal that was turning away from him from well outside off, depositing over long-on!
Chahal eventually had the last laugh as on the next ball, Manohar mistimed another slog and skied it to Ashwin. But, by then he had got the momentum going for Gujarat, the platform on which Pandya and Miller capitalized afterwards to take GT to 192.
Looking at this performance, and the previous ones, of Abhinav Manohar, renowned commentator Harsha Bhogle had a short, sweet complimentary tweet from the Titans batsman.
"Abhinav Manohar is a very good T20 batsman. Excellent scouting," Harsha Bhogle wrote.
Here's Harsha Bhogle's appreciative tweet for Abhinav Manohar:
Abhinav Manohar is a very good T20 batsman. Excellent scouting.

— Harsha Bhogle (@bhogleharsha) April 14, 2022
Abhinav Manohar was in superb form during the Syed Mushtaq Ali Trophy 2021. In four innings for Karnataka, he struck 162 runs at an average of 54, strike rate of 150. He was Karnataka's top scorer in the final with 46 vs Tamil Nadu.