There was some luck, then were some shots. There were the first pumps enjoying his fortune, then there was the celebration, thanking the god. Virat Kohli was in the mood today.
Against the Gujarat Titans at the Wankhede, in RCB's last league game, a must-win encounter, while chasing against one of the best bowling units in the tournament, Virat Kohli brought up only his second fifty of the season, and clearly his best knock this season. As it may turn out, if RCB are knocked out, this could well be his last innings in the IPL 2022.
But Virat Kohli will take it. For it signalled a sort of return of the luck, the kind he enjoyed when in his pomp until three years ago. When he churned out runs with utter ease and centuries for breakfast, lunch, and dinner.
He announced himself today with an authoritative straight batted boundary off Mohammed Shami and then a lofted cover drive.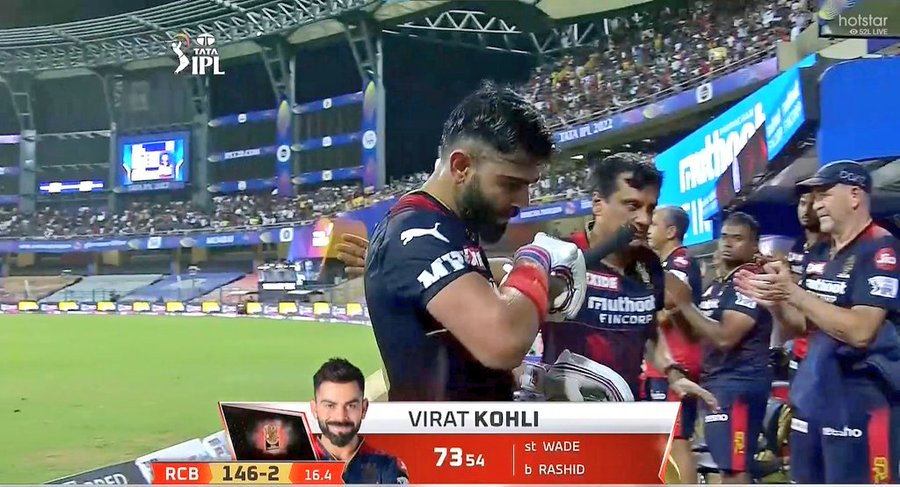 Then the 'King' got his rub of the green: an inside edge off Hardik Pandya's in-seamer raced for four, seeing which Kohli was overjoyed and celebrated as if he'd hit his 71st century. The next ball, a whip toward deep square leg where Rashid Khan, for some reason, was standing well inside the boundary line and then split a catch which he attempted to take one-handed. A drop.
That was it. That was the luck Kohli needed everyone had been talking about. Now it was time for him to capitalise on it. And he did.
He smacked Rashid Khan down the ground followed by another charge down the pitch and a pull boundary to seamer Yash Dayal bringing up RCB's fifty inside the powerplay. While Faf du Plessis tickled along at a little over run-a-ball, Kohli continued with his momentum after the powerplay.
In the 10th over, he notched up his half-century via a superb whip six off Rashid over deep mid-wicket. Kohli looked up to the gods, his hand raised toward the diety, expressing his gratitude for all the godsend he had today. The Wankhede up on their feet.
Twitter was obviously wild as they got to see Virat Kohli returning to his best.
Here are some of the best reactions to Virat Kohli's half-century vs Gujarat:
KING FOR A REASON, KING OF ALL SEASONS.

Really happy to see our champ Virat Kohli is back in his ferocious form. #RCBvGT #TATAIPL pic.twitter.com/leaQ9kzwzq

— Amit Mishra (@MishiAmit) May 19, 2022
That was an emotional feeling for Virat Kohli. That was an emotional feeling for the fans who witnessed it. Welcome back, King!#RCBvGT

— Prajakta (@18prajakta) May 19, 2022
Well Played King @imVkohli! 👏🏼 #RCBvGT #IPL2022 pic.twitter.com/8NAd8DsUca

— Prathamesh Avachare (@onlyprathamesh) May 19, 2022
Virat Kohli knows the value of luck. pic.twitter.com/6pcHjqygWy

— Mufaddal Vohra (@mufaddal_vohra) May 19, 2022
Heck yes! This is the Virat Kohli I stay up all night to watch! He's is on FIRE! Good opening partnership too here from the boys. 🔥 #RCBvGT

— Chloe-Amanda Bailey (@ChloeAmandaB) May 19, 2022
Virat Kohli brings up his fifty with a SIX against Rashid Khan!

Not the first time I've witnessed him score big, what a man 😍❤️ #RCBvGT #IPL2022 pic.twitter.com/76esxgHLVL

— Sameer Allana (@HitmanCricket) May 19, 2022
Celebration of Virat Kohli when he reached his Fifty. pic.twitter.com/Cmd2M9Dccc

— CricketMAN2 (@ImTanujSingh) May 19, 2022
A poetry in motion to watch Virat Kohli bat in flow, it was that kinda knock. pic.twitter.com/M5Gjlxqdv8

— Mufaddal Vohra (@mufaddal_vohra) May 19, 2022
Well played Virat Kohli. He scored Brilliant 73 runs from 54 balls including 7 Fours and 2 Sixes against GT. Top Knock from King Kohli. pic.twitter.com/ddhyzzogjU

— CricketMAN2 (@ImTanujSingh) May 19, 2022
The entire dig out on their feet for Virat Kohli #IPL2022 pic.twitter.com/R8ZvqO1R9P

— India Fantasy (@india_fantasy) May 19, 2022
Virat Kohli is in the mood tonight. pic.twitter.com/rNGqRhMF3a

— Mufaddal Vohra (@mufaddal_vohra) May 19, 2022
For Every Setback, There Will be a Comeback 🔥🙏@imVkohli 🦁❤️ pic.twitter.com/fFELW9pPsK

— Virat Kohli Trends™ (@TrendVirat) May 19, 2022
It's ain't over for Virat Kohli, it's ain't over for RCB ❤️ pic.twitter.com/GzG0gxOOOU

— Akshat (@AkshatOM10) May 19, 2022
Virat Kohli now has joint most fifty plus scores in history of IPL among Indians along with Shikhar Dhawan.
KING KOHLI IS BACK! ❤️ pic.twitter.com/ARACG7uRgQ

— Pari (@BluntIndianGal) May 19, 2022
Virat Kohli as man of the match for RCB after years. Man tears rolling from eyes 😭❤️. pic.twitter.com/royBeOU5SU

— Akshat (@AkshatOM10) May 19, 2022
It was a typical 'King Kohli' knock. A sight for the sore eyes. Can watch those mesmerizing shots 100 times. My heart is still racing so fast man😭 pic.twitter.com/wJzcU01OHA

— Unnati Madan (@unnati_madan) May 19, 2022