Gujarat Titans batsman Matthew Wade got a shocker of a decision from the third umpire – who apparently wasn't allowed to trust his eyes but relied on the technology following the "protocol" – against the Royal Challengers Bangalore at the Wankhede.
It was such a stroke of bad luck for Wade that even Virat Kohli – who himself has been the receiving end of some of the most controversial umpiring howlers in recent months – came up to console the Aussie.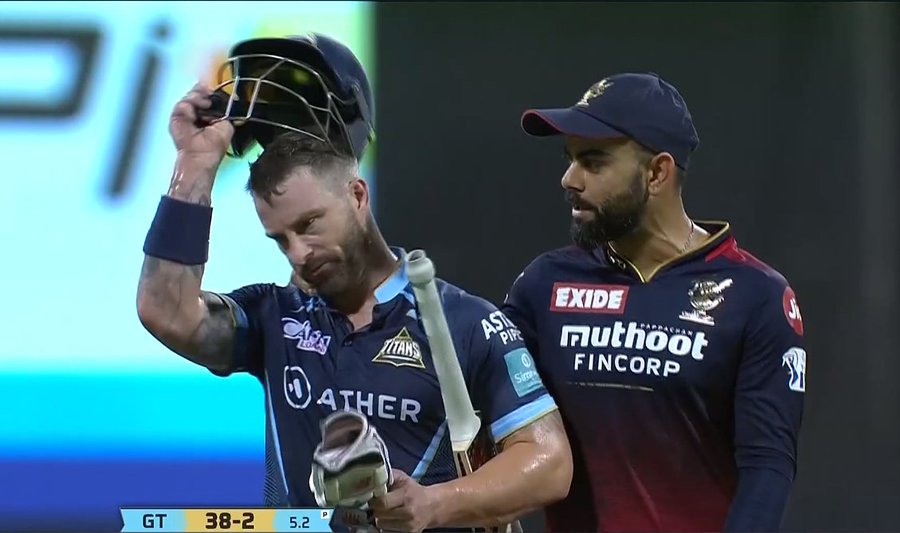 Facing his compatriot Glenn Maxwell, Matthew Wade went for the sweep to an arm ball from the off-spinner that came into him with the angle. Upon RCB's lbw appeal, Wade was given out by umpire Sadashiv Iyer. The left-hander was quick to signal the 'T' – the review signal – and also gestured that he had hit the ball with his bat and looked confident while talking to non-striker Saha suggesting he'd hit the ball.
Then the drama that transpired left everyone's jaws to drop and left the fans wondering what was going on.
What was going on is that UltraEdge didn't show any spike when the ball passed Wade's bat. However, on the side angle, it was clear – even to the naked eye – that there was a massive deflection in the path of the ball after it took a splice of Wade's bat.
But, since there was no movement on the UltraEdge, according to the protocol the third umpire isn't allowed to conclude that there was something – despite the clear deflection in the ball's path after hitting some part of Wade's bat.
And to everyone's shock, and annoyance now, the third umpire concluded that because of no sign of a bat or glove on the technology, there was no edge. The HawkEye then showed three reds on the lbw and Wade was deemed out.
The Australian was livid and had to drag himself away. Even the RCB players, seeing on the giant screen, realised that Wade had edged it with his bat and Virat Kohli came up to console him on his way back to the dressing room. Kohli had some words – perhaps sharing his own grief with luck – trying to motivate the upset Wade.
Kohli's gesture for Wade was loved and applauded by everyone on social media.
Virat Kohli had some words with Matthew Wade after he got. pic.twitter.com/yAyQ2FxbLz

— Mufaddal Vohra (@mufaddal_vohra) May 19, 2022
kohli-wade chat leaked pic.twitter.com/Z3dFnXSntA

— Savage (@arcomedys) May 19, 2022
Quite fitting that Kohli consoled Wade after that decision. He has himself faced some dodgy lbw calls in the past 6 months.

— Shubh Aggarwal (@shubh_chintak) May 19, 2022
IPL's #MultiverseOfMadness… Technology was supposed to be the ANSWER. IRONICALLY a lot of questions are being asked about the technology itself. Rohit Sharma… Virat Kohli… Now Mathew Wade #DRS #IPL2022 #RCBvsGT pic.twitter.com/wnrJJ1ITAD

— २२ . १० (@Lazy_Bo_) May 19, 2022
Matthew Wade giving compitation to Kohli

— Ravi MSDian ™ (@MSDevoteee) May 19, 2022
Virat Kohli shared the pain of dodgy DRS decisions as Matthew Wade was at receiving end tonight. #IPL pic.twitter.com/IUmEdEEmcE

— CBTF Speed News (@cbtfspeednews) May 19, 2022
Kohli went to console Wade there because he's knows the feeling.😭

— Ronald D Sampson (@rdsampson_25) May 19, 2022
Virat Kohli had some words with Matthew Wade after he got. pic.twitter.com/yAyQ2FxbLz

— Mufaddal Vohra (@mufaddal_vohra) May 19, 2022
Virat Kohli shared the pain of dodgy DRS decisions as Matthew Wade was at receiving end tonight. #IPL pic.twitter.com/IUmEdEEmcE

— CBTF Speed News (@cbtfspeednews) May 19, 2022
Virat Kohli had some words with Matthew Wade after he got.#RCBvGT #wade #RcbFans pic.twitter.com/C4t4o2yhTH

— Shadab Ali (@ShadabA21) May 19, 2022
Virat Kohli to Matthew Wade:
FIRST TIME😅 #ViratKohli#gtvsrcb
📸: Disney+Hotstar pic.twitter.com/TPa1AHggiO pic.twitter.com/TGEUHbNlzK

— Pankaj Sharma 😍 (@PankajS19632479) May 19, 2022