Trending
David Warner Shared Why Getting Out On 99 Hurt Him Badly
Australia's star opener David Warner put up a stellar show against Sri Lanka, however, he fell just one short of his century as he was stumped out on 99 during the fourth ODI of the series against Sri Lanka.
Heartbreak for David Warner
On Tuesday, chasing a target of 259-runs to win and stay alive in the series, Warner played a stunning knock but he failed to take Australia off the finishing line as he was dismissed by Dhananjaya de Silva for the visitors' seventh wicket of the innings.
layout="fixed" width="336" height="280" type="adsense" data-ad-client="ca-pub-5474032326006367" data-ad-slot="3340040536"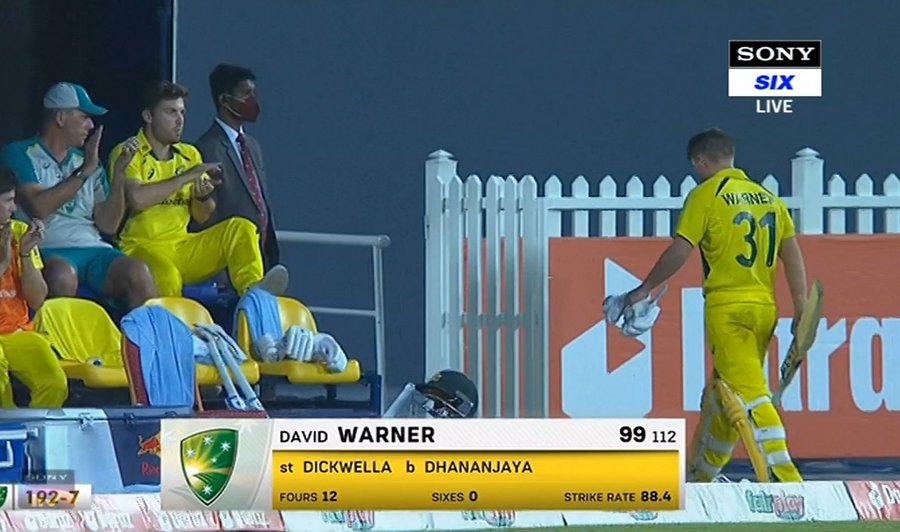 When he reached 99, it looked like Warner will end his international career's biggest century slump, however, he failed badly as his century drought continued. de Silva came around the wicket against David Warner and the star opener, who wanted to smash the drive towards cover, was beaten by the outside edge.
With this Warner became just the second batter in the history of ODI cricket to be stumped for 99. The only other cricket to achieve this feat is former Indian cricketer VVS Laxman.
The video of the heartbreaking moment has been going viral on the internet. Watch the video:
Turning the tide of the match 💫

The Game Changer @dds75official

Full match highlights: https://t.co/DKpdO6wF7A#SLvAUS pic.twitter.com/QHUaoelSB1

— Sri Lanka Cricket 🇱🇰 (@OfficialSLC) June 22, 2022
Warner Talked About His Dismissal
Meanwhile, later, after the game, David Warner expressed his thoughts on the heartbreaking moment. Cricket Australia shared a video of Warner talking about the wicket and how he was grimacing with pain. He revealed:
"So the over before I said to myself that I can't really come down the wicket and when I went to take that stride I was grimacing. As soon as I let that front foot go it just went on me. So I had to no time to get back.
He added: "Look, it doesn't really bother me getting out on 99. It bothers me, the fact that I got out when I did. We were one partnership away, for me, it was actually easier to play. I'd been out there for a long period of time, so I knew my areas, and backed my strengths. I worked my backside off to get into that position to be there at the end.
And obviously one spun past the bat and I probably looked to hit too straight on that ball but my game plan was to hold my line. And that one there, I just got a little bit ahead of myself. But as I said this before, the sniper got me in the back of the calf."