Veteran cricketer Dinesh Karthik made his much-awaited comeback into India's T20I time after more than three years when he was named in the playing eleven for the first T20I versus South Africa, on Thursday, in Delhi.
There was a huge buzz on social media about his comeback to the national blue colours after his remarkable IPL 2022 campaign for the Royal Challengers Bangalore.
layout="fixed" width="336" height="280" type="adsense" data-ad-client="ca-pub-5474032326006367" data-ad-slot="3340040536"
Although Karthik didn't get a big opportunity to bat – he got to face just 2 balls in which he scored 1 run – the 37-year-old had the fans talking about his special helmet that he came out wearing to bat in the middle.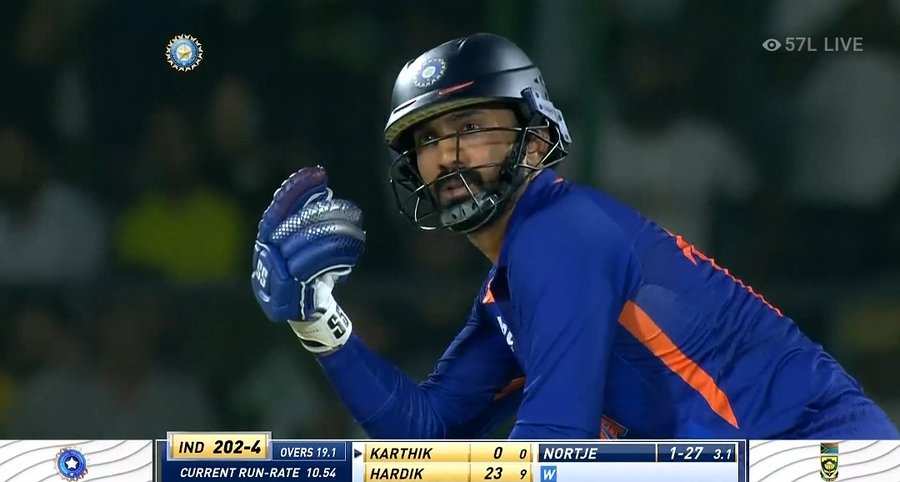 Unlike the usual helmets which other batters use, Karthik put on a different and rarely seen helmet. It was really shiny than the normal ones and shone brightly under the effect of the lights. It also looked much more compact and fit on Karthik's face than the usual ones do on other batsmen.
Why Dinesh Karthik uses a different helmet:
DK had also worn this different looking headgear during the recently-concluded IPL and has indeed worn such helmets throughout his career.
One of the theories going around about Karthik's helmet is that he gets these specially made for himself; this helmet weights lesser than the usual ones, and hence this lighter helmet aids him better in running and doesn't put pressure on his head.
Former Sri Lanka captain Kumar Sangakkara and former England batters James Taylor and Michael Carberry also used to wear such types of helmets during their playing days.
Fans on Twitter thought Karthik's special, unique helmet was really cool and expressed their opinions.
Check out how fans reacted:
Well well well !!!! One of the very good reasons for me to watch DK bat again for Team India wud be this Helmet, looks so cool and suitable on him !!!! 🔥🔥 #DineshKarthik pic.twitter.com/ATtF7t2gJ4

— Sanskar Gemawat (@_SanskarG) June 9, 2022
Dinesh Karthik's Helmet tho 🥵🔥#INDvSA

— cheena (@ashishnaik118) June 9, 2022
Dinesh Karthik helmet has separate fan base.#INDvsSA

— Goliath (@PitchingOutside) June 9, 2022
That DK helmet is so cool #INDvsSA #CricketTwitter @DineshKarthik

— Abhinav Mishra (@AMabhinavmishra) June 9, 2022
dinesh karthik helmet appreciation post..loved these kind of helmet..manh players used these in 2007 to 2010…good to see them back..

— Vikas Saddyan (@vikas_sadyan) June 9, 2022
Dinesh Karthik had broken the door down on the national selectors with his thunderous performances in the IPL 2022. The 37-year-old played the finisher's role to the tee for RCB: he struck 330 runs at a strike rate of 183 and was unarguably the best finisher of the tournament.