Trending
IND vs SA: Rishabh Pant Is Getting Trolled Left, Right And Center On Twitter
India's stand-by captain Rishabh Pant continues with his disastrous form in the ongoing 5-match T20I series against South Africa as he once again failed to make it big with the bat and was dismissed cheaply in the ongoing 4th T20I match at the Saurashtra Cricket Association Stadium.
Rishabh Pant continues with his poor run
After enduring a turbulent IPL 2022 with the bat, Rishabh Pant was scrutinized heavily for his leadership skills. Despite this, he was given captaincy duty for the ongoing 5-match t20I series after KL Rahul was ruled out of the series after suffering an injury.
layout="fixed" width="336" height="280" type="adsense" data-ad-client="ca-pub-5474032326006367" data-ad-slot="3340040536"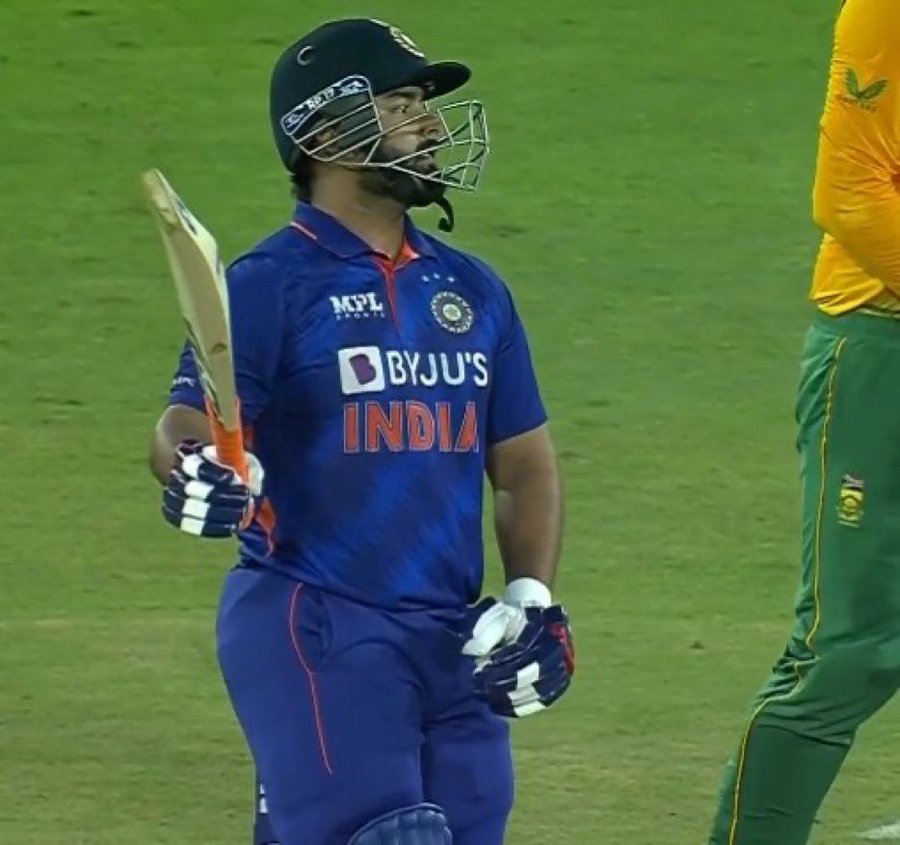 While it was being looked like a golden opportunity for the cricketer, who is leading the national side for the first time, however, Pant has failed badly to fire up with the bat.  He was seen struggling on the pitch in the first three T20Is, returning with the figures of 29(16), 5(7), and 6(8), and was expected to make it big in the ongoing game. However, he has once again managed to disappoint the fans with his poor batting show.
After being asked to bat first, the Indian side suffered a big blow as they lost three wickets in quick succession. Pant failed to stand up for the team when the team needed him the most and was dismissed cheaply after scoring 17 runs off 23 balls.
Pant Is Getting Trolled
Meanwhile, disappointed fans on social media are trolling him left, right, and center for his poor batting show. From cricketers to experts and fans, everyone is taking to their social media to express their disappointment with the keeper-batter.
Check out how fans are trolling Rishabh Pant:
Poor run of Rishabh Pant continues, 17 runs from 23 balls, India 81 for 4.

— Johns. (@CricCrazyJohns) June 17, 2022
47 t20 trial for Rishabh Pant 👍 pic.twitter.com/3gX1af790s

— ³ 🇿🇦 (@Legspiner3) June 17, 2022
Rishabh Pant – Future Captain pic.twitter.com/tS1NJslo7H

— ronak➐ (@ronakkumar_) June 17, 2022
Uses T20 approach in tests(where the field isn't spread)&comes out successful,hence creates an impression that he is an excellent T20 player too -HE IS NOT

Rishabh Pant averages 23 at a strike rate of 124. Probably the worst t20 numbers for someone who played 47 t20is #SAvsIND pic.twitter.com/8jBeII3WDn

— Anurag (@RightGaps) June 17, 2022
Rishabh Pant can't make it to the World Cup 2022 team with this form. He needs to step up and start scoring runs again. He is better than this.

— Shivani Shukla (@iShivani_Shukla) June 17, 2022
Rishabh Pant can never be a responsible Batsman

Accept it or Die He's inconsistent T20 batsman

— Rockstar MK (@RockstarMK11) June 17, 2022
Imagine if Sanju Samson would have been given as many chances as Rishabh Pant in T20Is. He would have definitely given better returns than Pant.

— ` (@FourOverthrows) June 17, 2022
Rishabh Pant has done himself no good by squashing up his chances in batting this series.

Not at all happy with his performance.#INDvsSA

— Abhishek Ojha (@vicharabhio) June 17, 2022
Rishabh Pant – t20 player pic.twitter.com/tS1NJslo7H

— ronak➐ (@ronakkumar_) June 17, 2022
Rishabh Pant should walk into the Indian T20I team (or any format really). That said, this needs fixing. Teams have planned well to him, and his counter needs working. He will get there 💪 Just too good to not turn into a bigger beast than he already is.#INDvSA pic.twitter.com/MWh1oMvn9h

— Rohit Sankar (@imRohit_SN) June 17, 2022
Rishabh Pant in the T20 series against SA:

29 (16)
5 (7)
6 (8)
17 (23)

Total 🟰 57#RishabhPant #INDvSA pic.twitter.com/pxt8T5ruOP

— Tanay Vasu ❁ (@tanayvasu) June 17, 2022