Trending
Top 3 Teams Who Have Scored Over 400 Runs Most Times In ODI cricket
England, who bat like there's no tomorrow, or no next over, just broke their own world record ODI innings total of 481 runs, which they had made in 2018 vs Australia, and piled up 498 (498!!) against the Netherlands in Amstelveen with three of their batters recording centuries.
Eoin Morgan's team now holds the top three ODI total – the third one being 444 vs Pakistan in 2016. They have been the torch-bearer of breaking the 300 mark regularly after 2015 and it was under Morgan that England touched 400 for the first time in their history. Falling just two runs short of the 500-mark, they are expected to even breach that at some point going forward.
layout="fixed" width="336" height="280" type="adsense" data-ad-client="ca-pub-5474032326006367" data-ad-slot="3340040536"
Australia were the first team to break the 400-run barrier in ODI cricket. Staggeringly, in the same game, South Africa chased that total down.
With that said, today, here we look at the top three teams who have recorded 400 runs most times in ODI cricket:
South Africa – 6 times
The Proteas hold the record of piling up 400 runs most time in ODI cricket – on six instances South Africa have scored more than 400, the most famous of them all being vs Australia while chasing 435 way back in 2006. They did it later the same year vs Zimbabwe.
Their next four totals exceeding 400 all came in 2015 when a certain AB de Villiers was at their rampaging best.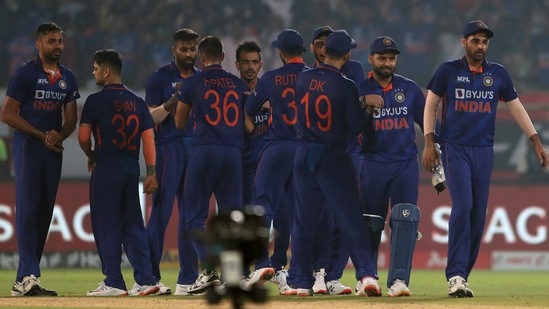 India recorded their first 400-run total at the 2007 World Cup vs Bermuda. After that, MS Dhoni's team registered four more scores in excess of 400 – twice vs Sri Lanka, one against South Africa and West Indies; when Tendulkar, Sehwag and Rohit made his maiden ODI double hundreds.
England – 5 times
All 5 of England's 400 plus ODI totals have after 2015, come under Eoin Morgan's captaincy, the Irishman who changed England's white-ball cricket forever and led them to their maiden ODI World title in 2019 at home.
New Zealand, Pakistan, Australia, West Indies and the Netherlands have been at the receiving end of England's batting might on these five occasions.
Further, Australia and Sri Lanka both have gone past 400 twice in ODIs, and New Zealand have done it once.