Trending
'Ab Fixer Batayenge Hume?': Fans Are Trolling This Pakistan Pacer For Insulting Rishabh Pant
India's star keeper-batter Rishabh Pant has been receiving praises from all corners, all thanks to his terrific performances in the ongoing final Test match against England.
Rishabh Pant scored 200 runs against England
Rishabh Pant played a counter-attacking knock and registered a stunning century in the first innings and later he played a crucial knock of 50 plus runs in the second innings to bail out the Indian side after a horrible top-order collapse in both innings.
The whole cricketing fraternity tipped their hat to the young keeper-batter for his fearless knock that helped the Indian side put a competitive total on the scoreboard.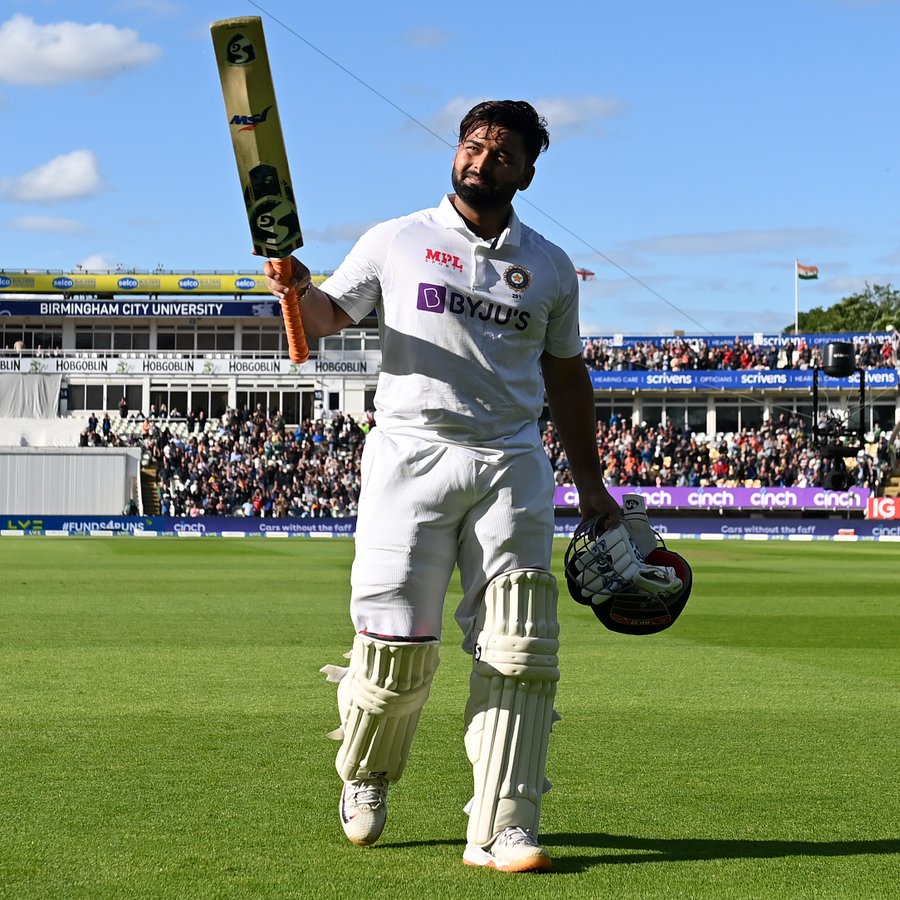 Mohammad Asif Insults Pant
However, a former Pakistan pacer Mohammad Asif has discredited Pant's heroics with the bat and said that it was the poor tactics of the England pacer that allowed the 24-year-old to play the way he did. Yes, you read that right.
Asif feels that because of England's tactics, Rishabh Pant was able to perform in this way. He also said that Pant has technical faults as his left-hand doesn't work. He said:
"It was totally England bowlers' fault as Pant did no wonders. He [Pant] has technical faults. His left hand doesn't work but still, he managed to score a century because English bowlers didn't bowl to him in his weak areas,"
He added: "I will not name individuals but England made a lot of mistakes. When Jadeja and Pant were batting, they brought in a left-arm spinner who wasn't an ideal option to bowl at that moment,"
"I am not against Pant, but with such decisions by the opposition, you get an edge to score big. I pointed out Kohli's technical fault a couple of years ago but people started calling me out. See today (Friday), he hasn't scored a century for a long time now. I love watching Kohli and even he is a bigger player than me. But technically, he needs to work harder," Asif concluded.
Well, his comments didn't go down well with the fans, who are now trolling him left, right and center on Twitter.
Check out the reactions of Twitterati to this:
Ab fixers sikhayenge hume cricket kaisa khelna hain 😭

— ROSHAN R. (@Roshan_2015) July 2, 2022
Pant be like 😉🤣🤣🤣🤣😝😝😝 pic.twitter.com/d2LCHlxc9N

— PRATEEK🇮🇳🚩 (@Prateek_4599) July 2, 2022
Koi iske muh pe stats fek ke maaro !

— +1dersoul (@1dersoul) July 2, 2022
Let your batsmans like Barber Azam and others do the same wonders as well. Keeping in mind this is England not Zimbabwe or west indies as pak's favourite opponents. Have some guts! Appreciate what is appreciable

— 𝙑𝙞𝙧𝙤𝙩 𝙆𝙤𝙤𝙝𝙡𝙞𓃵🇮🇳 (@virot_koohli) July 2, 2022
— Apurv Mishra (@Apurviastic) July 2, 2022
— Chiku__.18 (@n0tgonnatellyou) July 3, 2022
Similarly all the innings played by Pakistani batsmen like Saeed Anwar's 194 or Fakhar Zaman's ton in ICC CT2017 final was due to the mistake(s) of Indian bowlers only…else no one's good enough at all eh ! 😂

— Sagar Kumar (@sagarkumar253) July 3, 2022
"Every wicket that Mohammad Asif took in his Career it was batsman's fault as Asif did no wonder."🤗

— RAO (@JahnaviRaoV) July 3, 2022
Terey muh me technical fault hai and dimmag me operational.. sorry Mai terey against nahi hoon bas bol rahan hoon ..

— Neeraj Singh (@Neerajlion1983) July 4, 2022
Same English bowling outplayed strong NZ team just few days back.

— Vinod Verma (@VinodVe45155084) July 4, 2022