Cricket
3 Times When Rohit Sharma Hilariously Trolled Yuzvendra Chahal
India captain Rohit Sharma and senior leg-spinner Yuzvendra Chahal share a special close bond. The duo partnership as captain-bowler has done wonders on the field for India and they remain great buddies off the field as well.
As usual close friends, Rohit and Chahal often pull each other's leg on social media and share a brotherly bond. Even while speaking together while for BCCI.tv or on their social media handles, both interact in a humorous way, Chahal in his polite voice while Sharma in his typical Mumbai style.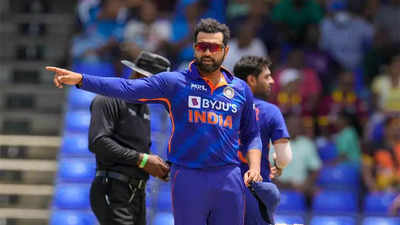 Here are 3 instances when Rohit Sharma and Yuzvendra Chahal were involved in a hilarious banter:
'Don't be jealous' – Chahal teases Rohit Sharma
A couple of years ago, Chahal uploaded a picture on Instagram of himself hanging on the back of teammate Shreyas Iyer in close proximity. Chahal captioned the image: "Got your back always"
Amused by this caption, Rohit Sharma commented, "Apna sambal le pehele (watch your own back first)."
Expectedly, Chahal gave a hilarious reply saying that Sharma is getting jealous and he's missing the leg-spinner. "Missing me coz u not here, so don't be jealous next pic soon with you," Chahal replied.
"Chal Udhar Bhag" Rohit rebukes Chahal
This was a bit more serious situation, although it was funny for the fans. During one of India's matches vs West Indies in Ahmedabad in February earlier this year, Sharma, the newly appointed skipper, snapped at Chahal when the latter was slow in the field and was clumsily trudging toward his fielding position.
Frustratedly Sharma scolded Chahal, shouting "Peecha jhaa. "Kya hua tereko? Bhaag kyun nahi raha hai theek se? Chal udhar bhaag." Rohit was heard on the stump mic and this led to fans bursting in laughter on social media.
After the match, Chahal took social media to reply to Sharma. He tweeted, "Captain ka hukum sarankhon par (Need to follow the captain's order by all means)." Chahal deleted the tweet later.
When Ritika and Rohit cropped Chahal out of their selfie
In September 2019, Ritika Sajdeh, Rohit Sharma's wife, uploaded a selfie of the couple with their daughter on Instagram, and captioned it "Reunited". As it turned out, though, that Chahal was also in the photo but had been cropped out by the Sharma's.
The leg-spinner commented: "why u cropped me Bhabhi." To which, this time not Rohit, but Ritika made a witty reply, stating, "Your coolness was taking over the picture."