Trending
Sanju Samson Fans Are Trolling Shreyas Iyer After He Failed To Perform Yet Again
Shreyas Iyer is hurting his cause for a place in India's T20 side with his back-to-back low scores in the series against West Indies. The pressure keeps mounting on him in the shortest format given the likes of Sanju Samson and Deepak Hooda were benched for these two games.
Shreyas Iyer Failed To Make It Big Again
Iyer had a good ODI series vs West Indies – where he registered scores of 54, 63 and 44 – but has been disappointing in the two T20Is so far. After bagging a 4-ball duck in the first T20I, the 27-year-old managed only 10 runs in 11 balls in the second T20I, on Friday in St.Kitts.
Iyer had to come out as early as on the second ball of the match after skipper Rohit Sharma was dismissed for a golden duck by left-arm seamer Obed McCoy on a pitch that was assisting bowlers.
Iyer couldn't get a single run of his first five balls as McCoy finished the first over as a wicket maiden with Iyer only pushing at the deliveries from McCoy.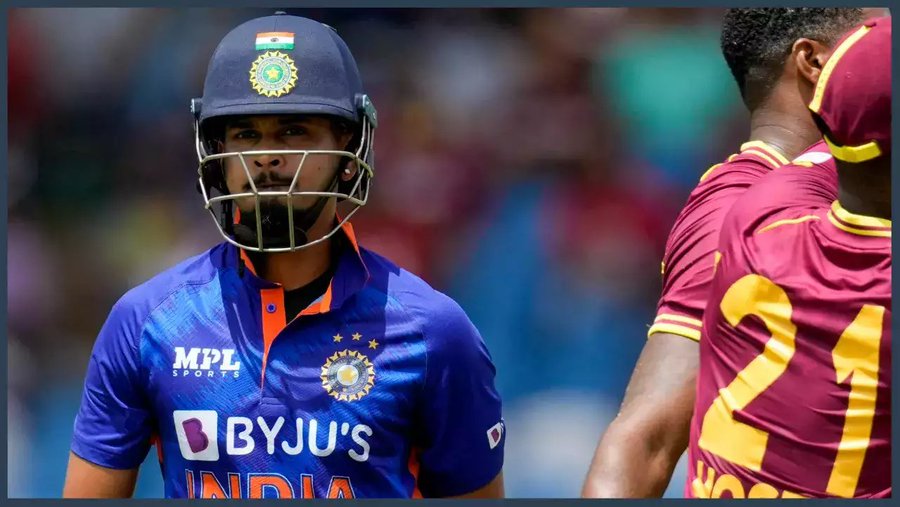 In the second over, though, both Suryakumar Yadav and Shreyas Iyer took on fast bowler Alzarri Joseph and both lofted the seamer for a six each over extra cover with sumptuous shots. However, both of their thrills were ended soon as SKY was dismissed for 11 off 6 balls by McCoy and Iyer by Joseph – both outside-edging to wicket-keeper Devon Thomas while slashing at deliveries outside off-stump.
The rope for Shreyas Iyer keeps getting shorter with every failure in the T20 format as India looks to finalize their squad for the Asia Cup and the T20 World Cup. Samson and Hooda's presence on the bench will further exacerbate Iyer's worries as both have been in good touch in the shortest format in recent months.
Once again, Iyer was trolled heavily, especially by Sanju Samson's fans who questioned Iyer's place in the eleven over the Kerala batter.
Here are some of the tweets on Iyer:
Expecting every ball short,getting late /beaten by full deliveries.
How the hell iyer is ahead of hooda, samson.
Pathetic from bcci.
Out of form, out of touch kohli is 1000x better than iyer

— Name Is Name (@lonewolf7826) August 1, 2022
Nobody is talking abt consistency because it's not Sanju Samson. Pant avg 22.38 after 52 matches. Shreyas Iyer avg 11.2 in his last 6 matches. But everyone expects Sanju to score 100 in 2-3 chances he gets every year. Even if he scored, still wont be considered for next series. pic.twitter.com/5S3zel3Iy7

— Arteta Revolution (@SavariiGiriGiri) August 1, 2022
I don't hear the word "CONSISTENCY" Now bcoz it's not sanju samson batting . To select Shreyas iyer over hooda Or sanju. I will be not surprised if iyer is in the wc team #sanjusamson #IndvsWI #BCCI

— Vishal (@renvis05) August 1, 2022
Shreyas Iyer proving that he is not made for T20 again and again.🤷🏻‍♂️#IndvsWI #INDvWI #WIvsIND #WIvIND #Cricket #ShreyasIyer #RishabhPant #Pant #RohitSharma #T20 #IPL #BCCI #IPL2023 #Rohit #India #Indian #ViratKohli #Kohli #CWG2022 #ODI #Sanju #Samson #SanjuSamson #SKY #ObedMcCoy pic.twitter.com/kEU5XkmELR

— Unique For Life▫️ (@UniqueForLife_) August 1, 2022
Tuk tuk iyer again departs on a short ball . Is something wrong with the brains of @BCCI ? Lol like wtf are you thinking. You seriously pick Shreyas iyer over Sanju Samson at no.3?? Sanju is the best no 3 batsman in the world since 2020. Absolute Clownery

— Sam (@Samuel1999999) August 1, 2022
Enough crime by shreyas iyer. Bring back sanju samson. pic.twitter.com/Zj1wE2VdIQ

— A𝗿𝗴𝗵𝘆𝗮 (@96Arghya) August 1, 2022
Some of the selection calls keeping the upcoming World T20 in mind are worth pondering. Shreyas Iyer in T20 cricket when you have #sanju Samson, Hooda and Ishan Kishan in the team is bizarre. With Virat, Rohit and Rahul definite starters ,need to work on getting right balance. pic.twitter.com/PNwsXJidEE

— R. S. (@RSPrajapat5318) July 30, 2022
#WIvIND
Why Dravid always pick Shreyas iyer over deepak hooda and Sanju samson in t20?
Why is he wasting other talent for his favouritism?

— Raaja (@RaajaRasiya) August 1, 2022
If India wants to play this kind of fearless cricket, to be honest, Shreyas Iyer does not fit in Playing XI when Ishan Kishan, Sanju Samson & Deepak Hooda are on the bench… #IndvsWI #WIvsIND #IndvWI #ShreyasIyer

— Praneet Samaiya (@praneetsamaiya) August 1, 2022
Shreyas Iyer shouldn't be in India's 15 for the T20 WC in Australia..
reserves/standbys is still fine, but not in the 15-man squad..#IndvsWI

— Jatin Khandelwal (@jr_khandelwal) August 1, 2022
Why ODI player Shreyas Iyer is getting chances repeatedly in the T20 team inspite of his chain failure ???
Why Hooda & Samson out despite their good knocks ??? #INDvENG

— Souraj Pathak (@pathak_souraj) August 1, 2022
Either Deeper Hooda Or Sanju Samson should play in place of Shreyas Iyer.

— Niranjan P.Joshi (@NiranjanPJoshi2) August 1, 2022
Sanju Samson is still better option then iyer,pant and jadeja..i have said before and i m saying now again…lobby matters..if you from Mumbai,delhi or Karnataka.. you can get many opportunities and that too fatser #BCCI #sanju #IndianCricketTeam

— Fahad 🇿🇦 (@fahad_saiyed123) August 1, 2022