Trending
Virat Kohli Penned A Very Special Note For Sunil Chhetri
Virat Kohli Penned A Very Special Note For Sunil Chhetri: Sunil Chhetri, the Indian football team captain, is celebrating his 38th birthday today. Born on August 3rd, in 1984, Chhetri is hailed as India's greatest footballer. Chhetri is the third-highest goal scorer in internationals and is only behind Lionel Messi and Cristiano Ronaldo.
Virat Kohli Shared A Beautiful Birthday Message For Sunil Chhetri
As Chhetri is celebrating his 38th birthday today, social media has been buzzing with amazing birthday messages and tributes for the legendary footballer. From celebrities to fans around the world, everyone is coming up with amazing wishes on the footballer's birthday.
However, one of the most beautiful birthday wishes came from his close friend, former Indian men's cricket team captain and batting maestro Virat Kohli. Virat Kohli and Sunil Chhetri are known to be good friends and get along really well as and when they meet.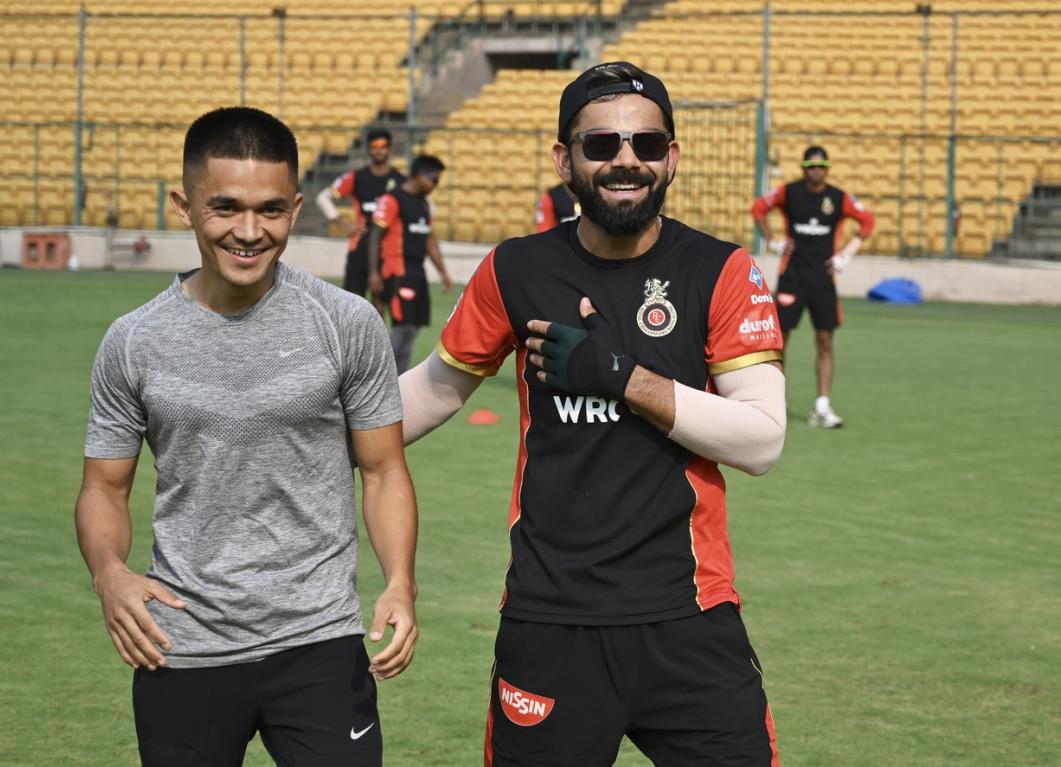 The duo came very close in the last few years, especially because they play for a franchise from Bengaluru in their respective domestic leagues. While Chhetri plays for Bengaluru FC while Kohli plays for Royal Challengers Bangalore.
On Chhetri's special day, Virat Kohli took to his social media and posted a beautiful message for the football captain, where he hailed him as his true friend. Kohli wrote:
"An honestly hardworking man full of good values & compassion.A man I can call a true friend. Very grateful for the friendship we have skip.Always wish you the best. As you get a year younger I send you my best wishes & all the positivity your way. Happy birthday @chetrisunil11♥️"
Check out the Tweet:
An honestly hardworking man full of good values & compassion.A man I can call a true friend. Very grateful for the friendship we have skip.Always wish you the best. As you get a year younger I send you my best wishes & all the positivity your way. Happy birthday @chetrisunil11 ♥️

— Virat Kohli (@imVkohli) August 3, 2022
Sunil Chhetri Came Up With A Golden Reply
The Tweet went viral in no time and was flooded with amazing reactions from the fans. The Tweet also caught the attention of Sunil Chhetri, who was quick to come up with a beautiful reply to it. In his reply,  he expressed his feelings about the friendship that the duo share. He wrote:
"Champ, I appreciate the kind words. The feeling about our friendship is mutual, and I too, am very grateful that our paths crossed the way they did. 🙏"
Check out the reply of Sunil Chhetri:
Champ, I appreciate the kind words. The feeling about our friendship is mutual, and I too, am very grateful that our paths crossed the way they did. 🙏

— Sunil Chhetri (@chetrisunil11) August 3, 2022