Rachin Ravindra has taken the World Cup 2023 by storm by becoming not only the highest-scorer for a batsman playing his debut World Cup, but he's currently leading the run-scoring charts in the tournaments.
Only aged 23, Rachin is giving a tough tussle to veterans like Quinton de Kock, Virat Kohli, David Warner, and Rohit Sharma.
At the time of writing, Rachin is the leading run-scorer in World Cup 2023 with 565 runs in 9 innings at an average of 70, having notched up 3 centuries and 2 fifties. He has 5 wickets to his name as well and has been the biggest contributor to New Zealand reaching the semi-finals once again.
Through his performances in the World Cup 2023, Rachin Ravindra has sealed a hefty contract for himself in next month's IPL 2024 auction.
When is the IPL 2024 auction date?
The IPL 2024 is slated for December 19 in Dubai. This is the first time an IPL auction will be held outside India. The total purse this time for each franchise has been increased from INR 95 crore to INR 100 crore.
RCB are expected to release a few players, and is expected to bid hard at Rachin Ravindra.
Here are 3 reasons why RCB might go hard at Rachin Ravindra:
Rachin already has a growing fanbase in Bangalore; could be RCB's next-generation superstar
Playing his first World Cup tournament, in India, Rachin has already got strong support from the Indian crowd, especially at the M. Chinnaswamy stadium in Bangalore.
Rachin's father, Ravi Krishnamurthy, hails from Bangalore, and shifted to New Zealand for his job. Rachin is named after Indian batting legends Rahul Dravid and Sachin Tendulkar as his father is a big fan of these two.
Rachin cracked a century against Pakistan in Bangalore and followed it up with 42 against Sri Lanka at the same venue. The Bangalore fans chanted "Rachin Rachin" to show their support to the youngster, who they are hoping to acquire in the IPL auction.
Rachin himself said that he's looking to play a lot more at the Chinnaswamy in the coming years. Rachin said: "Thank you to the Chinnaswamy Stadium and the crowd for all the support. It is a special place in my heart and I look forward to playing more cricket here."
With the likes of Virat Kohli, Dinesh Karthik, Glenn Maxwell, and Faf du Plessis nearing the end of their careers, RCB would want to invest in a potential future superstar of the next generation.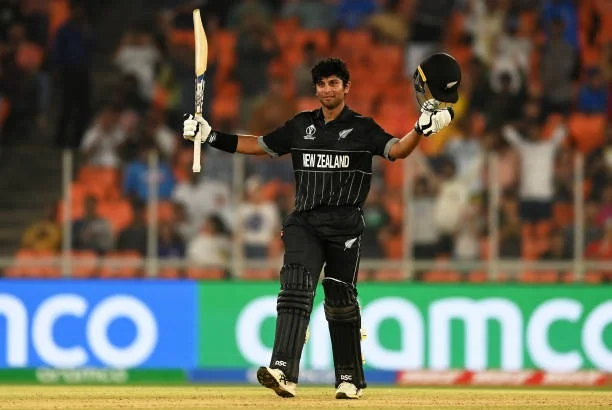 Replacement for Glenn Maxwell
As an all-rounder Rachin Ravindra has done well in the tournament. With the 35-year-old Glenn Maxwell having only, say, a couple of more years of top-flight cricket left in him, it's time RCB look for a spin-bowling all-rounder replacement for Maxwell. Rachin fits the bill perfectly. The young New Zealand all-rounder will learn as he makes giant strides in his career.
He's already shown great temperament and quality, and provides good balance to any XI as an all-rounder.
Excellent batsman of spin
Talking about his batting, Rachin Ravindra has been outstanding in his ability to play, and thump the spinners. In the World Cup 2023, Rachin averaged a colossal 141 against spinners and has got out only twice to spinners in 9 innings. His ability to attack the spinners makes him an asset for any franchise in the IPL.