In the grand stage of the 2023 ICC Cricket World Cup, we have been treated to the awe-inspiring rise of several exceptional talents, whose remarkable performances have impressed. In the realm of budding talents, there exists a quintet of individuals whose exceptional abilities and noteworthy contributions have sparked fervent speculation that they might secure their inaugural Indian Premier League (IPL) contracts during the highly anticipated 2024 auction. In this captivating piece, we take a deep dive into the profiles of these budding stars, analysing their recent displays of skill and uncovering the unique qualities they possess that make them formidable contenders for a coveted spot in the IPL.
5 Stars Of Cricket World Cup 2023 Who May Earn An IPL 2024 Contract
Rachin Ravindra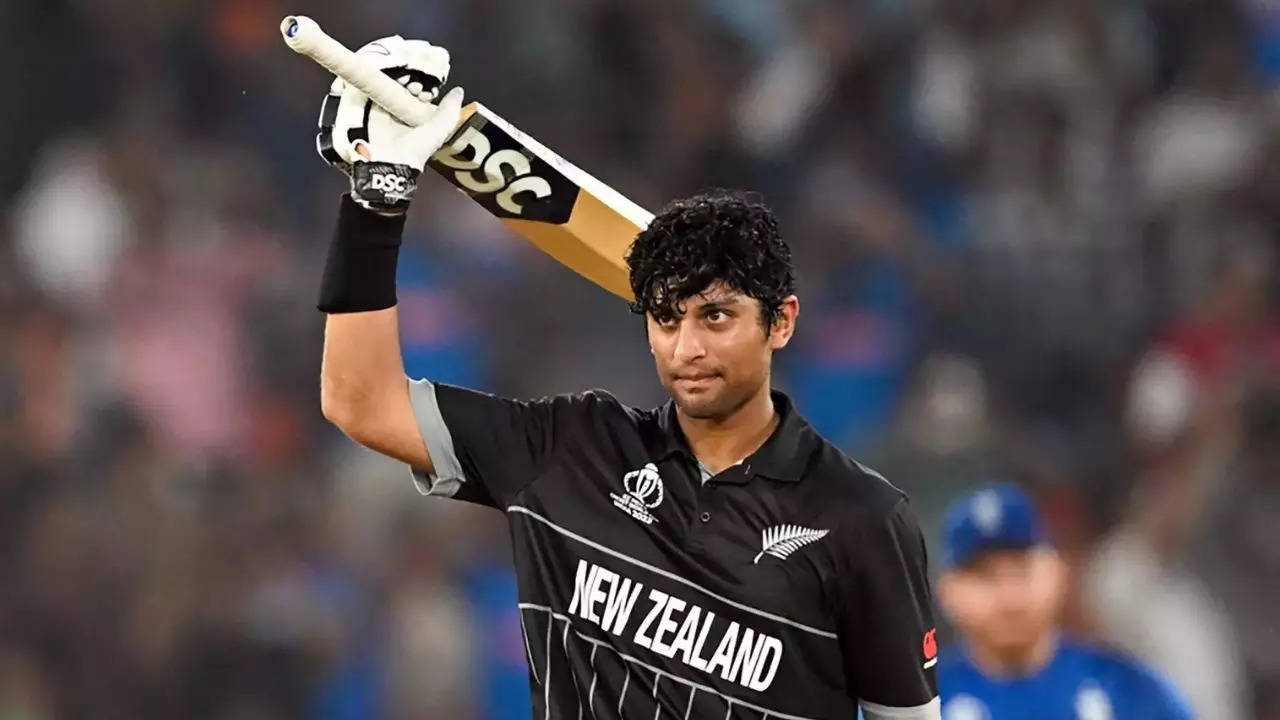 In the thrilling 2023 World Cup, one player has truly stolen the spotlight with their exceptional performances – none other than Rachin Ravindra. This talented individual has undoubtedly emerged as the standout performer of the tournament, captivating fans and experts alike with their remarkable skills and unwavering determination. Ravindra's contributions on the pitch have been nothing short of extraordinary, leaving spectators in awe and opponents in despair. With each match, this exceptional Having notched up an impressive tally of two centuries and two half-centuries, this exceptional player has undeniably emerged as the cornerstone of the New Zealand batting lineup. With a level of consistency and adaptability that harks back to the days of the legendary Kane Williamson, this player has truly made his mark on the pitch. In addition to showcasing his prowess as a prolific left-handed top-order batter, this exceptional athlete also brings a valuable bowling option to the table, solidifying his status as a complete package. In the ever-competitive world of IPL, teams are constantly on the prowl for players who possess versatility and can truly make an impact. And it seems like Rachin Ravindra fits the bill perfectly. With his remarkable versatility and the ability to thrive in various circumstances, this individual possesses all the qualities that could potentially earn him a coveted IPL contract in 2024. Not only does he excel with the bat, but he also proves to be a valuable asset with his bowling skills. His adaptability and all-round contributions make him a standout candidate for the upcoming IPL season.
Ibrahim Zadran
The IPL has witnessed the remarkable rise of Afghanistan players, who have left an indelible mark on the tournament. Now, it seems that another talented individual, Ibrahim Zadran, is on the cusp of joining their esteemed ranks. In a remarkable display of talent and skill, the young prodigy Ibrahim, at the tender age of 21, has left the cricketing world in awe with his breathtaking batting performances in the World Cup. In a stunning display of skill and potential, he has forged an unstoppable opening partnership alongside the illustrious KKR star, Rahmanullah Gurbaz. Their combination on the pitch has proven to be a force to be reckoned with, leaving opponents in awe of their formidable abilities. Ibrahim's unwavering performances under immense pressure have undoubtedly caught the attention of IPL teams, making him an incredibly enticing prospect. With his dynamic skills as an opening batter, this player possesses the remarkable ability to establish the tempo right from the start of the innings. Such a valuable asset makes him a highly sought-after commodity in the upcoming 2024 auction.
Azmatullah Omarzai
There exists a remarkable talent by the name of Azmatullah Omarzai. This extraordinary individual has managed to capture the attention and admiration of none other than the legendary Sachin Tendulkar himself. And it comes as no surprise, for Azmatullah's skills on the pitch are truly awe-inspiring. Having made a name for himself primarily as a bowler, he recently demonstrated his batting abilities in a remarkable fashion, delivering a composed half-century against the formidable Sri Lankan team. The coveted trait that IPL franchises desire is the ability to excel in both pace-bowling and all-round performance, making a significant impact with both the bat and ball. Azmatullah Omarzai, with his exceptional skills in both bowling and batting, possesses a unique combination that can prove to be a valuable asset for any IPL team. His proficiency in completing his bowling quota, coupled with his ability to unleash powerful hits in the middle order, makes him a player of immense potential and significance. Undoubtedly, his exceptional performance in the World Cup has captured the keen interest of scouts and team owners alike.
Logan Van Beek
In cricket, there are few players who possess the versatility and skill to excel in multiple facets of the game. One such player who has been making waves in recent times is none other than Logan Van Beek. This extraordinary talent has proven time and again that he is a force to be reckoned with, both with the bat and the
In a display of sheer brilliance, Logan Van Beek has left an indelible mark on the cricketing realm with his exceptional all-round performance. However, it was his awe-inspiring display during the exhilarating Super Over triumph against the formidable West Indies that truly captivated the cricketing world. The player in question has garnered quite a reputation for his remarkable skills with both the bat and ball. However, it is his exceptional consistency with the ball that truly sets him apart on the grand stage of the World Cup. In a remarkable display of skill and precision, Van Beek has already amassed an impressive tally of nine wickets in the ongoing tournament. The talented cricketer has consistently showcased his ability to outfox batsmen and make crucial breakthroughs for his team. With each wicket, Van Beek has not only bolstered his personal statistics but also played a pivotal role in steering his side towards victory. As the tournament progresses, all eyes will be on this formidable bowler
Aryan Dutt
In the ongoing tournament, Aryan Dutt has truly established himself as a remarkable new-ball bowler. With his exceptional talent and precision, he has proven himself to be a force to be reckoned with in the powerplay overs. Just like the renowned Jasprit Bumrah, he has displayed an incredible ability to deliver dot balls consistently. This remarkable feat is a true testament to his skill and mastery of the game. With his uncanny ability to pick up pivotal wickets at crucial moments and his exceptional skill in keeping the run rate in check, Dutt emerges as a shrewd selection for any IPL franchise.
When it comes to the IPL, the powerplay overs take on a paramount role in determining the outcome of a match. It is during this intense phase that a bowler of Aryan Dutt's caliber truly shines, showcasing his exceptional skills and potentially altering the course of the game. With his uncanny ability to snag early wickets and keep the run rate in check, he has become an indispensable force in the world of T20 cricket.