During the current ICC ODI World Cup 2023, Mohammed Shami, the fast-bowling star from India, has captured the attention of cricket fans worldwide. The tournament will never be the same after his incredible performance.
In a recent match against New Zealand, Mohammed Shami performed like a maestro of cricket against the stunning Dharamsala background. Cricket fans and opponents alike were in amazement at his incredible five-wicket haul (5/54), which was the result of his unmatched talents. Shami was an unstoppable force on the pitch because of his extraordinary ability to swing the ball both ways and produce an enormous pace. His skill in dismantling the Kiwi batting order sent a powerful message to his rivals.
The Downfall of
England
at the Hands of Shami's outstanding performance persisted in the game against England, which was held at Lucknow's Ekana Stadium. In a crucial match, he reinforced his role as the Indian team's pivotal player. He secured an astounding 4 for 22 with a captivating effort, and he was a key player in India's sweeping 100-run triumph against the reigning champions. The team's confidence was raised by Shami's performances, which also solidified their place among the tournament favourites.
Mohammed Shami made cricket history in the ICC ODI World Cup 2023 by being the first player to achieve 40 wickets in the 50-over history of the competition. The fact that he accomplished this feat in only 13 games is even more astounding. This amazing accomplishment is proof of Shami's remarkable skill, steadfast consistency, and dedication to his trade.
Shami's remarkable feats went beyond sports competition boundaries. Many were surprised when American adult film star Kendra Lust posted on social media about how much she loved the pacer's bowling statistics versus England. Her recognition of Shami's skill gave the story a fascinating new angle and highlighted how cricket can enthral a large audience worldwide.
[Cricket World Cup 2023] Kendra Lust Reacts To Mohammed Shami's Performances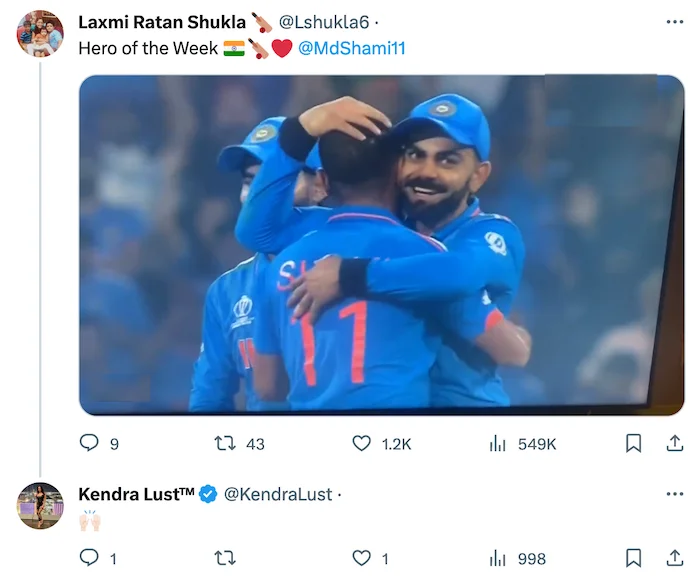 Even with all of the recognition and admiration, Mohammed Shami is committed to spearheading India's bowling assault. For his teammates, he is a rock and an inspiration. He is a tremendous source of pride for the country and an invaluable addition to the Indian cricket team because of his unwavering drive for perfection and never-give-up mentality.
Cricket fans all throughout the globe are excitedly awaiting Mohammed Shami's next performance. He represents the aspirations and ambitions of a country that fervently supports its cricketing stars with each delivery. One of the most exciting possibilities in international cricket, Shami can swing the ball, extract bounce, create seam movement, and routinely provide breakthroughs for his side.