A fifer as a feat is very respectable in the cricketing circle, for it demonstrates the bowler's worth playing at the biggest stage. Given the batsman-centric nature of the limited-overs formats and rarity of occurrence of the feat, a five-wicket haul has grabbed a lot more eyeballs in the last few years and the craze …
---
A fifer as a feat is very respectable in the cricketing circle, for it demonstrates the bowler's worth playing at the biggest stage. Given the batsman-centric nature of the limited-overs formats and rarity of occurrence of the feat, a five-wicket haul has grabbed a lot more eyeballs in the last few years and the craze seems to die for nothing. Being the most followed league in the world, the IPL too has helped individuals realize their full potential and earn the desired name and fame for themselves after pulling off such supreme feats. In the 13-years long history of the IPL, we have seen many bowlers, who picked a fifer for their franchise, but in this article, we will be focusing on the ones to do it for RCB. In the below piece, we look at 3 bowlers, who picked a fifer for RCB in the history of IPL:
1. Anil Kumble (5-5)
This performance from the veteran Indian leg-spinner came during the 2nd game against RR at Cape Town in IPL 2009. Electing to bat first, RCB could post just 133-8 in their 20 overs, on the back of a valiant knock of 66(48) by Dravid. Mascarenhas was the pick of the bowler for Rajasthan with 3-20 and was nicely assisted by Patel and Warne, who scalped 2-25 and 2-18 respectively.
The target, though, below par, proved too significant for RR as they were skittled out for a mere 58 in 15.1 overs, losing the contest by a massive margin of 75 runs. Kumble was the chief destroyer for RCB, who picked a fifer while giving away just 5 runs and bowling a maiden, helping the 'Red Army' in clinching a low-scoring affair.
2. Jaydev Unadkat (5-25)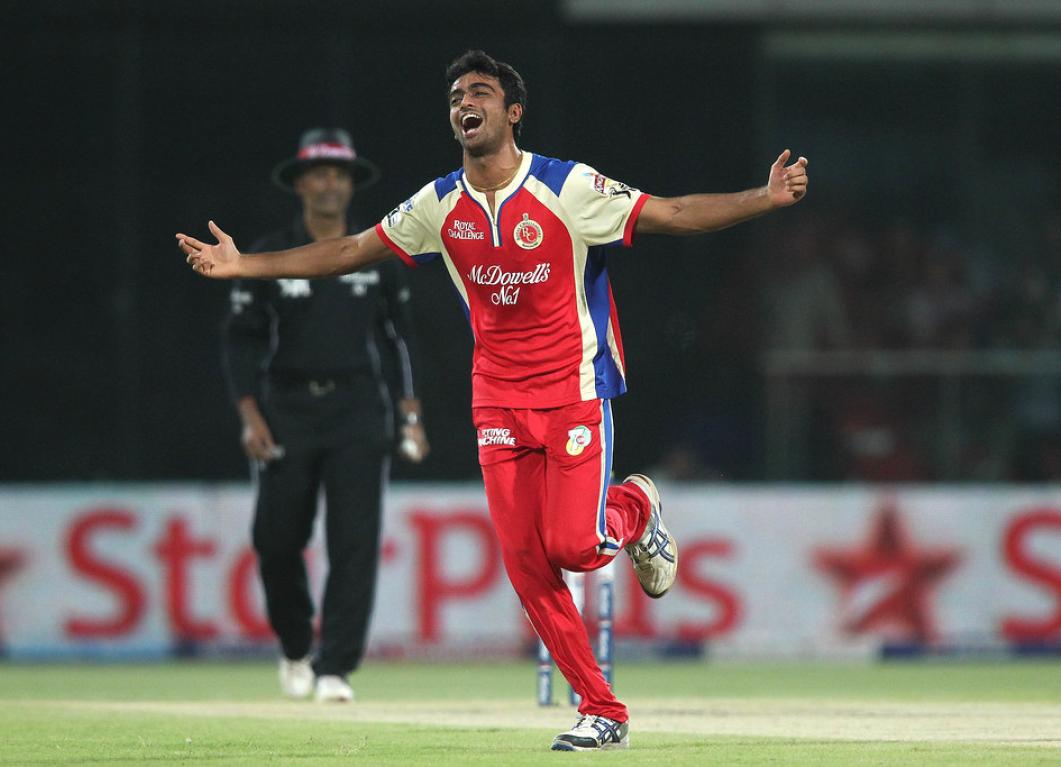 A tall left-arm seamer from Saurashtra, Unadkat conjured this spell against DC during the 57th game at Delhi in IPL 2013. Batting first, RCB posted a commanding total of 183-4 in their 20 overs, courtesy a brilliant knock of 99(58) by Kohli.
The home team, too, put their best foot forward during the chase, scoring 179-7 in their 20 overs and losing the game by just 4 runs. A knock of 41(35) by Chand and a quick-fire cameo of 23(11) from Irfan threatened to run with the game, but Unadkat acted as a barrier with his mind-boggling spell of 5-25 and ensured an RCB victory.
3. Harshal Patel (5-27)
Been traded for the new season to his old franchise, RCB, Harshal exerted his impact in the 1st game of IPL 2021 itself, going against MI at Chennai. Put into bat first, MI were halted at 159-9 in their 20 overs, who could reach there owing to knocks of 49(35) by Lynn and 31(23) by Surya. It was Harshal, who stole the limelight for RCB, snapping up 5-27, 3 of which came in the final over that he bowled.
The target, though, not the biggest going around, was made to look so as RCB needed 1 run off the last ball. The 'Red Army' did win the game eventually after wicket-taking spells from Bumrah (2-26) and Jansen (2-28) threatened to change the final outcome of the game. Yet again, de Villiers top-scored for RCB with a blistering 48(27), dealing a final blow after initial cameos from Kohli and Maxwell, who scored 33(29) and 39(28) respectively.