Karnataka's star batsman Mayank Agarwal had made his Test debut in 2018 amongst the most difficult of places in the world: at the MCG against the likes of Pat Cummins, Mitchell Starc, Josh Hazlewood and Nathan Lyon. Unfazed and undeterred, Agarwal gave India a solid by compiling a terrific half-century (76 off 161 balls) in …
---
Karnataka's star batsman Mayank Agarwal had made his Test debut in 2018 amongst the most difficult of places in the world: at the MCG against the likes of Pat Cummins, Mitchell Starc, Josh Hazlewood and Nathan Lyon.
Unfazed and undeterred, Agarwal gave India a solid by compiling a terrific half-century (76 off 161 balls) in the first innings and 42 off 102 in the second innings, which went a long way in India's win by 137 runs.
Agarwal was touted for great success and a long career since then at the highest level. And it looked likley as he has been part of many Test in the almost-four years since his debut: Agarwal has featured in 21 Tests out of the 32 India have played since his debut and won 14 of those, including many away from home and the twin BGT series win in Australia.
However, now it seems as though Agarwal's Test career is under threat and the 31-year-old may never play another Test match for India.
Agarwal was dropped as an opener on the last Australia tour; he featured in the Brisbane Test as a middle-order batsman because India had lost Virat Kohli, KL Rahul and Hanuma Vihari as Shubman Gill and Rohit Sharma took the opening slots.
Then Agarwal was the backup opener to Gill and Sharma for the home England series and the WTC final. After Gill's injury, Agarwal was set to open with Rohit in the first Test in England but suffered a concussion ahead of the first Test. KL Rahul was another life in Test cricket and he grabbed it with both hands as Rahul and Rohit finished as India's top-two run-scorers in those four Tests vs England.
When Rohit was rested and Rahul was injured for the home series vs New Zealand in December, Agarwal opened with Gill and further showed his worth to the selectors – by slamming scores of 150 and 62 in the Mumbai Test.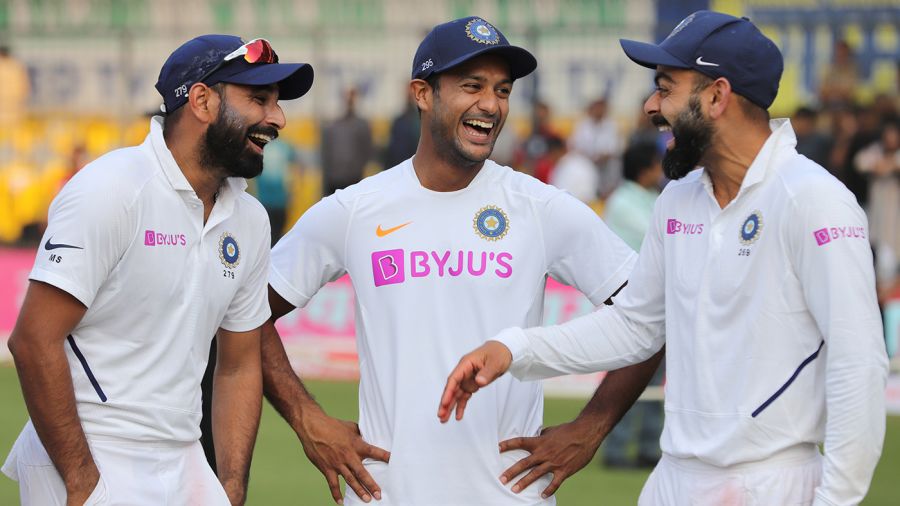 With Rohit injured and ruled out from the South Africa tour, Agarwal opened with KL Rahul and scored 60 in the first innings of the first Test in Centurion. However, after that it went downhill for Agarwal: after that score of 60, his next scores read: 4, 26, 23, 15, 7 [vs South Africa] followed by 33, 4 and 22 in home Test series vs Sri Lanka when he had opened with Rohit when Rahul and Gill were injured.
This was it then for Agarwal as he failed to gain form in the absence of Rahul and Gill. Agarwal was then dropped from India's squad for the Edgbaston Test vs England in July, despite KL Rahul picking up an injury after the IPL 2022.
Then when Rohit Sharma contracted covid-19 and his participation in the Edgbaston Test was under concern, the Indian team management and selectors decided to flow in Agarwal to England.
But, the big blow to Agarwal – and a revelation of the pecking order – came when, after Sharma was ruled out, India opted to open with Cheteshwar Pujara as a makeshift opener along with Gill instead of a regular opener in Agarwal who then had to be consigned to the bench.
31-year-old Agarwal has clearly fallen much behind in the pecking order – Sharma, Rahul, Gill and now Pujara. Rohit is 35 and has only recently taken the captaincy of the Test team, so you'd expect him to continue playing the longest format for at least a couple of more years, by the time Agarwal will be 33 and inching toward the age of 34.
Rahul is younger than Agarwal and India's vice-captain and likely to take over the captaincy from Rohit. So by the time Rohit calls it quits, Shubman Gill, 22, is expected to become the new first-choice opener in Tests and pair up with KL Rahul.
This could well leave Agarwal either again on the bench or even away from the Test side if the selectors decide to invest further in other youngsters such as Prithvi Shaw, who was dropped after one bad Test match in Australia.
Mayank Agarwal may not play another Test for India!
In 21 Tests Mayank Agarwal has scored 1488 runs at an average of 41 having hit 4 centuries – including two double centuries – and 6 fifties. It remains to be seen if Agarwal get the opportunity to add to these.