There is no denying that left-arm seamers in world cricket are a rarity. Over the years, we have witnessed a handful of left-arm fast bowlers who have done well at the biggest stage. Wasim Akram, unarguably, tops the list, which also includes some world-class talents such as Chaminda Vaas, Zaheer Khan and Mitchell Johnson to …
---
There is no denying that left-arm seamers in world cricket are a rarity. Over the years, we have witnessed a handful of left-arm fast bowlers who have done well at the biggest stage. Wasim Akram, unarguably, tops the list, which also includes some world-class talents such as Chaminda Vaas, Zaheer Khan and Mitchell Johnson to name a few.
Having a world-class left-arm seamer is an absolute luxury for any team. Bowling with a different angle, they add variety to the attack. A right-handed batsman never wants to play a left-arm fast bowler, especially the ones who know how to swing the ball into them.
In this article, we have compiled the best 5 fast bowlers of the modern era:
1. Mitchell Starc:
When it comes to the best left-arm fast bowlers of the modern era, Mitchell Starc stands head and shoulders above the rest. Australia have never been short of world-class fast bowlers. The retirement of Mitchell Johnson saw Mitchell Starc lead the attack and exhibit inspiring spells with the ball.
Mitchell Starc topped the wickets charts in both the 2015 and 2019 World Cup, picking 22 and 27 wickets respectively. As far as overall numbers are concerned, he has picked 184 wickets in 96 ODIs and 47 wickets in 35 T20s so far in his international cricket career.
2. Trent Boult:
Trent Boult is regarded as one of the best left-arm fast bowlers in the world at the moment. With an ability to swing both ways, Boult is a nightmare for any opposition when on song. The New Zealand fast bowler has led the side to a plethora of victories with his inspired bowling spells.
Boult was the highest wicket-taker for New Zealand in the both the 2015 and 2019 editions of the World Cup. He has played 90 one-day internationals and 29 T20s for his side so far, taking 164 and 39 wickets respectively.
3. Shaheen Afridi:
Having made his international debut in a T20 series against West Indies in 2018, Shaheen Afridi has come a long way. With a plethora of variations under his sleeves, Shaheen Afridi has become a lethal force in international cricket in a very short time.
He was one rare positive for Pakistan in the 2019 World Cup. Afridi scalped 16 wickets for his side in the perennial tournament. The tall left-arm seamer continues to impress the world with his infinite talent and is currently leading Pakistan's pace attack in limited over's cricket. He has 45 wickets to his name in 22 ODIs, while in T20s, he has picked 22 wickets in 18 matches so far.
4. Mustafizur Rahman
Mustafizur Rahman's international career has been no short of an emotional roller-coaster. He began his one-day international career in a rollicking fashion, having claimed as many as 11 wickets against India in just 3 ODIs.
For a couple of years, he enjoyed substantial success before injuries hampered his impact on the game. Rahman hasn't been at his best lately but is still the biggest bet for Bangladesh and one of the best left-arm seamers in limited over's cricket across the globe.
He has so far represented Bangladesh in 58 ODIs, picking 109 wickets at an average of 23.05.
5. Sheldon Cottrell: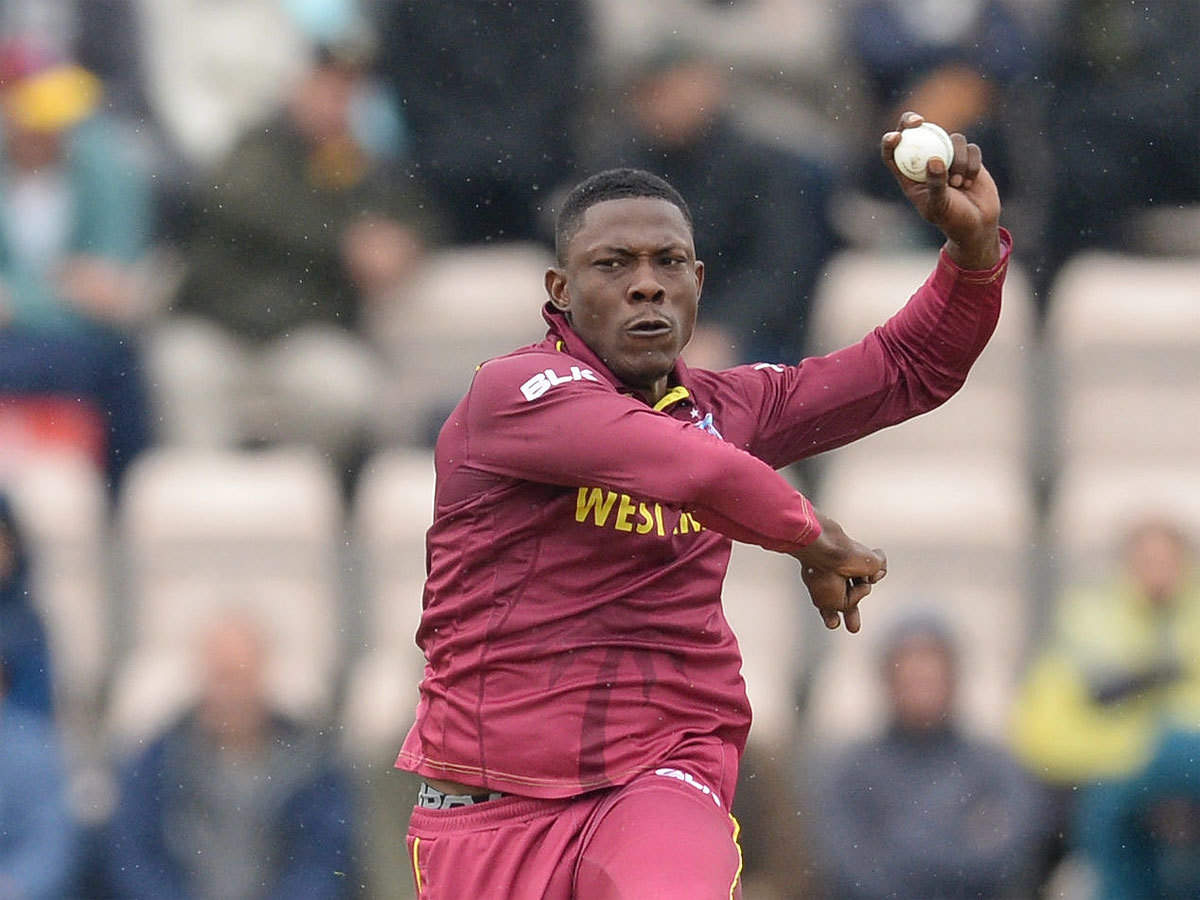 Despite making his ODI debut back in 2015, Sheldon Cottrell didn't become a prominent name in world cricket until a couple of years back. He is currently counted amongst the smartest fast-bowlers across the globe.
With an ability to swing both ways coupled with an intelligent mix of slower deliveries, Cottrell has become a force to be reckoned with in limited over's cricket. He ended the ICC 2019 World Cup as the highest wicket-taker for his side, claiming 12 wickets in 9 games. Overall, he has played 35 ODIs so far and has picked 49 wickets at an average of 32.16.