The 2023 ICC Cricket World Cup has set the cricketing world abuzz with excitement. As fans from every corner of India rally behind Virat Kohli's quest for a historic 50th century, one man has consistently stolen the spotlight – Mohammad Shami.  In the 2023 World Cup, Mohammad Shami has showcased an extraordinary exhibition of fast bowling. With just three games under his belt, Shami has been nothing short of breathtaking in each of them. His recent devastating spell against Ben Stokes left the cricketing world in awe, and he continued to mesmerize fans with another stellar performance against Sri Lanka at Mumbai's Wankhede Stadium.
Shami's second five-wicket haul in just three games is a testament to his extraordinary talent. In that match, he conceded a mere 18 runs, and at one point, his figures read 4 wickets for just a single run. This outstanding performance reflects just how fiery he has been with the ball in hand. With 14 wickets to his name already, Shami is undoubtedly at the top of his game.
While Shami's exceptional bowling abilities have wreaked havoc on the opposition, another aspect of his performance that has garnered attention is his animated antics. Known for his quiet and reserved demeanour, Shami surprised everyone with his lively gestures in a recent match.
[FACT CHECK] Here Is What Mohammed Shami Meant With His Ball On Head Celebration
As he picked up his fifth wicket for the night, Shami celebrated by rubbing the ball on his head in a circular motion, all the while grinning from ear to ear. At first glance, it might have been mistaken for a reference to a turban or something of that nature. However, a clarification from teammate Shubman Gill revealed that Shami was actually directing this 'circular rub' gesture at team India's bowling coach, Paras Mhambrey.
The reason behind this quirky celebration? Paras Mhambrey, as it turns out, has no hair on his head! Shami's playful charades on the field were aimed at catching Mhambrey's attention and provided a light-hearted moment in the midst of intense competition.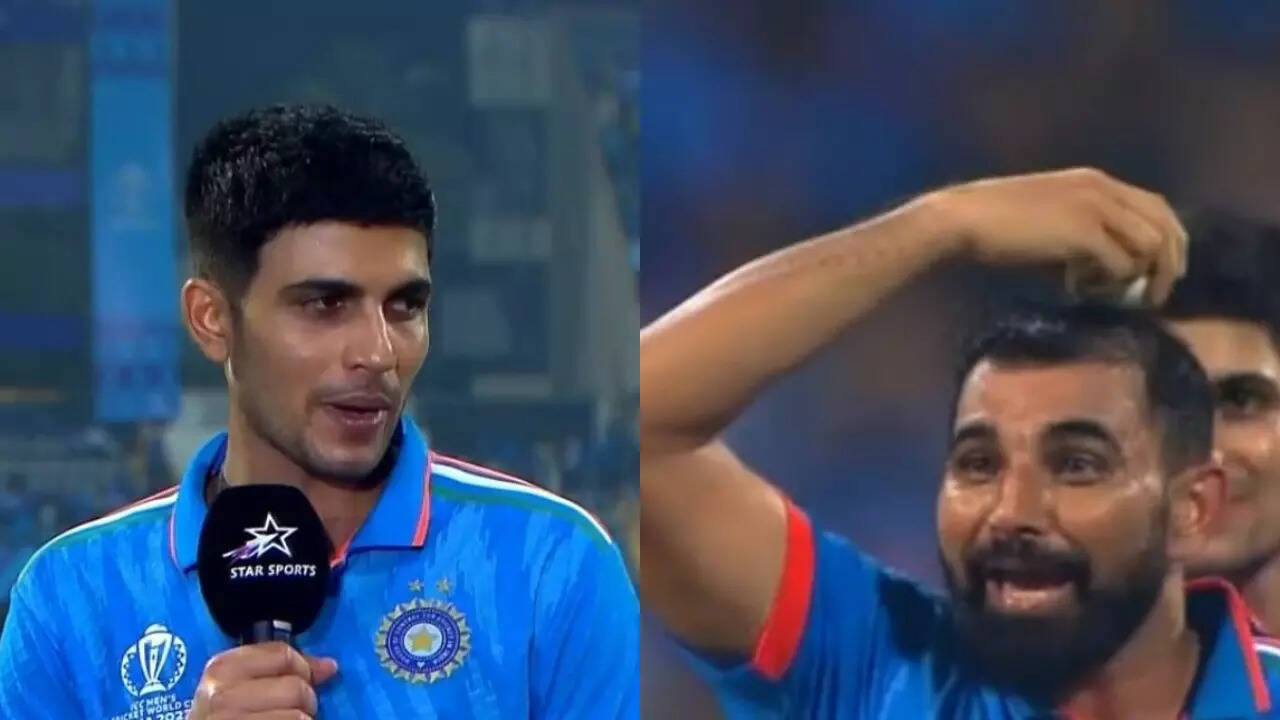 Returning to the game, India clinched a resounding victory over Kusal Mendis' team, winning by a massive 302-run margin. With this win, India secured its spot in the World Cup semi-finals. It has undeniably been a dream run for Rohit Sharma and his team, with every box being checked as they progress in the tournament.
While Indian fans are rejoicing over the team's performance, they are also keeping a watchful eye on other formidable competitors like Australia and South Africa. These teams seem to be hitting their stride at the right time in the 2023 World Cup, making the road to the trophy an exciting and competitive one. Mohammad Shami's performance has undoubtedly been a crucial part of India's journey to World Cup glory.