Former Indian cricketer and world cup hero Gautam Gambhir has rubbished a piece of news which claimed that he made remarks against Virat Kohli after watching the match-winning double century of Glenn Maxwell against Afghanistan in the ICC World Cup 2023 on Wednesday.
Gambhir Exposed Opportunists
The statements quoted by the News 18 had gone viral on the internet and were all over on social media. The statement read: "Virat Kohli would have taken singles on 195 if had he been there. But Glenn Maxwell chose to hit six that's what makes him different."
However, the former Indian cricketer turned politician took to X to clarify that he never made a statement like this. He wrote:
"It was important for Kohli to bat deep and I feel it was at the end, just the last 5-6 overs where he slowed down a bit, maybe because he was nearing a century. But I believe there were already enough runs on the board. It could have hurt India if they were batting on a good pitch,"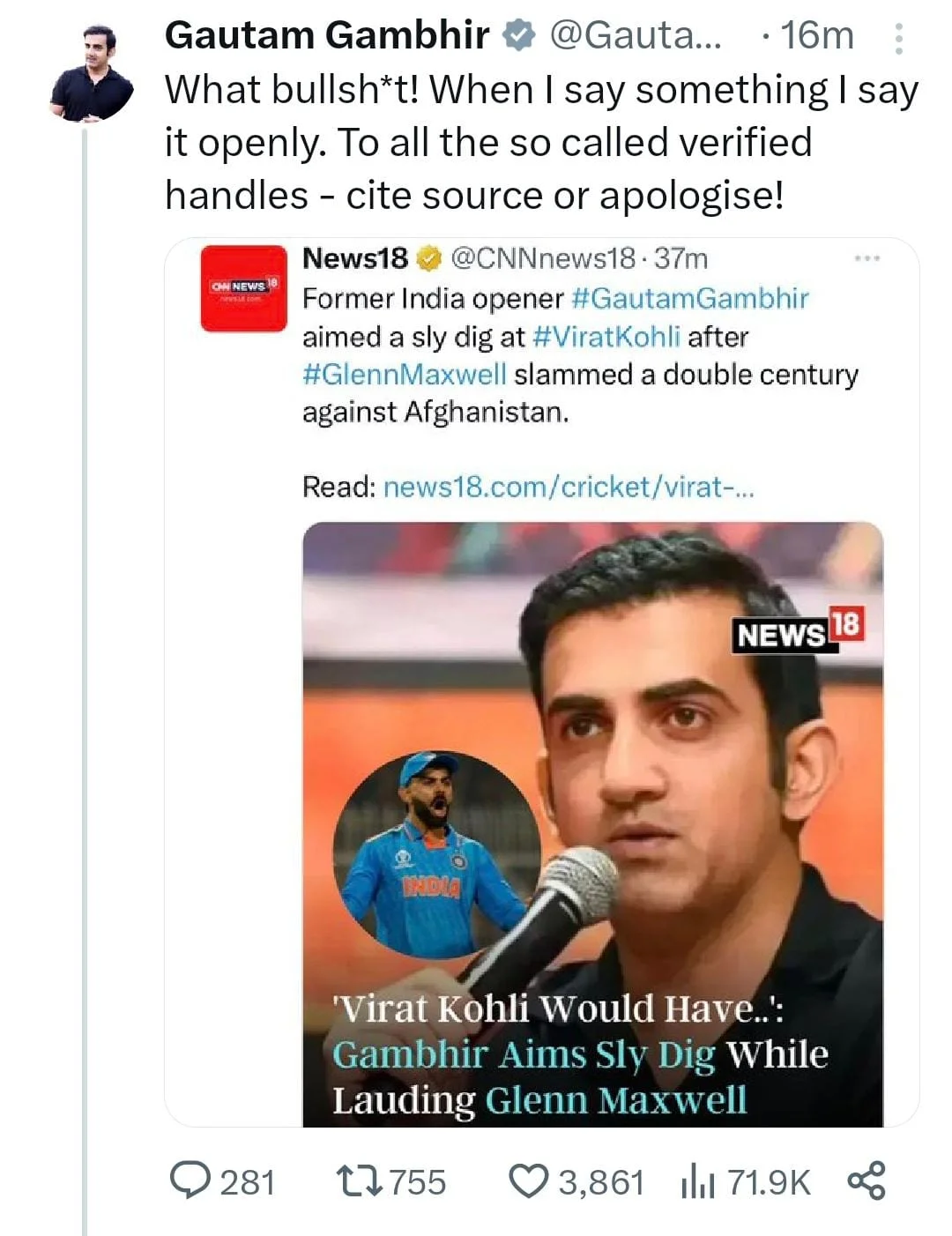 'Kohli slowed down a bit' – Gautam Gambhir
It has to be noted that Indian batting maestro Virat Kohli celebrated his 35th birthday in a grand style by scoring a record-equaling 49th ODI century against South Africa at Eden Gardens in Kolkata on November 5. This century placed Kohli on par with another Indian cricket legend, Sachin Tendulkar, in terms of the most number of centuries scored in the history of ODI format.
Just a few days ago, Gambhir criticized Kohli's batting approach as he felt that Kohli slowed down in the death overs against the Proteas so that he could get to his 49th ODI hundred and equal the world record of Sachin. He said:
"It was important for Kohli to bat deep and I feel it was at the end, just the last 5-6 overs where he slowed down a bit, maybe because he was nearing a century. But I believe there were already enough runs on the board. It could have hurt India if they were batting on a good pitch,"