IND vs ENG: In the 29th match of the ICC World Cup 2023, India and England faced off in a thrilling cricket contest that had spectators on the edge of their seats at Lucknow's famed Ekana Stadium. This low-scoring thriller brought to light the true meaning of the game, in which each run and ball had tremendous importance. India, batting first, was put in a difficult situation after scoring 229/9 in the 50 overs that were allowed to them. But their resolute bowlers and outstanding individual efforts wrote the screenplay for an incredible triumph. England, the defending champions, were humiliated at 129 and lost badly by a margin of 100 runs. In addition to capturing the essence of cricket, this thrilling match saw other records broken.
[IND vs ENG] Complete List Of Records That Were Broken In Lucknow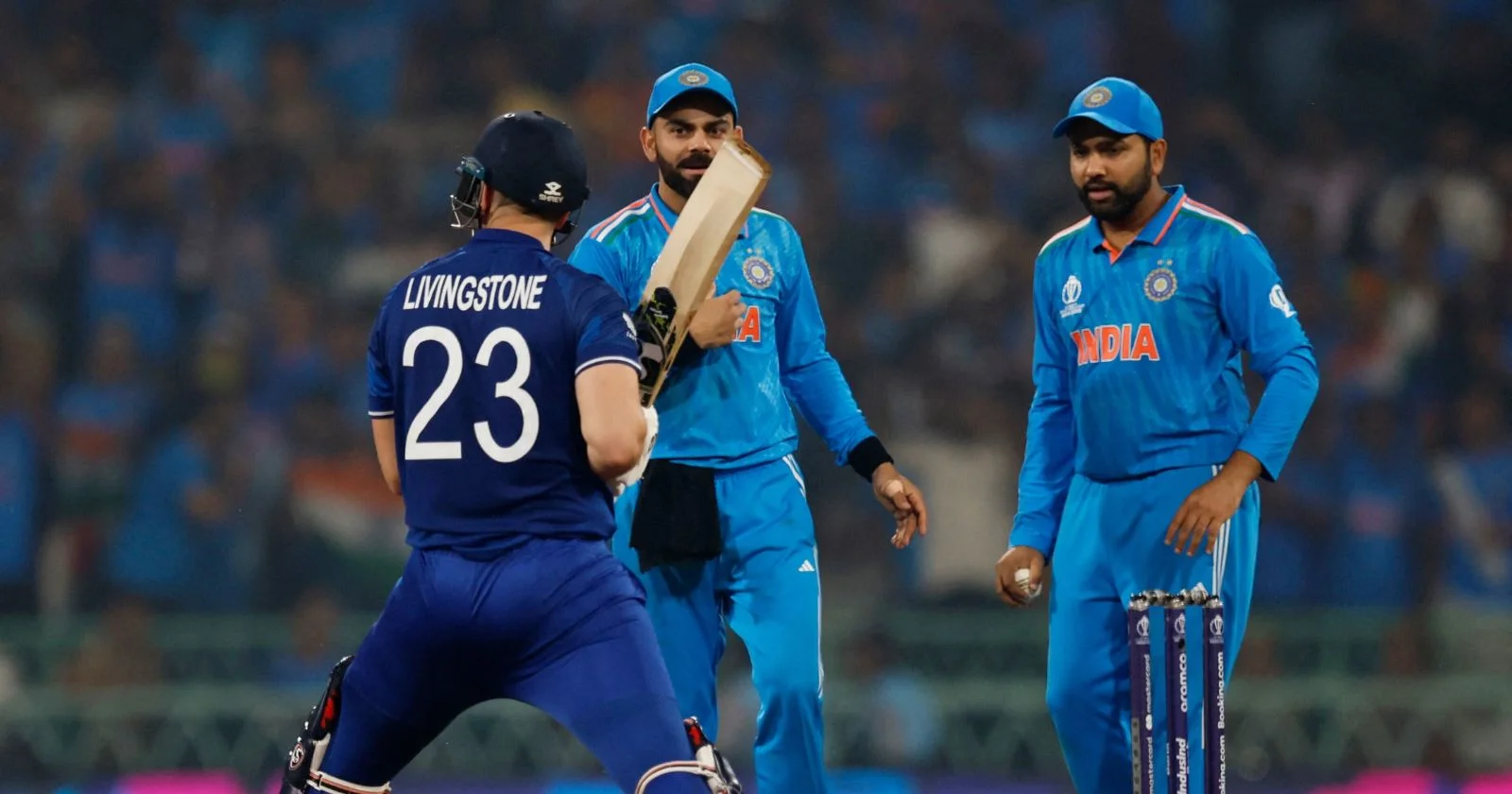 Rohit Sharma scores 18,000 international runs
The match's most notable player was Indian captain Rohit Sharma, who scored 87 runs off of 103 balls in a show of poise and skill. This outstanding performance took his career total of runs scored for his country to an astounding 18,040, making him the 20th player in the history of cricket to reach this incredible number.
10,500 ODI runs for Rohit Sharma
Rohit became one of the most prolific run-scorers in the game when he passed the 10,500-run threshold in the One Day International (ODI) format. Rohit Sharma has made an indisputable impression on the cricket world as a modern-day great with his 31 hundreds and 54 fifties in ODIs.
The Unexpected Setback for Virat Kohli
While Rohit Sharma was shining, Virat Kohli, another cricket legend, had an unexpected setback. In an uncommon development, Kohli recorded his first duck in an ODI World Cup. This was his 32nd World Cup inning in four different World Cups, from 2011 to 2023. David Willey of England set up Kohli's downfall for a nine-ball duck. The former Indian captain will surely learn from this unforeseen incident, which also serves as evidence of how unpredictable cricket can be.
KL Rahul emerges as the dependable one
With 39 runs from 58 balls, KL Rahul—another important factor in India's victory—played a crucial part in the game. Along with Rohit Sharma, he struck a vital 91-run partnership that steadied India's innings. Rahul reached 2,500 ODI runs with this effort, amassing 2,507 runs at a remarkable average of 50.14 in 67 games. He also achieved the 1,500-run milestone in Asia, which is noteworthy and solidified his status as a dependable player on the subcontinent.
The Indian Record
India has played some very remarkable matches in the 2023 World Cup. India has an exceptional record since they are the only side in the competition to have not been bowled out by their opponents. Even though they may have lost wickets, India's tenacity is evident. In this match, they lost nine wickets against England, yet this incredible record shows how well they can maintain their wickets, which is a reflection of the depth of their lower-order batting.
The Milestone of Adil Rashid
In this match, England's Adil Rashid accomplished a noteworthy feat even if his team lost. In his ten overs, he claimed two wickets for only 35 runs. Rashid became the seventh bowler from England to achieve 350 international wickets with these wickets. Only Moeen Ali and James Anderson have more international wickets among current players. Rashid's outstanding performance confirms his place among England's top spinners.
Poor performance from England
England had a very poor game against India, recording their lowest World Cup score to date. Their lowest total against India came in 2003, when they scored 168. Their troubles against the Indian bowling assault were highlighted by their poor performance, which highlights the intense competitiveness and unpredictable nature of the World Cup.
Mohammed Shami's genius at the World Cup
India's victory was greatly aided by Mohammed Shami's outstanding performance of 4/22 from seven overs. With 40 ODI World Cup scalps under his belt, Shami joins Javagal Srinath and Zaheer Khan as the only other Indians to reach this feat. Being the first bowler to reach four wickets in an ODI World Cup, Shami's performance was unprecedented. His incredible 16.97 strike rate in World Cup games confirms his status as one of the best bowlers in the competition.
The Unwanted Records of England
England's World Cup performance has been subpar, as reported by Cricbuzz. They were the second reigning champion team, after Australia, to drop four games in the next World Cup—an accomplishment that underscores the fierce competitiveness in the sport. The fact that England has lost four games in a row at this World Cup is unprecedented in their ODI World Cup history and highlights the difficulties they have encountered.