IND vs ENG: Virat Kohli is a name that connotes greatness and exceptional batting ability in the world of cricket. But even the best cricket players have weak moments from time to time. In 2023, Kohli's remarkable career had a singular and rather unexpected turn when he encountered an event he had managed to evade for a considerable amount of time: his first-ever duck in an ODI World Cup match. On a Sunday, during India's match against England in Lucknow, Kohli was unexpectedly dismissed. The incident drove the cricketing world into a frenzy.
The world-class batsman Virat Kohli was taking on England's
David Willey
and trying to get rid of the mid-off fielder at the top of the ring. With much expectation and suspense, Kohli emerged from the crease to loft the ball with assurance. However, destiny had other ideas, as the ball clumsily touched his bat's sticker and shot aloft, landing in Ben Stokes' waiting hands. The outcome? The news that Virat Kohli had to leave for a nine-ball duck shocked cricket fans.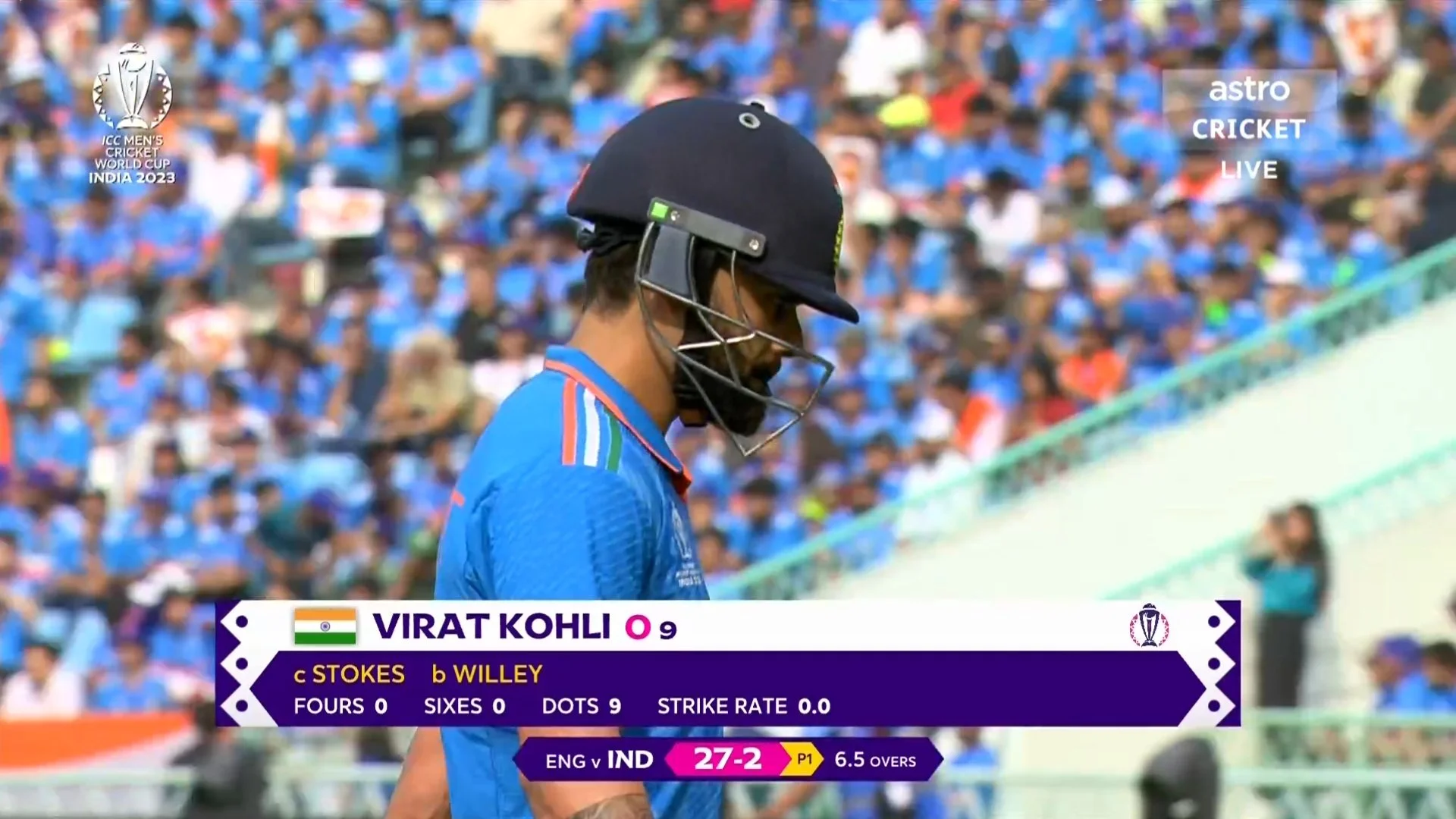 Before this match, Kohli had shown his amazing consistency throughout the World Cup, amassing an astounding 1384 runs at an average of 53.23 in 32 innings. This surprise duck was all the more startling since he had managed to avoid leaving without creating his account.
Unfortunately, this was just Kohli's third duck versus England in ODI history, making it his 16th duck overall. These extraordinary events occurred twice: first in 2011 in the famous Eden Gardens and again in 2013 in Dharamsala. Cricket fans and pundits were shocked by this specific duck in Lucknow since they had become used to expecting a lot from the former Indian captain.
Kohli's World Cup performance in 2023 was being watched carefully. He had amassed 354 runs throughout the tournament before his wicket in Lucknow, demonstrating his consistency in the preceding games. But this first duck in 2023 demonstrated how unpredictable cricket can be and how even great players like Virat Kohli may have difficult times.
[IND VS ENG] Memes Galore As Virat Kohli Scores His Maiden Duck In 2023
KOHLI'S OUT FOR A DUCK 🦆 pic.twitter.com/E2X8rPJcGj

— England's Barmy Army 🏴󠁧󠁢󠁥󠁮󠁧󠁿🎺 (@TheBarmyArmy) October 29, 2023
First duck for Virat Kohli in the World Cups (ODI/T20)

His streak of 56 innings without a duck in World Cups comes to an end💔#INDvsENGpic.twitter.com/XOJ7hr0Dsh

— VINEETH𓃵🦖 (@sololoveee) October 29, 2023
That guy after Virat Kohli's Duck 😭 pic.twitter.com/x0YqxbU1vh

— Dennis🕸 (@DenissForReal) October 29, 2023
DUCK FOR KOHLI pic.twitter.com/qlLL8vm2ba

— biskoot 🇵🇸 (@biscuuute56) October 29, 2023
King Kohli gone for Duck, another reason to celebrate Kohli🥰 #INDvENG pic.twitter.com/wIHrp0COPC

— TukTuk Academy (@TukTuk_Academy) October 29, 2023
Duck for Kohli ___#INDvsENGpic.twitter.com/U2IlarD6HS

— Hassan (@HassanAbbasian) October 29, 2023