---
India's stand-in skipper for the New Zealand ODI series Shikhar Dhawan was specific to mentioning Shardul Thakur's 8th over, the 40th of New Zealand's innings, that was the game-changer for the Black Caps in their victory in the first ODI on Friday at Eden Park.
The hosts took a 1-0 lead in the ODI series by chasing down the target of 307 with 17 balls spare and 7 wickets in hand. Keeper-batter Tom Latham plundered145 unbeaten runs in 104 balls with the help of 19 fours and 5 sixes, while captain Kane Williamson remained not out on 94 from 98 balls and stroked 7 fours and a six; the pair were inseparable in their partnership of 221* runs from 165 balls.
Thakur had bowled well until that fatal 8th over, with his figures reading 7-1-29-1, and had dismissed the aggressive opener Finn Allen. However, his 8th over sparked up New Zealand's run-chase as he conceded 25 runs in it.
Tom Latham took apart Shardul Thakur for 1 six and 4 fours in that 25-run over, bringing up his century on the last ball with a single off 76 deliveries. Latham was 77(70) at the start of the over and finished the over with 100 (76).
Thakur was poor with his planning: he kept bowling short ball after short ball and the left-hander had no trouble in pulling and hooking and sending the balls to the boundary rope. At Thakur's pace and lack of zip in the surface, the short ball posed no issue for Latham who peppered the short leg-side boundary of Eden Park.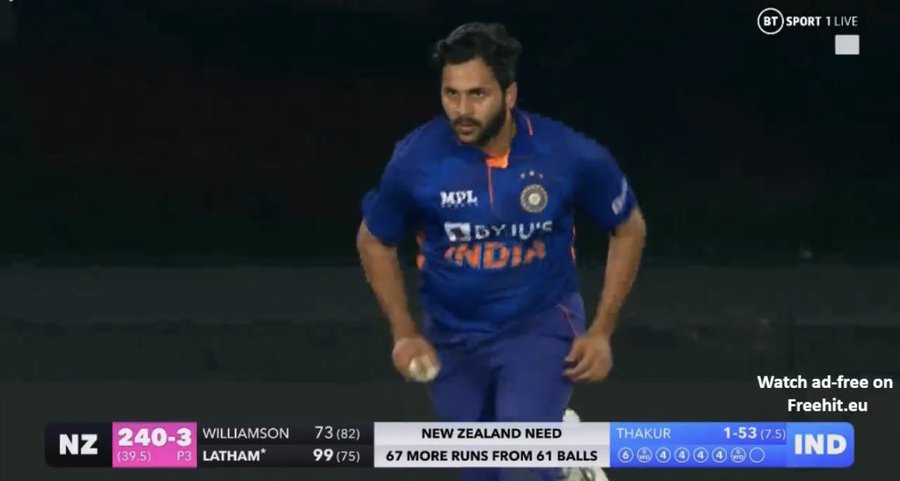 "Today we've bowled short of length and Latham attacked us there. That's where he took the game away from us especially in the 40th over. That's where the momentum shifted," Shikhar Dhawan said at the post-match presentation.
Shardul Thakur, who finished with figures of 1/63 in 9 overs, was trolled mercilessly by fans on Twitter who came up with hilarious trolling tweets and memes.
Here are some of the best memes and tweets trolling Shardul Thakur:
Thakur… how long will they keep playing him. The bowling quality lost isn't worth his batting returns

— Dweplea (@dweplea) November 25, 2022
Thakur looks like he needs an Uber to get from his runup to the pitch

— Akki (@CrickPotato) November 25, 2022
Shardul Thakur has the worst economy rate by any Indian bowler in men's ODI history (min 10 innings bowled) - 6.4#NZvIND

— Rohit Sankar (@imRohit_SN) November 25, 2022
Tom Latham to Shardul Thakur 😥#INDvsNZ #NZvIND pic.twitter.com/LohDyvDtFG

— Ashutosh Srivastava 🇮🇳 (@sri_ashutosh08) November 25, 2022
Shekhar Dhawan to Shardul Thakur after conceding 25 runs in his over #INDvNZ pic.twitter.com/yV4QevbIVP

— Baycu Noyan 🤌🏿 (@Irr_Baya) November 25, 2022
Shardul Thakur after thrashing by Tom Latham 😂#INDvNZ #NZvIND #Shardulthakur pic.twitter.com/JA8UePGsgP

— Cricket Master (@Master__Cricket) November 25, 2022
Tom Latham to Shardul Thakur in 40th over

#INDvNZ #NZvIND #NZvsIND #INDvsNZ #RishabhPant #ShreyasIyer #UmranMalik #iyer #SanjuSamson #SuryakumarYadav #Shardulthakur #ShikharDhawan #UrvashiRautela #ODI #tomlatham pic.twitter.com/jp9t6XrF7o

— Avinash (@Aviinashx) November 25, 2022
Giving new ball to shardul thakur instead of umran malik! pic.twitter.com/ulC6RQ9O8g

— Jaythalal (@jaydawda) November 25, 2022
Just saw one over of the #IndvsNZ match .. Shardul Thakur is a looking a Rohit Sharma . Unable to sprint across fast and just gave away 2 easy fours in that Umran over. Fitness of some of this players are pretty bad 😏

— d@$h 🌐 (@dashman207) November 25, 2022
Shikhar Dhawan To Shardul Thakur In The Dressing Room Today. #NZvIND #INDvNZ pic.twitter.com/ND8U0KPsp0

— Oggy (@SirOggyBilla) November 25, 2022
Tom Latham to Lord Shardul Thakur!!!#INDvsNZ #NZvIND #NZvINDonPrime #TomLatham pic.twitter.com/I7K0gS0CoC

— Rahul Sawant (@RudeDudeRahul) November 25, 2022
Tom Latham was 77(70).
One over later he is 100(76).
Courtesy: Lord Shardul Thakur 😭🤣#INDvsNZ

— Jatin Khandelwal (@jr_khandelwal) November 25, 2022