---
Ever wondered how Suryakumar Yadav does it all - score boundaries at utter ease, access parts of the ground that don't look possible for others; pick up balls outside off-stump and deposit it behind square on the leg side; score consistently and at such a humongous rate that fans are wondering if he's the greatest Indian T20 batter?
Well, the man himself claims that his "secret (behind his freak shots) is about the intent and you need to enjoy yourself. It's also about the work you do in the practice sessions," Suryakumar said after he hit his second T20I century on Sunday against New Zealand - a knock of 111* off 51 balls - while the rest of the batters across both teams went at run-a-ball - and helped India register a 65-run victory in Mount Maunganui.
Mere ordinary humans like you and me would find different ways of underscoring his incredible form and the success he's had in his short T20I career: 1395 runs in 39 innings at an average of 45 and a strike rate of 181 with 2 centuries and 12 fifties.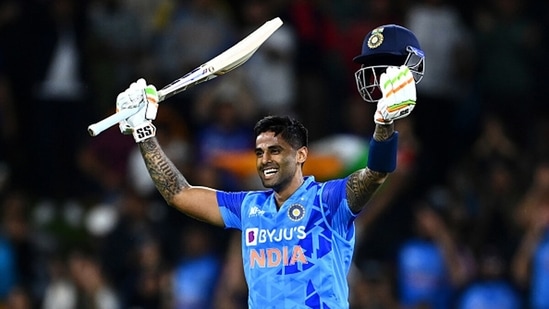 Astro-Numerologist Sanjay Jumaani tries to make sense of Suryakumar Yadav's form
Renowned Astro-Numerologist Sanjay B Jumaani, who has over 100,000 followers on Facebook, has tried to explain the reason and the formula behind Suryakumar Yadav's tremendous form in his own way.
Here, have a look at what Jumaani has posted on his Facebook page following Suryakumar Yadav's century:
"What Flexibility, What Length; meet the SKY of Indian cricket! who slammed an unbeaten 111 (3) off 51 (6) in Mount Maunganui to lift India to 191 for 6 in the second T20I against New Zealand.
Number 6 is best for number (5s) hence we recommended Number 5, Shikhar Dhawan, jersey number (42) which helped nearly double his average.
Similarly, Suryakumar Yadav born on 14/09/1990 who is a number 5, not only made waves in his 32nd (5) but in his 33rd (6) year too is breaking the field the 360 way!
The Power of 33 has been by his side throughout. Suryakumar Yadav aka (SKY) adds to 6 too; In the number (6) year of 2022 he's had his BEST Form and Strike rate so far. The batsman is not only good at reading the field but his numbers while hitting the ball are astonishing too. From 111 balls, 340 runs, and only six dismissals, gave him an average of 56.66 and a scarcely believable strike rate of 306.30.
In-fact, its in this number (6) year that the 33 year old broke Yuvi's record of 2007 . Yuvraj had scored the most fifties in the T20 World Cup in 2007, batting at number 4 or lower. He had scored 50+ scores 2 times. Whereas SKY is currently the No. 1 T20I batter in the world, having piled up 1151 runs in the format in 2022 - this innings included - at a strike rate of 188.37, including two hundreds, nine fifties and a stunning 67 sixes."