Finally, opener Ruturaj Gaikwad has come to the part at the international level. Having attained immense success in the IPL over the last two seasons – including bagging the Orange Cap last year – Gaikwad's temperament was under a cloud when it comes to playing for India. After all, in his first five T20Is, he …
---
Finally, opener Ruturaj Gaikwad has come to the part at the international level. Having attained immense success in the IPL over the last two seasons – including bagging the Orange Cap last year – Gaikwad's temperament was under a cloud when it comes to playing for India. After all, in his first five T20Is, he averaged 12 at a strike rate of 114 and was under scrutiny with scores of 23 and 1 in the first couple of T20Is versus South Africa.
In the third match, in Visakhapatnam, Gaikwad broke out of this rut and registered his maiden T20I fifty – scoring 57 runs off 35 balls in a 97-run opening stand with Ishan Kishan.
Asked if he was worried about his position in the side, Gaikwad said: "Not really on the edge, it is just part and parcel of the sport. Last year I had a really good year so people come with a lot of expectations when you have a great year even in IPL and domestic."
Gaikwad wouldn't have played in the series if not for KL Rahul's injury on the eve of the series opener.
Ruturaj Gaikwad discusses his mindset when attacking bowlers
Gaikwad stated that the pitches were "tacky" in the previous two matches, but it was a flatbed in Vizag which emboldened him to play his shots.
"Coming into the series as well, the first two wickets I felt were on the tacky side. It was stopping a bit batting first in the last two games but here the wicket was good, ball was coming into the bat, so I played my game," he said.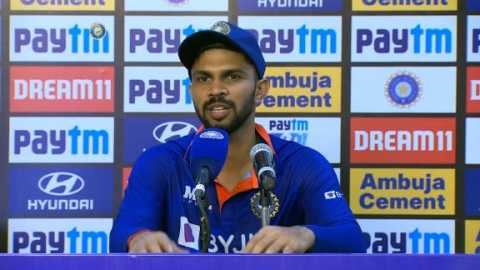 However, he had "changed nothing" regarding his mindset, even while hitting South Africa's fastest bowler, Anrich Nortje, for five consecutive fours.
"My thought process, everything was the same. Going after the bowlers was not about being reckless or playing rash shots. I think we as a batting unit have some strength, certain shots we play as individuals. It is about backing ourselves and putting pressure on the bowlers.
"Just making sure that you are showing the intent, no matter if you are playing first ball or second ball, or you are set, even if you are batting at 30-40, if it is there in your area, in your strength, just have to go for it, that is what the thinking is about," Gaikwad explained.
With the Proteas still leading the series by 2-1, the teams move to Rajkot for the fourth match before flying to Bangalore for the last game of the series.