Gautam Gambhir And KL Rahul's Viral Picture: At one stage in the league phase of IPL 2022, the Lucknow Super Giants were at the top of the table with 16 points in 10 games. However, they could manage only one win in their last four league stage games and finished at the third spot with …
---
Gautam Gambhir And KL Rahul's Viral Picture: At one stage in the league phase of IPL 2022, the Lucknow Super Giants were at the top of the table with 16 points in 10 games. However, they could manage only one win in their last four league stage games and finished at the third spot with Rajasthan Royals pipping them over for the second spot on net run rate after both teams finished with 18 points.
In that regard, their loss to the Royal Challengers Bangalore in the Eliminator wasn't so much surprising, especially while chasing which had been their weaker suit, being knocked out of the competition now.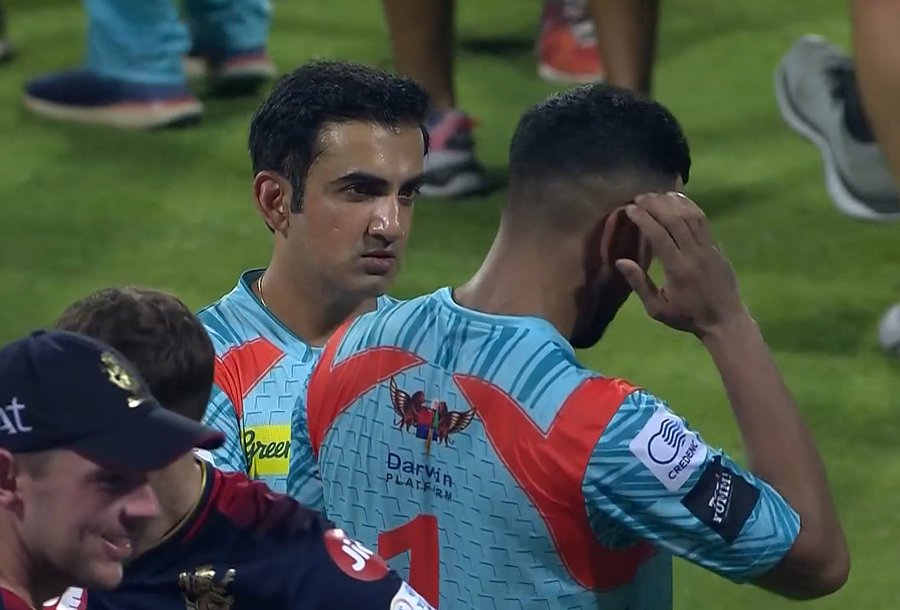 You may have thought that there was a Gautam Gambhir cam deployed by the broadcasters for almost every reaction of the Lucknow mentor was captured and shown to the audience.
One that caught the eye of everyone, and which flooded memes, was when Gambhir was talking to KL Rahul after their 14-run loss in the chase of the target of 208.
Skipper KL Rahul was LSG's top-scorer scoring 79 runs off 58 balls – but his strike rate of 136, across what was close to half of the total innings, while chasing a total in excess of 200, has come under the scanner with him being criticised by most.
In the picture that has gone viral, Gautam Gambhir can be seen staring at Rahul who has his head down in dejection.
Here are some of the hilarious memes on Gautam Gambhir after LSG were knocked out:
Aur kitna deep leke jaana hai match tumko? 22 over tak? pic.twitter.com/MjQSvE2xPZ

— Sagar (@sagarcasm) May 25, 2022
Gambhir to Goenka after the match pic.twitter.com/cHwyNpwW6p

— ComeOn Cricket (@ComeOnCricket) May 26, 2022
Gautam Gambhir throughout the match. pic.twitter.com/YB1ynqLj5V

— Sai Teja (@csaitheja) May 25, 2022
Virat Kohli and Gautam Gambhir in the stadium right now : pic.twitter.com/TayGF6Hgkn

— PrinCe (@Prince8bx) May 25, 2022
Gautam Gambhir to KL Rahul after the match. #RCBvsLSG pic.twitter.com/XU1SzVFgEv

— Rajabets India (@smileandraja) May 25, 2022
Gambhir rn during innings break #LSGvRCB pic.twitter.com/IdpWQiktyv

— Goutham (@thisis_Goutham_) May 25, 2022
LSG dropped two catches – of centurion Rajat Patidar and Dinesh Karthik, who smacked 37 runs off 23 balls – and also fielded poorly. Rahul promptly cited their disappointing fielding effort as the key reason for their loss, adding to Patidar's brilliant century.
"I think it's quite obvious – the reasons why we didn't win. We let ourselves down in the field. Dropping easy catches never helps. Difference was obviously Patidar playing such a knock. When someone in the top three scores a hundred, more often the team wins. They fielded really well and we were poor," Rahul said in the post-match ceremony.