Gujarat Titans skipper Hardik Pandya revealed a simple mantra of success of his side: "If you have good people around you, you get good things." Success Gujarat have had: the Titans were the first side to qualify for the playoffs; the first team to seal a top-two spot eventually finishing as the table-toppers; now have entered their …
---
Gujarat Titans skipper Hardik Pandya revealed a simple mantra of success of his side: "If you have good people around you, you get good things." Success Gujarat have had: the Titans were the first side to qualify for the playoffs; the first team to seal a top-two spot eventually finishing as the table-toppers; now have entered their first final in their debut season!
It was the 'Killer Miller' show in the Qualifier 1 versus Rajasthan Royals: with 16 needed in the last over, in the run chase of 189, David Miller walloped Prasidh Krishna for three consecutive sixes on the first three balls to launch the IPL first-timers in the final, set to take place in their hometown, with one lakh people behind them, at the Narendra Modi Stadium in Ahmedabad on Sunday.
First Year
First Final

A kind of "Firsts" for @gujarat_titans!

Congratulations! #TATAIPL pic.twitter.com/sYJ5ksgUjY

— IndianPremierLeague (@IPL) May 24, 2022
It was the heroic partnership of 106* runs from 61 balls between Pandya (40 runs off 27 balls) and Miller (68 off 38) that got them over the line, but before that there were contributions from Gill (35 off 21), Wade (35 off 30), Rashid Khan's marvelous figures of 0/15 in 4 overs in a game where close to 380 runs were scored.
Over the course of the season, GT have almost always found someone stepping up in the crunch moment while others have played supporting roles in the games.
"All the 23 players are different characters, bring different things to the table. Was saying to Miller as well, if you have good people around you, you get good things. It's been that story for us. The kind of people we have, the genuine human beings we have," Pandya said about GT's strength after winning vs Rajasthan.
"I genuinely see even the players in the dugout are trying and praying for them to make sure they do well. That is something fantastic and that is the reason we have reached where we have reached. It's all about making sure we respect this game."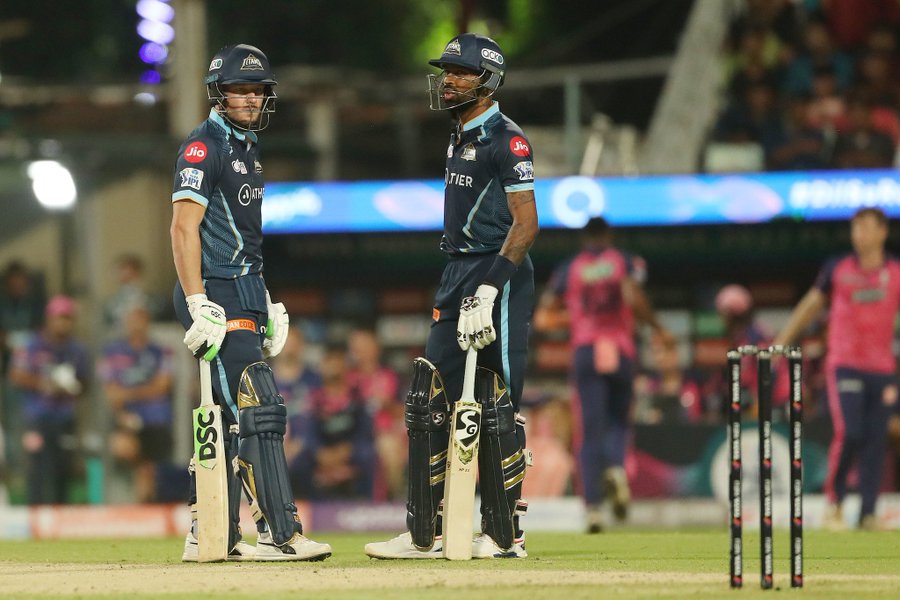 Married for a bit less than two years, and a young parent, Hardik Pandya credited his family for bringing equanimity to his mind which has helped him in his career.
"I've started to balance things in my life. Has been a constant effort through the last couple of years. In the end, my family, my son, my wife, and my brother as well have played a big role. They kind of allowed me to get neutral in life. I look forward to go home and spend some time with family, and that's made me a better cricketer as well," the all-rounder stated.
Another talking point has been Hardik's batting this season – he's batted at numbers 3 and 4, scoring 453 runs at a strike rate of 132. His preferred position: whatever suits his side the best.
"Wherever my team requires me to play, I don't generally demand where I want to bat. That's not how I've got success. I've got success by playing for the team, no matter how scratchy I look, how good I look, irrelevant for me. The batting order we've had – we've had to make sure everyone chips in. We appreciate those 10s, 15s, 20s," the GT captain concluded.