Injury, criticism, trolls, poor performance, surgery – Hardik Pandya defied all odds and proved everyone wrong as he led his team to an emphatic seven-wicket victory over Rajasthan Royals in the IPL 2022 final match at the Narendra Modi Stadium in Ahmedabad, on Sunday. As the game started, Sanju Samson won the toss and elected …
---
Injury, criticism, trolls, poor performance, surgery – Hardik Pandya defied all odds and proved everyone wrong as he led his team to an emphatic seven-wicket victory over Rajasthan Royals in the IPL 2022 final match at the Narendra Modi Stadium in Ahmedabad, on Sunday.
As the game started, Sanju Samson won the toss and elected to bat first. Pandya gave an all-around show. He returned back with the ball and grabbed a 3-17 with impeccable medium-fast bowling to restrict the Sanju Samson-led side to 130-9. Coming out to bat, Pandya then made a crucial 34 off 30 balls as Gujarat chased down the target runs in 18.1 overs.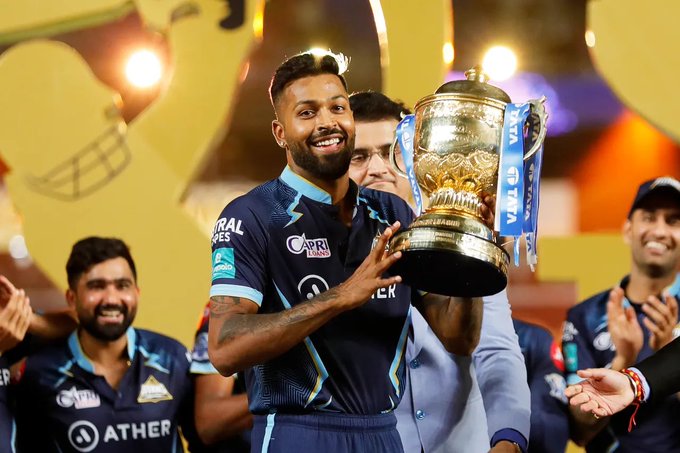 There were a lot of questions regarding Hardik in these times. Some experts and cricket pundits even wrote him off as a 'finished player', however, Hardik wasn't done yet. He made a stellar comeback and has impressed one and all with his terrific performances – as a batter, as a bowler, and as a leader.
All thanks to his all-around show at Motera Stadium in the IPL 2022 final, Hardik was named the Man of the Match. After the game, Hardik Pandya spoke in detail about his performance and insisted that he had saved his "best for the best." He said:
"It had to come. I was saving for the best. I worked very hard for it. I wanted to show what I worked hard for, at the right time. Today was the day, where I saved the best for the best in terms of bowling,"
Pandya also spoke about how he never lets the outside noise bother him. He also expressed how the performance of his team matters more to him than his own personal performance. He said:
"On any given day, I will take the trophy rather than me batting at 160-170 strike rate. For me, my team is the most important, whichever team I play for. I have always been that kind of individual. Outside noise does not bother me. If I had to sacrifice and have a worse season and my team wins, I'll take that,"
He added: "I always fancy myself as a batter. Batting comes first to me. It's always going to be close to my heart. When we got the auction done, it was clear that I had to bat up the order"
CHAMPIONS This is for all the hard work we've put in! Congratulations to all the players, staff, fans @gujarat_titans pic.twitter.com/zEeqdygBEy

— hardik pandya (@hardikpandya7) May 29, 2022
Further, Hardik Pandya also expressed his desire to win a prestigious world cup trophy for the Indian cricket team. He said:
"Absolutely to win the World Cup for India no matter what happens. I am gonna give it everything I have. Always been that kind of guy to put the team first. For me, the goal will be simple: to make sure my team gets it the most,"
Hardik recently received a comeback call from the BCCI for the upcoming T20I series against South Africa. Talking about his upcoming stint with the Indian cricket team. He added:
"Playing for India has always been a kind of dream come true, no matter how many games I have played. It has always been a pleasure for me to represent the country. The kind of love and support I have got is only from the Indian team's point of view. Long term, short term, I want to win the World Cup no matter what happens,"