Dinesh Karthik's thunderous form has been enthralling to watch this season. On the back of a sizzling IPL 2022 campaign, Dinesh Karthik has forced his way back into India's T20I side after three years. Karthik, who will turn 37 in a few days, smashed 330 runs at a strike rate of 183 – this is …
---
Dinesh Karthik's thunderous form has been enthralling to watch this season. On the back of a sizzling IPL 2022 campaign, Dinesh Karthik has forced his way back into India's T20I side after three years.
Karthik, who will turn 37 in a few days, smashed 330 runs at a strike rate of 183 – this is the highest strike rate amongst all the batsmen who have scored over 200 runs this season.
His spectacular tournament with the bat, where he was arguably the best finisher in the season, came to an end on Friday night after Royal Challengers Bangalore lost the Qualifier 2 to Rajasthan Royals, and for the third straight season failed to reach the final despite qualifying for the playoffs.
Dinesh Karthik has got a lot of love and support from not just RCB fans but overall from all cricket lovers as fans have felt heartened by his successful return to the national side on the sheer weight of his performances.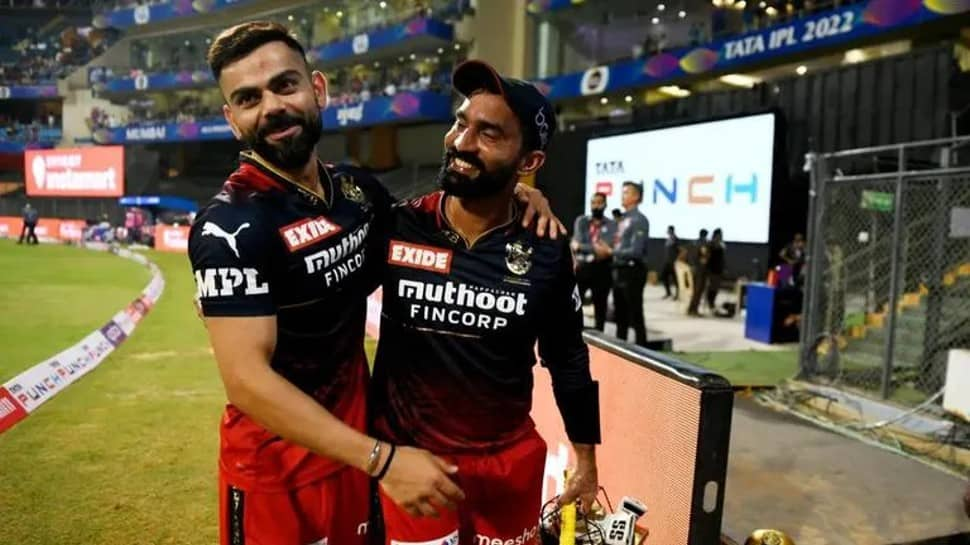 However, recently, the wicket-keeper copped plenty of hatred and scathing remarks from a second of Virat Kohli and RCB fans. The reason is that Karthik recently had praised Pakistan captain Babar Azam's batting, his talent, his style, and also predicted that Azam will soon become the number 1 ranked ICC player in all the three formats; currently, Babar is in the first spot in the ICC men's batsman rankings in ODI and T20I and is fifth in Test cricket.
"One-hundred per cent (he is capable of achieving that). He is a high-quality player who is at the peak of his batting prowess and he has got some Test matches coming up. He has been phenomenal in all three formats of the game and he has done well in different batting positions too," Dinesh Karthik said in the latest episode of The ICC Review.
"I wish him all the best and think he has the potential. He has got all the following of Pakistan helping him in abundance to go on and do special things for his country."
Further, Karthik also said that Azam will force himself into the 'Fab Four' group – which includes Virat Kohli, Joe Root, Steve Smith and Kane Williamson – and turn it into a 'Fab Five'.
"It is a very strong 'Fab Four' that we are talking about and they have obviously been there for much longer, but there is no doubt that Babar has all the credentials and he is going to make it a 'Fab Five'. There is no doubt he is there or thereabouts … he is a very special player," the wicket-keeper opined.
These comments, however, didn't go down well with some Kohli and RCB supporters who mocked both Babar and Karthik on Twitter.
Here are some of the reactions:
DK saab ka boycott chalega abhi https://t.co/jqGD93P0UM

— Nobody (@BhuviStan) May 27, 2022
DK who
Babar statepedderazam is no one Zimbabwer in making in all time

DK lemda thita pai don't know much about cricket https://t.co/DPrG9eCjju

— Kagiso Rabada (@cricketer_jii) May 27, 2022
Not DK fc anymore https://t.co/uqWeT2w4NR

— Subham (@70off34) May 27, 2022
— sumit #AavaDe (@kohli2_king) May 27, 2022
Would love to see DK failing miserably for India in T20 internationals.

— JimJam (@RavalJimmy24) May 27, 2022
Kholi on the way to DK's room pic.twitter.com/PFF16VQfhC

— Deep Mid Wicket (@HumourNews3737) May 27, 2022
https://twitter.com/Priyans_17/status/15300820098039398438466-rcb-rr-virat-kohli-fans-call-call-for-dinesh-karthik-boycott-ipl2022.html
Galat liya team mai isse

— Ashhh (@ashlok__adarsh) May 27, 2022
Boss DK you fell off

— N. (@Relax_Boiss) May 27, 2022
— Diksha (@BrahmaandKiMaa) May 27, 2022