Two legends in one frame- it was the moment of the day for all the cricket lovers as former Chennai Super Kings (CSK) captain MS Dhoni was seen catching up with his old teammate and LSG's mentor Gautam Gambhir after a thrilling game against the Lucknow Super Giants (LSG). Both the cricketers were seen smiling …
---
Two legends in one frame- it was the moment of the day for all the cricket lovers as former Chennai Super Kings (CSK) captain MS Dhoni was seen catching up with his old teammate and LSG's mentor Gautam Gambhir after a thrilling game against the Lucknow Super Giants (LSG).
Both the cricketers were seen smiling after the game during their conversation, bringing joy to the fans, considering the alleged bitter relations between them.
Well, on several occasions in the past, Gautam Gambhir has openly criticized MS Dhoni regarding several issues. Gambhir's past statements have led to many believing in a rift between the two stalwarts of Indian cricket. There have been rumors of a rift between the two cricketers however such moments seem to rubbish all such rumors.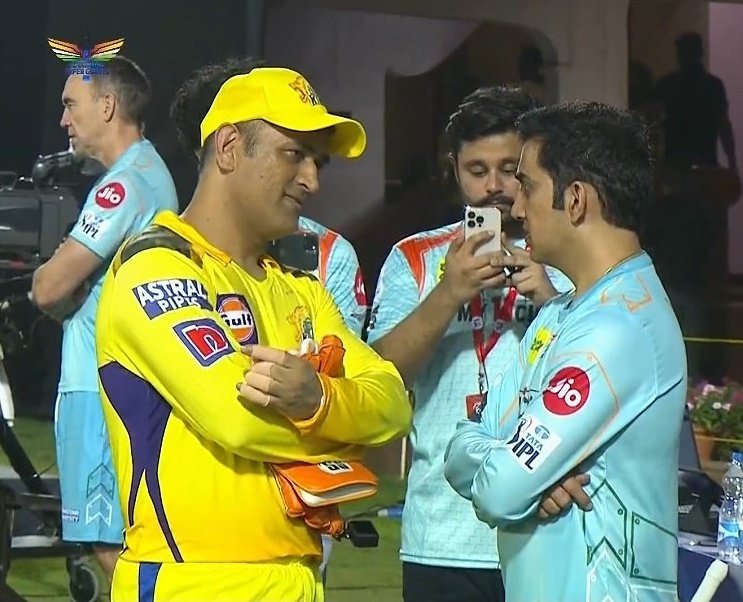 The incident took place after Lucknow Super Kings managed to defeat defending champions Chennai Super Kings in game number 7 of IPL 2022. Later after the game, MS Dhoni and Gautam Gambhir shared a conversation and were seen with big smiles on their faces. The pictures and videos of their interaction have been going viral on the internet and have brought joy to their fans.
Here, check out the reactions of Twitterati to this:
2011
2022#LSGvCSK #IPL2022 pic.twitter.com/cXPHH15kOG

— D Jay (@djaywalebabu) March 31, 2022
Picture of the day in #IPL2022. pic.twitter.com/kfYsCJLTqO

— Johns. (@CricCrazyJohns) March 31, 2022
Forget everything Dhoni Bhai, this win of LSG is bigger than any World Cup! https://t.co/WaZg1paErK

— Dheeraj Roy (@dheerajmroy) March 31, 2022
Gautam Gambhir with MS Dhoni after the game. pic.twitter.com/4uF1mr11z2

— Mufaddal Vohra (@mufaddal_vohra) March 31, 2022
Haar jeet chalti rehti hai Gauti, lekin tu apne paise mutual funds mein hi daalna pic.twitter.com/3MhZOl9o8S

— Sagar (@sagarcasm) March 31, 2022
— Professor ngl राजा बाबू ?? (@GaurangBhardwa1) March 31, 2022
Breaking the internet since eternity….. pic.twitter.com/tIkdFYMMNZ

— Rohit Sankar (@imRohit_SN) March 31, 2022
One LIKE

MS Dhoni and Gautam Gambhir after the match – Two one of the best IPL Captains and players. pic.twitter.com/DJgNUIPEIi

— Trend Following (@Nifty_BNf) March 31, 2022
*There's a rift between Gambhir and Dhoni*
Meanwhile they: pic.twitter.com/mZOAabjlMR

— Yaman (@Oye_lambu) March 31, 2022
Pic Of The Day, Gambhir And Dhoni #CSKvLSG pic.twitter.com/0vnX1OMzXi

— Narendra Modi fan (@narendramodi177) March 31, 2022
This is for those who said Gautam Gambhir and Ms dhoni don't have good relationship.
???#CSK #CSKvsLSG #jadeja #ChennaiSuperKings pic.twitter.com/VylIA9Kd2O

— Messiesta10 (@magisterioleo10) March 31, 2022
Two friends MS Dhoni and Gautam Gambhir having conversation post great IPL Match!!!#TATAIPL #LSGvCSK #LSGvsCSK pic.twitter.com/RHoax94202

— Nilesh G (@oye_nilesh) March 31, 2022
*MENTORS*

One on the field other off the field.

Gambhir ? Dhoni#AbApniBaariHai | #LSGvsCSK#WeAreSuperGiants #IPL2022 pic.twitter.com/4ASmWXVnVm

— SuperGiantsArmy — LSG FC (@LucknowIPLCover) March 31, 2022
MS Dhoni & Gautam Gambhir

Heroes of India in the 2011 World Cup final #IPL2022 #LSGvCSK pic.twitter.com/LMa6b7LFuT

— Vinesh Prabhu (@vlp1994) March 31, 2022
Recently, ahead of the start of IPL 2022, Gambhir had cleared the air on this rumored rift with Dhoni. Speaking to Jatin Sapru on his YouTube show 'Over and Out', Gambhir absolutely dismissed the rumors of the rift between Dhoni and him, saying that he has a lot of mutual respect for Dhoni. He had said:
"See I have so much of mutual respect for him and it'll always remain. I've said it on air, I'll say it on your channel, I can say it anywhere in front of 138 crore people, that if ever in need, I hope he's never in need, but if ever in need in life, I'll be the first one standing next to him because of what he's done for Indian cricket, what he's as a human being,"